Paperwork
Moonbase Alpha uses a lot of paper forms. Operatives are frequently seen carrying papers, often on clipboards with stopwatches. Helena types her reports on a manual typewriter. Koenig uses a handwritten personal journal. The paperwork makes the Main Mission and Command Center sets look busy and active. After fights and explosions, the scattered papers in an otherwise spartan set underline the drama. Flying papers also help visualise explosive decompression to the vacuum of space.
The introduction of computers, or more specifically computer printers, would vastly increase the amount of paper in 1980s and 1990s offices. In the 21st century it would start to decline, often with not always practical management ideas of the "paperless office" (the term dates back to 1978). The Main Mission operatives seem to be checking the computers and desks and writing data on forms, which is perhaps the easiest task for computers to automate. On the other hand, checklists are best practice in aviation and healthcare, and many Main Mission operations could realistically use paper checklists.
The Alphans use paper print-outs from the computer, either cash register rolls in year 1 or IBM 80-column punch cards in year 2 (More on print-outs). Oddly, there are no waste paper (or recycling) bins.
The papers are often in red, yellow or occasionally blue acetate sleeves; the paper itself is seems to be normally white, although coloured blocks are sometimes added (possibly Letrafilm) to make them more interesting. Usually the Alphans are writing on the plastic sleeve, not the paper (or pretending to). This neatly solves the recycling problem for paper.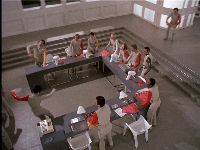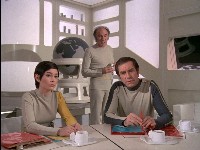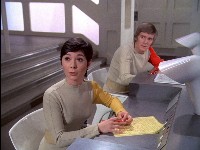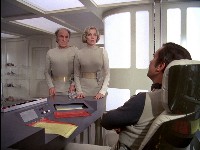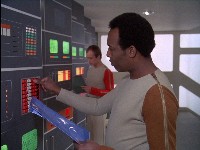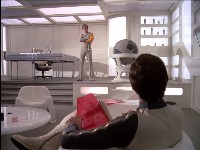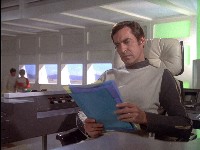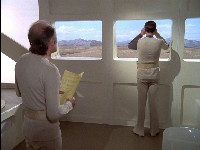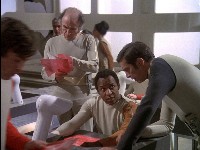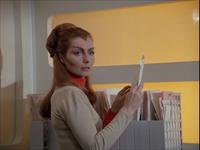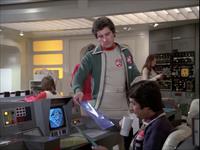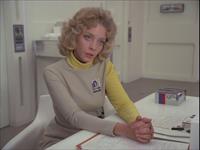 Clipboards
There are a number of different clipboards in use. The most distinctive was the large red "time and motion" clipboard, with three clocks and a release lever. It has a hand-hold cut-out in the side, and an angled top right corner. There are at least two. In most cases, the centre clock is missing, and by The Metamorph all three clock latches are empty.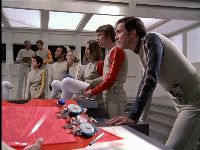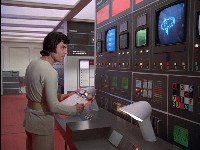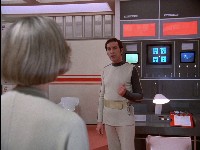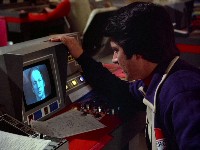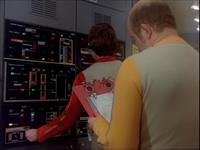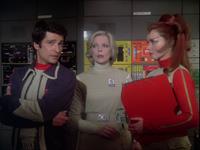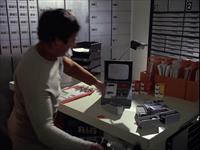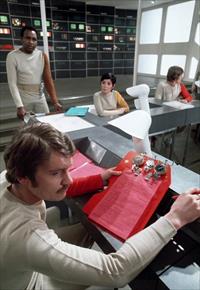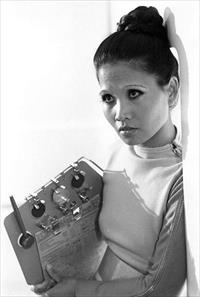 In The Metamorph, Annette Fraser has a white version, with the clock attachments covered by a white box, decorated with moonbase "buttons" and a commlock id face. Tony is using it in The Taybor.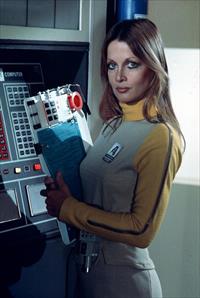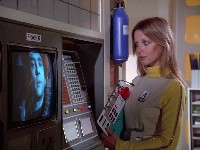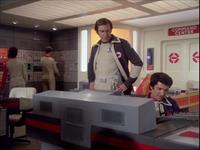 In The Full Circle, Sandra has a yellow version.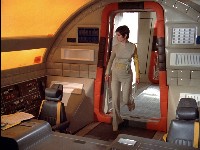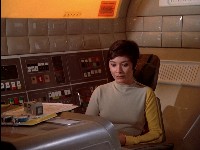 Another large clipboard, this time in blue, appears in the second series. At least in Seed of Destruction, it looks like it has one clock clip on the top left, but by Seance Spectre it has gone.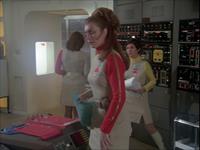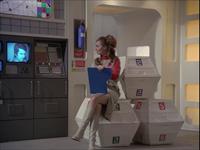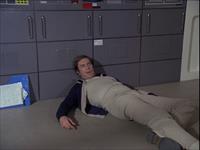 The most common clipboards are brown hardboard, although increasingly vinyl coloured clipboards are used, in red, grey or black.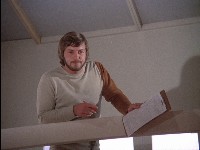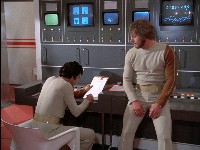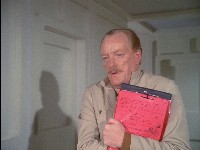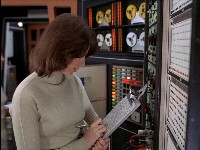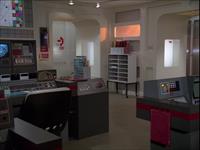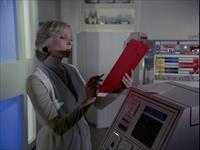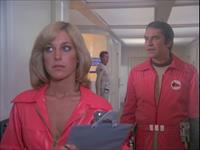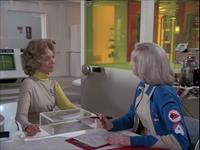 Medical Authority Case Report
This is the only headed paper used on Moonbase Alpha, with the blue title in the Data 70 font designed in 1970 by Bob Newman.
Rank Xerox
Most forms have "Moonbase Alpha" across the top in the Countdown font designed by Colin Brignall in 1965. Other Letraset details are added, included Letraset sheet code numbers, but most of the form is normal 1970s office paperwork. This form, used by Paul and Annette Fraser, is a Rank Xerox paper order. Because the original altered form was photocopied, the text is faint and a little blurry (digital photocopies have vastly improved the fidelity of re-photocopied forms since then).
Xerox introduced the first photocopier in 1959, with a desktop model introduced in 1963. Xerox had an effective monopoly of the technology, until a US anti-trust suit forced it to license its patents in 1975. Rank Xerox was the European company, a joint venture between the US company and Britain's Rank organisation (in the 1990s, Xerox finally bought the full rights to the company, and the name became Xerox). The branch name of this form is the Customer Supplies Sales Dept, North Orbital Road, Denham, Uxbridge, Middlesex. Apparently Moonbase Alpha has account number 300016, and is ordering 10 reams (2 boxes) of white A4 paper, and 10 reams (2 boxes) of 8 inch x 13 inch (Foolscap Folio), plus 2 bottles of toner.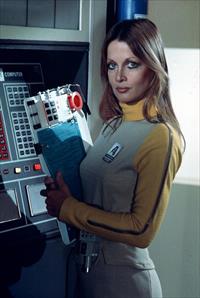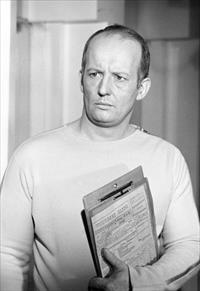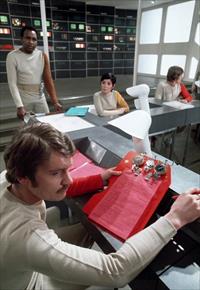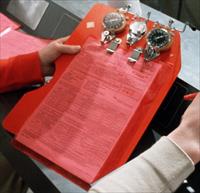 Race Times, Pre-Flight Take Off Checks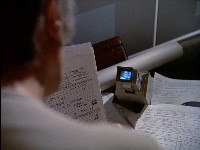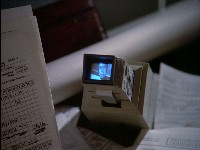 In Black Sun we have good close-ups of a couple of forms that Bergman is working on. The one he is writing on contains the text "Existing Lap Record 444/9", "by CASTELLI", "Fastest Practice Time 00001 - 180/RD", "by Harrisondumy". It seems to be a motoring race chart.
On the right, forms for "Pre-flight take-off checks". The middle-left of the form has a section "Engines" with the number 2451 twice. Below is the text "lbs 23 gallons".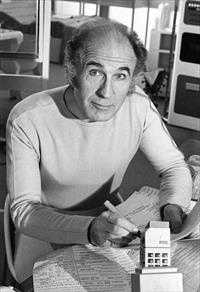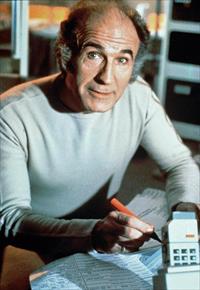 Publicity shot in Bergman's quarters, LQ12. The papers in front of him mention "Engines", "Petrol 1660, 23 Gallons", "Compartments".
Autopsy Report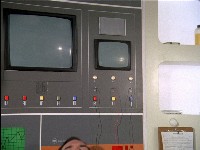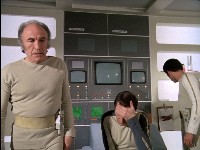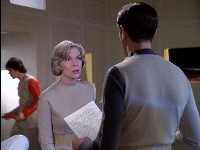 In Ring Around The Moon, Koenig is knocked out when Helena is abducted. He wakes in Medical, with a chart by his bed. The paper is titled "Autopsy". It often appears in Main Mission, for some reason.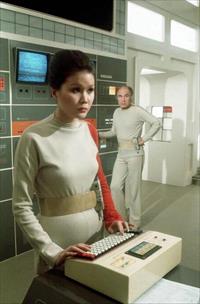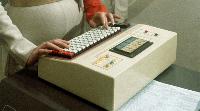 An autopsy report on a Main Mission desk in Breakaway
Eagle CP MK II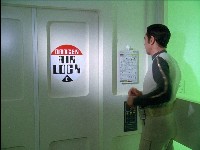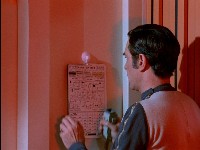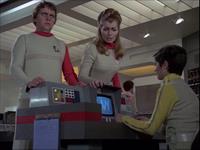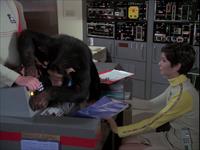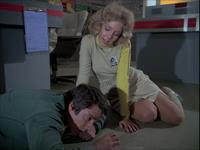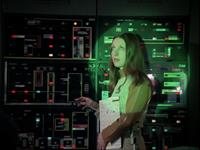 Another form seen in Airlocks and Command Center, which seems to have an electrical diagram.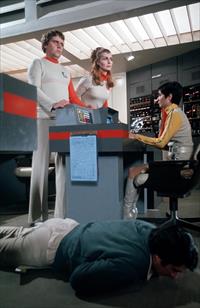 ---