Zoref's Quarters
These are the only married quarters we see in the series. Uniquely, the bed area has a wall and door separating it from the living room area.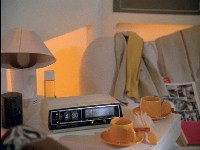 Zoref's alarm clock is a Sanyo Stereocast radio-alarm clock. Are there radio stations on Alpha? The split-flap clock shows 4:30 PM. Alongside is the familiar Sorella lamp. The chair by the bed, with clothes thrown over it, is a Rodica chair.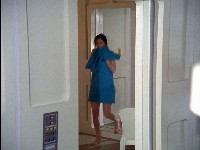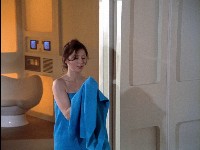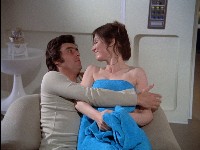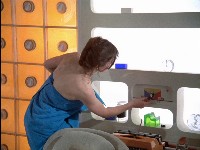 This is the only time we see the door to the bathroom open. Anton sits on a Ribbon chair. Beyond is a Ditzel bar stool. At the wall desk, with the temperature controls, is a Triumph-Adler Gabriele 2000 electric typewriter. with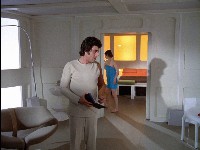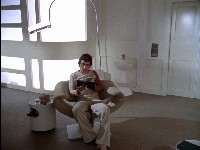 Zoref sits under an unidentified lamp, probably a variation of an Arco, designed by Achille Castiglioni in 1962 with a characteristic heavy Carrara marble base, but with a different light shade. Alongside the ribbon chair is a Giano Vano Ruote telephone table.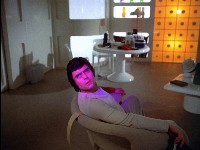 Beyond Anton, we can see a Tessera 120 table with two Selene chairs. Among the clutter of things on the table is a blue Gustavberg salad bowl. Nearby is also a dressing-making frame.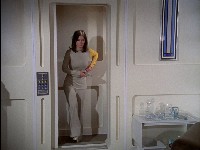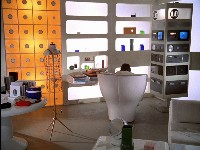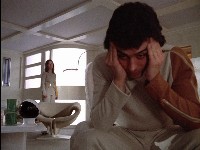 Zoref now sits in an Elda 1005 chair.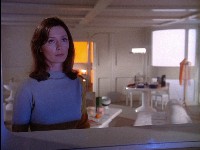 We just make out a Swany sofa with two side-by-side Ara tables.