Main Mission
---
Main Mission (named "Main Mission Control" in Ring Around The Moon) is the control room which monitors and supervises all Moonbase operations. Later in Year 2, operations moved to Command Centre. The "big screen" is the large view screen at the front of these rooms. Both are staffed by members of all organisational sections. Normal staff levels are about double the number of desks: various staff are employed looking at the computer panels (this was Kano's position until he got a desk) or walking round carrying pieces of colourful plastic. Minimum staff levels are two or less (Black Sun, Space Brain).
The layout and lighting of Main Mission changed through the series. In early episodes, the panels are illuminated white. In Alpha Child they became green for six episodes. In End Of Eternity only they are yellow. In War Games and The Last Enemy they are both white and red. In the remaining six episodes they are white, except for some scenes in Space Brain when they are green.
General
Desk layout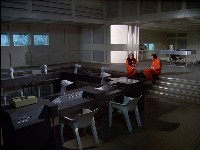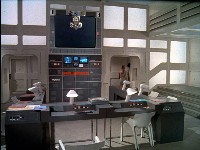 Kano's desk
Kano's desk first appeared in Missing Link. While those at other desks sit in Gaudi chairs, Kano sits in a more upright Selene chair.
---
Copyright Martin Willey