Technical Section 6b
Technical Section 6b is seen in The Last Sunset. There is a bank of computers in an alcove (with two desks), two windows to the lunar surface, and an unusual swing door. The layout is very similar to Flight Control as seen in Breakaway.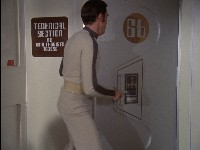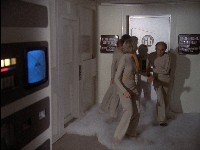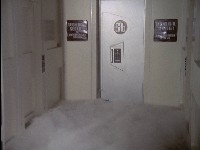 Unusually the lab door is a swing door. The same design door is used in the Medical Security Area in Force Of Life. The sign reads "Technical Section - No Unauthorised Access" (the spelling is the English "-ised", not the American "-ized"). The designation "6b" is on the door.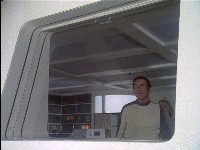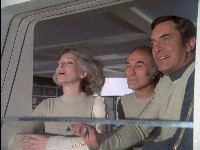 A view in through the window- which opens! We saw earlier the window being blown out by the air pressure, so it had to be repaired. The script describes technicians fitting the new window, but we don't see this in the episode.
---
Copyright Martin Willey