AP Films/ Century 21/ Group 3/ Gerry Anderson Productions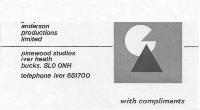 Gerry Anderson productions were distinctive: futuristic adventures with amazing technology and plenty of (literally) explosive action. Their exciting plots relied on special effects and pyrotechnics. Most were puppet series for children (hyped with the name "Supermarionation"), but they favoured action and thrills rather than juvenile humour. They were produced by a team of people who produced series continuously from 1956 until 1976, mostly under the umbrella of Lew Grade's ITC organisation.. The company was initially called AP Films, then Century 21 and Group 3, and finally Gerry Anderson Productions. Such was the popularity of the shows that in Britain they were marketed under Gerry Anderson's name ("Gerry Anderson's Space: 1999").
Among the key members were:
Most of these people worked on Space: 1999, but at the end of the first series Gerry and Sylvia Anderson separated, and after the second series the relationship with Lew Grade's ITC collapsed, ending a near continuous production run since 1956.
There are special features on two live action projects which have a lot in common with Space: 1999: the previous series UFO and the film The Day After Tomorrow- Into Infinity, produced between the two series of 1999. Both used many of the cast and crew from 1999.
This list excludes a number of unaired pilots (The Investigator in 1972, Space Police in 1986 and others), and unfilmed projects (Rescue 9 and Starcruiser were both series planned with Fred Freiberger after Space: 1999 Year Two; the film 5 Star 5 was in preproduction in the late 1970s). It also includes commercials, a notable one being the Jif Alien Attack (1977).
1956
The Adventures Of Twizzle
52 episodes x 15 mins
AP Films/Banty Books/Associated Rediffusion
The adventures of a boy doll with extending limbs
1957
Torchy The Battery Boy
26 episodes x 15 mins
AP Films/Pelham Films/Associated Rediffusion
The adventures of another boy doll
1958-9
Fall Feather Falls
39 episodes x 15 mins
AP Films/Granada TV
Sheriff Tex Tucker has four magic feathers
The format, scripts and songs were by Barry Gray
1959-1961
Supercar
26 episodes x 25 mins, 2nd series 13 episodes x 25 mins
AP Films/ATV Associated TeleVision/ITC
Mike Mercury and his flying car
1960
Crossroads To Crime
57 minute film
AP Films/Anglo Amalgamated
A policeman foils a robbery. A live action "B" feature directed by Gerry Anderson.
1961-1962
Fireball XL5
39 episodes x 25 mins
AP Films/ITC
Steve Zodiac with his crew, Professor Matic and Space Doctor Venus, patrol space in their ship Fireball XL5
The series was shown on America's NBC network. The title song was a pop hit. Keith Wilson and Brian Johnson joined AP Films for this series.
1962-1964
Stingray
39 episodes x 25 mins
AP Films/ITC
Captain Troy Tempest patrols the seas in his submarine, full of undersea races.
One of the first series to be made in colour in the UK.
1964-1966
Thunderbirds
26 episodes x 50 mins, 2nd series 6 episodes x 50 mins
AP Films/ITC
A family run a secret rescue organisation with their powerful Thunderbird craft.
The most popular puppet series, accompanied by huge merchandising. One of the voices was by Shane Rimmer.
1965
Thunderbirds Are Go!
94 mins film
Century 21 /United Artists
Spin off film from the hit television series. Directed by David Lane
1966-1967
Captain Scarlet and The Mysterons
32 episodes x 25 mins
Century 21/ITC
Captain Scarlet defends the Earth from the Mysterons from Mars
More lifelike puppets were introduced. A CGI second series was filmed in 2002-3.
1967-1968
Thunderbird 6
90 mins film
Century 21 /United Artists
Second spin off film from the hit television series. Directed by David Lane
1967-1968
Joe 90
30 episodes x 25 mins
Century 21/ITC
Schoolboy Joe serves as a special agent for the World Intelligence Network
Produced by David Lane
1968-1969
Doppelganger (US title Journey To The Far Side Of The Sun)
101 min film
Century 21/Universal
Live action film in which two astronauts travel to the opposite side of the sun and find a duplicate Earth.
Screenplay by Gerry & Sylvia Anderson and Donald James. Directed by Robert Parrish
1968-1969
The Secret Service
13 episodes x 25 mins
Century 21/ITC
Priest Father Unwin is a secret agent
Produced by David Lane
1969-1970
UFO
26 episodes x 50 mins
Century 21/ITC
A live action series in which secret organisation SHADO defends Earth from aliens.
Directors included David Tomblin and David Lane (both also wrote episodes); and Ray Austin. The main writer was Tony Barwick, with episodes by Terence Feely, Donald James and Dennis Spooner. The first live action series for Anderson was an unexpected hit in the US in 1972, and preparation began for a second series in 1973. These preparations changed into the format for Space: 1999

1971-1973
The Protectors
26 episodes x 25 mins , 2nd series 26 episodes x 25 mins
Group 3/ITC
Three private detectives fight crime (starring Robert Vaughan and Tony Anholt).
The second live action series is a straight-forward crime adventure series with no fantasy elements. Directors included Charles Crichton and Ray Austin (whose wife Yasuko Nagazumi was a semi-regular); among the guest stars was Prentis Hancock. Robert Vaughan was quoted in a 1974 Los Angeles Times article "Mission on the Moon in England": "Robert Vaughn, who spent two years in England making the half-hour syndicated adventure series the Protectors, said not long ago that between the morning tea breaks and the lunch breaks and the afternoon tea breaks and the refusal of crews to work overtime, he figured that Martin Landau and Barbara Bain would be five years doing the 26 hour programs for their new British series, Space: 1999."
1973-1976
Space: 1999
24 episodes x 50 mins; 2nd series 24 episodes x 50 mins
Group 3/ITC; 2nd series Gerry Anderson Productions/ITC
The Moon is blasted out of orbit and the crew of Moonbase Alpha meets aliens and strange worlds
1975
The Day After Tomorrow (also known as Into Infinity)
50 minute TV film
Gerry Anderson Productions
Two familes fly a spaceship at the speed of light.
A live action film for NBC children's entertainment. Stars Nick Tate, Brian Blessed and Joanna Dunham; written by Johnny Byrne and directed by Charles Crichton.
1983-1984
Terrahawks
26 episodes x 25 mins; 2nd series 13 episodes x 25 mins
Anderson Burr/LWT
Tiger Ninestein and the Terrahawks defend Earth from evil alien Zelda.
A new puppet series, largely written by Tony Barwick
1994-1995
Space Precinct
24 episodes x 45 mins
Gerry Anderson Productions/Mentorn Films/GTV
Cops fight crime on amongst the aliens on Demeter City
A live action series derived from an unscreened 1986 pilot called Space Police
1998
Lavender Castle
26 episodes x 10 mins
CPI/Gerry Anderson Productions/Cosgrove Hall
The starship Paradox tries to find the legendary Lavender Castle.
This children's series uses stop motion animation and CGI
2002
Firestorm
26 episodes x 30 mins
Anderson Entertainment
A squad of United Nations marines combat alien infiltrators preparing for the invasion of Earth.
For Japanese television. Computer generated cel-type animation and CGI are used. Anderson created the series but did not produce it; he removed his name from the episodes.
2003-2005
The New Captain Scarlet
26 episodes x 30 mins
Anderson Entertainment
Captain Scarlet returns to fight the Mysterons.
CGI sequel to the puppet series filmed 40 years earlier.