See also Non-confectionary cards
UK and Europe, artwork packet, with cards to collect inside each packet.

Cards are 7 x 5 cm, with colour photos on one side (Yr 1, almost all reversed). Two sets of 64 cards, with identical photos were issued. The "Space/Alpha" set was available in the UK and the Netherlands (where Monty Gum was based); the "Space/Cosmos" set was available in France.

"Space/Cosmo: 1999". (1976, France) Unnumbered, backs building into b/w photo of Ring Around The Moon astronauts.
"Space/Alpha: 1999". (1978, UK, Netherlands) Numbered, no picture on back.

There was a special offer for poster if 10 packets are sent.


Space Alpha box and packet


Space/Cosmo and Space/Alpha cards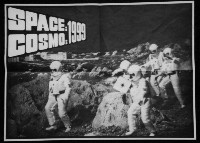 The poster was 52 x 38 cm, titled "Space/Cosmo: 1999", with the same b/w photo of the RATM astronauts as on the back of the unnumbered card set.

At least in the Netherlands a small album was available to hold the 64 cards. The plain white album had the black and white "Space/Alpha: 1999" logo and stylised Koenig/Helena/Bergman artwork on the cover. The cards were stored in a 2 x 4 arrangement (hence 8 pages). Pictures thanks to Remco Admiraal.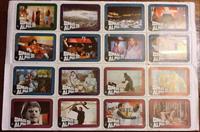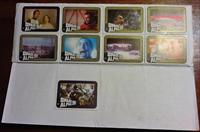 ---
US 1976, 10c a packet

Eighth of an ounce of bubble gum, with cards to collect inside each packet.

Packet: red background, with art of Koenig (blue uniform), Helena (yellow uniform) & Victor in tense pose (based on Gray Morrow's cover for Charlton bw comic 1). A small blue Eagle over the yellow logo. Banner across bottom promises "Bonus: Full Color Puzzle"

Cards: 9 x 6.5 cm, with colour photo (Yr 1), numbered with pithy caption. Back of cards builds into a large photo of an Eagle launching from a pad under a yellow logo. Set composed of 66 cards. Uncut sheets (ideal for showing the Eagle image on the reverse) were also available.

Sold from display boxes of 24 packets. Box top (which would be folded upright) has yellow logo over photo of base, with Koenig, Helena & Victor looking tense on left. Box is 21.5 x 9.5 x 4 cm.

From the collection of Robert Ruiz.
---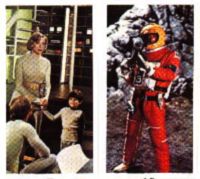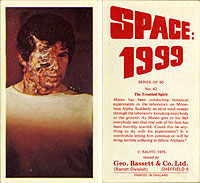 UK 1975, 3p a packet, later 4p.
Yellow packets with logo 4 x 7 x 1 cm, containing 10 candy sticks & 1 card.
Cards were 6.5 x 3.5 cm, with colour photo from Yr 1, & a description on reverse. Cards formed set of 50. Card number 42, a portrait shot of the scarred Mateo from "The Troubled Spirit", was withdrawn (understandably, considering it was fairly graphic), and is therefore very scarce. A few were issued, however (thanks to Shaqui).
Sold from display box of 48 packs (14 x 16 x 16 cm), with photos on side & top of Eagle and Koenig, Helena, Victor (their uniforms coloured).
---
UK 1975

A vanilla-flavoured ice cream base, with a lime shell and strawberry jelly filled centre.

The blue packet (13 x 5.5 cm) features rather crude art of an Eagle & Koenig, Helena & Victor.

Initially each ice lolly came with a card, 7.5 x 4.5 cm, with crude art based on a photo on one side, with a description on the back. There were 25 cards in set.

Back of packet at first featured art of Koenig saying "There are 23 Amazing Full Colour Cards In The Series- Of me, Dr Helena Russell, Professor Bergman, all the Heroes & Villains For You To Collect!"

Later the backs featured one of two short & very crudely drawn comic strips (10 x 4.5 cm, titled "Child Of Evil" & "Planet Of Terror"), or one of two descriptions of Alpha life ("Transport", with Eagle, buggy & travel tube described, & "Communication", about the commlock)

This product was launched with an animated television commercial, illustrated by Frank Bellamy and shown from summer 1976.
| | |
| --- | --- |
| | |
---
Australia 1975

Set of 50 cards, each 5cm x 8 cm with colour photos. One card with each loaf of Sunicrust bread (they were baked in the bread, with no protective wrapper). Some interesting and unusual photos, including a fairly high proportion of SFX shots, and some wildly inaccurate text descriptions ("Deep freeze on Moonbase Alpha, on collision course with Ultima Thule", for a shot of Space Brain foam filled Main Mission).
The card backs advertised "Alpha Shirts Plus Trip To Disneyland USA for 4 People". For the Alpha shirt you had to cut the bottom section from all 50 cards and send them to Sunicrust by November 14th 1975. For the Disneyland competition you had to send a drawing of a "Space: 1999 spaceman" (there were 500 runners-up prizes of Timex calendar watches.
Illustrated in The Gerry Anderson Memorabilia Guide (Dennis Nicholson) p238.



---
Italy 1979?. Price 150 lira per bag (150g?).

In UK English crisps, in US English potato chips. The packet art is identical to the Panini year 2 album, and it is possible that packs contained a number of Panini stickers. Thanks to Andrea Gualco.