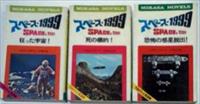 三笠書房 (Mikasa Shobou), Japan, 1977. Each Yen 580.
Three translations of Michael Butterworth titles. Covers feature series title in both Japanese and English above a photo (SFX publicity shot of the four sizes of Eagle, astronauts from "Ring Around The Moon", Eagle over Metamorph volcanoes). Interiors endpages contained black & white photos (all from Year 1).
Each book is 11cm x 17cm, and follows the Japanese convention with the spine on the right.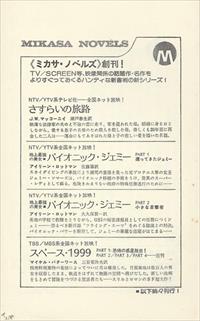 The last page of the first book is an advert for other Mikasa titles. The Space: 1999 books, promised at the bottom, mention 4 books ("part 2 /part 3/ part 4" are forthcoming). The fourth book is not mentioned in the later titles. Thanks to Patrick.
| Title | Original Title | Details | Cover | Back cover |
| --- | --- | --- | --- | --- |
| 恐怖の惑星脱出! ("Escape the Horror Planet!") | Planets Of Peril | 15 May 1977. 248 pages. Translated by M.Mitsuya | | |
| 狂った宇宙! ("Crazy Universe!") | Mindbreaks Of Space | 15 May 1977. 220 pages. Translated by T.Masaki | | |
| 死の標的! ("Target of Death!") | The Space Jackers | 15 July 1977. 230 pages. Translated by M.Mitsuya | | |