Box Set: France June 5th, 2002.
160 €
News Stand Editions: France May- September 2004.
12.99 € each
Box Set second edition: France October 16th, 2008.
49.99 €
Box set of 13 DVDs (6 dual layer discs per season, plus a bonus disc). French soundtrack (the 1975 French-Canadian dub) and English soundtrack with French subtitles.
First edition (2002) packaging was a silver digipack box titled Cosmos 1999 l'intégrale de la série and images of Landau and Bain.
Second edition (2008) packaging was a black digipack box with the same title. The cover image is of a launching Eagle. The price was cut by over 50%.
Individual volumes (Cosmos 1999 l'intégrale de la saison 1) were released from May 2004 to news-stands (6 volumes/discs, volumes 1 and 2 as a double-issue). Each disc had a 16-page 21cm x 30cm booklet, containing an episode guide, articles about the series, character and cast biographies and cast comments about the episodes. The double issue package was 31 x 44cm with a card backing, 2 discs in separate Amaray cases and booklet; individual discs were in a 22 x 31cm package with the booklet. The disc contents were identical to the box set. Initially it was intended only to release Year 1 in this format, but strong sales prompted Year 2 to follow immediately.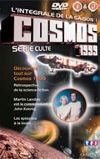 The quality of the episodes is identical to the Carlton releases.
The consultants to TF1 video for the extensive extras were Alain Carrazé and Jérôme Wybon, with help from Chris Bentley of Fanderson and Jaz Wiseman (who were also behind the UK DVDs).
There is a short opening sequence of episode clips, and featuring various characters (different on each disc) and the date 13 September 1999. Menus are similar in style to the UK DVDs with animated Eagles flying over Moonbase Alpha, on some discs with additional spaceships and effects.
Episode sub-menus feature either a very stylised Big Screen, with Koenig and Paul in front (year 1), or the interior of a travel tube (year 2). Language set-up uses an animated Medical Centre set on year 1 discs; the year 2 version is an Eagle on a launch pad.
All the bonuses are on a separate disc, tucked into the year 2 pack. Unlike the episode discs, it does not have an individual digipack mounting or any distinctive design, apart from the word "bonus".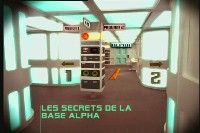 The bonus menus feature a modified Moonbase corridor; on selecting an option the user has a high-speed animated trip through corridors and into a travel tube. There are three sub-menus; one for Year 1 bonuses (taking you into an animated Eagle hangar), one for Year 2 bonuses (using clips of the Moonbuggy airlock from Space Warp), and one for Message From Moonbase Alpha short film and a merchandising gallery. The year 1 and year 2 bonuses each have three further sub menus (plus hidden "easter eggs"). The menu transitions have clips of the Eagles and moonbuggies racing off to their destinations, unfortunately speeded up.
Virtually all the extras from the UK DVDs are included: the Horizon segment, the Year 2 interviews, the promo spots, and the Year 2 trailers (with more UK regional versions). The "making of" section is an animated photo-montage of the behind-the-scenes stills already seen on the UK DVD, with a French voiceover narration explaining the history of the show.
Additional extras include the short film Message From Moonbase Alpha, an episode of UFO, and a Martin Landau interview made in 1994 for a French TV program (in English with French subtitles).
There are two quizzes (in French), which enables you to get some bonus prizes (the French opening titles, and the Year 2 promo book). There are several hidden "easter egg" bonuses, which appear as stun guns when highlighted. Included among them are the text-less opening and closing titles from both years.
From Alain Carrazé: We worked very hard to have the "Message from Moonbase Alpha" short film, knowing its importance. We are very proud to have succeeded in striking a deal for it, and very grateful to the fantastic guys at TF1 video for following us in that deal. One glitch: the music is not included. The price for it would have been much too expensive, and could have jeopardized the whole deal altogether. So the final music on the closing credit is missing. We didn't replace it, leaving it silent. This is too bad, but in my opinion it does not diminish the impact of the piece.
Here, in France, we are preparing for this box set release and everybody thinks it will be a best-seller. Cosmos 1999 is indeed very popular in France, and the boxed set of "Amicalement Vôtre" (The Persuaders!) was a hit. So...