Various labels were quickly made from Letraset rub-down lettering. Letraset was founded in the UK in 1959, and their dry-transfer lettering, invented in 1961, became a world-wide standard for commercial artists. Letraset also designed many popular fonts. They even produced transfers for children from 1964, named "Action Transfers" from 1969; two Space: 1999 sets were produced in 1975.
Letraset lettering was available in sheets or as 16mm wide tapes. Custom sheets could be ordered if required. Keith Wilson's design department must have ordered dozens of custom sheets, as the same patterns are repeated again and again on different props. Sometimes there wasn't a lot of custom design- the letter tables from Letraset catalogues were reproduced exactly (see, for instance, the All That Glisters radiation instrument). Even the Letraset copyright notice was added onto Alpha labels.
In addition to letters, Letraset also produced rub-down lines to make borders and rule-lines. This "Letraline" came in different thicknesses, colours and patterns. In addition to props, Letraline was widely used on SFX models. Letraset also made colour film - "Letrafilm" - for solid blocks of colour. Red, yellow or green transparent Letrafilm would be cut into rectangles, often with a Letraline border, and the lettering written over it to create a typical Moonbase Alpha label.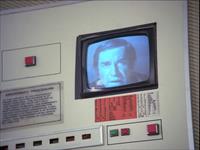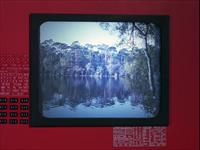 The names of the main fonts used can still be read on some of the labels.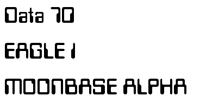 Countdown- main Year 1 signs in Alpha and some smaller labels. Square "computer-like" font designed by Colin Brignall for Letraset in 1965.
Data 70- small labels. Square geometric "computer-like" font designed by Bob Newman in 1970 for Letraset.
Didot - small labels. Serif neoclassical font designed by Firmin Didot in the late 18th and early 19th century, very popular on Letraset in the 1970s.
Futura- labels, in-show credits. Clean geometric sans serif font designed by Paul Renner in 1927 for Bauer.
Gill Sans- main Year 2 signs in Alpha. Elegant sans serif font designed by Eric Gill in 1926 for Monotype.
Grotesque 216 - small labels, especially in tables. Sans serif font designed by Frank Hinman Pierpont in 1926 for Monotype.
Micro Extended- small labels. Letraset's version of the Microgramma sans serif font designed by Aldo Novarese and Alessandro Butti for Nebiolo in 1952. It is particularly popular in science fiction, especially in 2001: A Space Odyssey (1968), the Alien films (1979+) and all incarnations of Star Trek since 1979.
Univers - small labels. Sans-serif grotesque typeface designed by Adrian Frutiger in 1954 for Deberny and Peignot.
The names of the type foundries are also included on labels, including Bauer (founded in 1837 in Germany) and Deberny and Peignot (Deberny et Peignot, founded in 1923 in France). Some of the numbers in labels are font sizes: 12pt and 14pt are point sizes. 1pt is 0.35mm. Another word seen is "U.S.A. pica", a size of 12 points (4.22mm; the size differs from the French pica).
See also: signage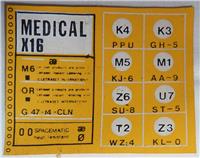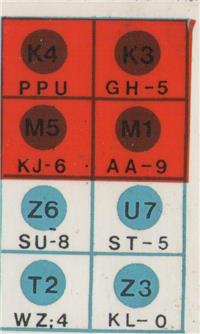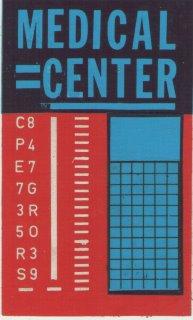 The Letraset sheet "47-14-CLN" is 12pt Helvetica Medium.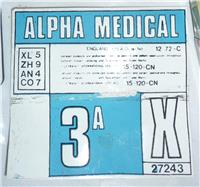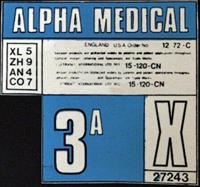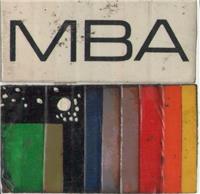 ---
Thanks to James Winch, David Hirsch, Simon Rhodes
Page copyright Martin Willey