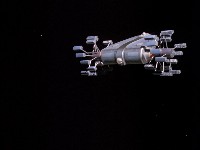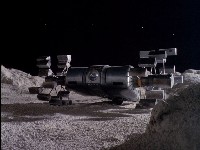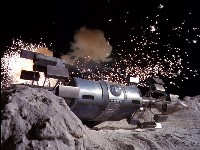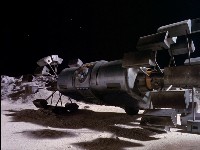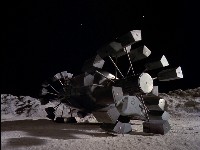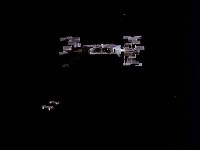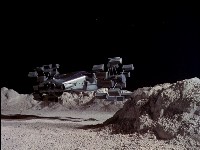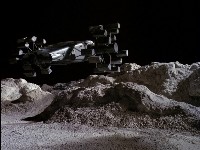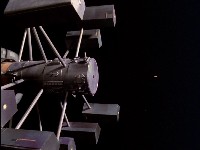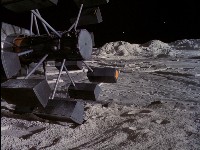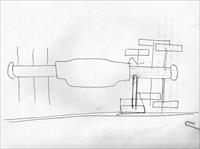 Brian Johnson design sketch for Gwent in The Infernal Machine. This is on the back of a script draft ("Web", which would eventually become Dragon's Domain). The original script described the craft as a "child's jack", "a central core from which extend big, cylindrical projections ending in small bulbous pods" (jacks or knucklebones is an ancient game with star-like objects, originally bone and now plastic or metal). Brian designed a spacecraft with revolving arms, like a paddleship. (Image thanks to Simon)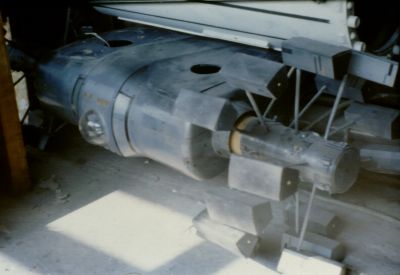 Gwent from The Infernal Machine. This is the large version of the model at the studio in 1975 (the travel tube is sitting on top of it).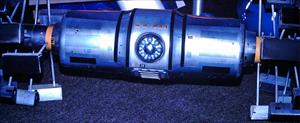 The large (left) and small (right) Gwent models.
Martin Bower in Sci-Fi and Fantasy Models Number 12: If you were to ask the SFX crew (and Nick Allder in particular), which model holds the least happy memories I think it is fair to say everyone would chorus Gwent! At that time it was not the name of a Welsh county but the name inexplicably given to a vast machine, supposedly a quarter of a mile, across, which resembled a crab on two sets of rotating legs. It too was built in hardboard by the steaming technique already mentioned, around a motorised aluminium tube built by Nick. However it wasn't so much the building of it that was the problem. To me it was much like most of the other models. It was filming the damn thing! Imagine trying to get a realistic shot of this craft, doing a rolling take off across the lunar landscape. I won't go into the sordid details involved in lifting this very heavy 5' wide model smoothly into the air (hang on - there's no air on the moon!) but suffice it to say that at the end of filming, Nick picked the model up bodily and threw it across the studio in shear frustration! Still, looking on the bright side, I did a 14" wide model for long shots and that survived okay!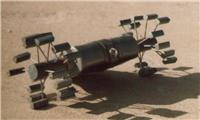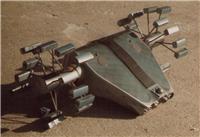 The small model Gwent. Thanks to David Hirsch.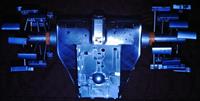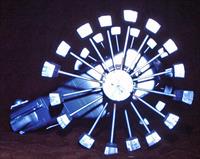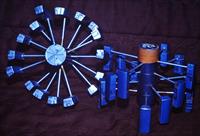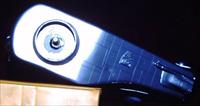 ---
Copyright Martin Willey