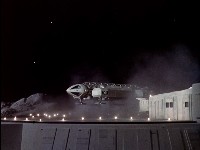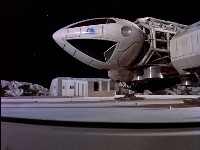 Eagle 1 (Parks and Bannion) lands on the launch pad with portside to the docking tube. The subsequent shot shows it docking to the starboard side. Note also in this shot (close by the front of the Eagle) that the ship is very far from the tube and has in fact landed way off the cross markings. The shot is repeated later in the episode, representing Eagle 2.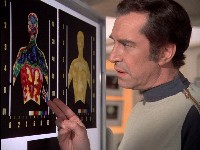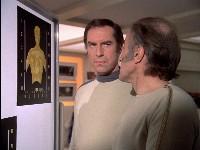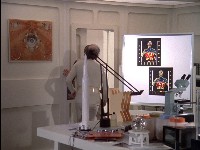 Koenig and Bergman look at the thermographic prints. At the end of the scene, they return to the board- where the first image has disappeared from the lightboard. Later, when Koenig and Bergman rush out after Mathias is knocked down by Lee, the first picture is back up but the second one is missing.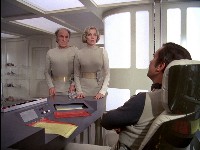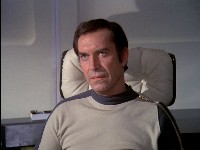 In this scene we see Koenig's desk is centered in the path of the Main Mission doors. In the next camera angle, showing Koenig, he is able to close the doors behind him.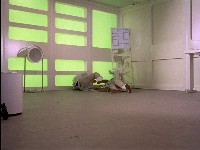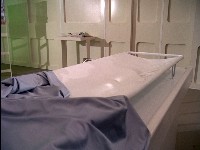 In the autopsy room, Mathias and his assistant are thrown to the floor. As they fall, they knock over a medicine rack. The next shot shows the empty bed- but the medicine rack is upright and all the bottles are back in place.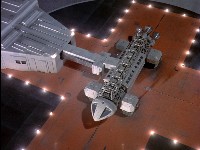 The Phase 2 Eagle is shown from a high view as the docking tube retreats from the starboard. It launches with the portside to the tube.
In the countdown to Phase 2 Eagle launch, there is an eight second interval between Alan saying "Seven seconds" and when he says "Five seconds."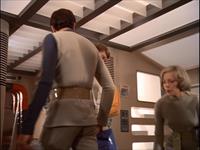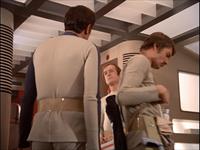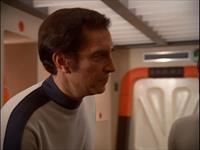 Just before they leave the Eagle, as Koenig walks round the camera reveals the Eagle front doors are open. Beyond, there is no access corridor or Eagle cockpit. There is a bare studio wall, with wooden planks visible. The scene cuts to a reverse camera angle showing Koenig, who then walks to open the door. As he moves, the front doors are wisely closed. The passenger module set was built on the side of M stage, so the door could open to reveal the planet surface. However, there was not room to build the cockpit or access corridor. Thanks to Marcus Lindroos.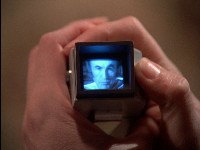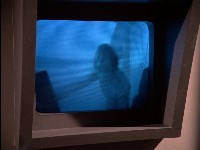 There are many shots of the commlock screen. One close up shot, of Alan in the smoke filled Eagle, is shot on a special mockup with a much larger screen, probably because the actual 1.5"/35mm screen was too small to show the action.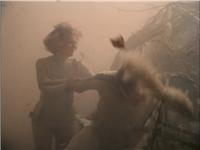 There is a long tracking shot as Koenig and Helena struggle through the storm. At one point Helena turns round, and Koenig takes her arm to pull her on. We cut to a closer tracking shot of Helena. The trees in foreground and background are the same as in the previous shot (a fruit is seen on a foreground tree in both). The movements of both actors are also the same. The second shot seems to be a second camera view of the previous, or a near-identical second take. Thanks to Andrea Gualco.