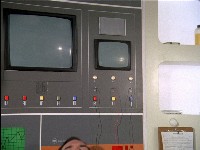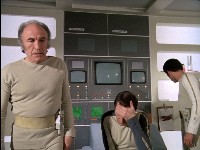 When Koenig wakes up in Medical after Helena is abducted, the first frame of the shot shows the medical notes by the side of his bed (which Mathias reads while Koenig and Bergman talk). The text reads "Moonbase Alpha Autopsy Report".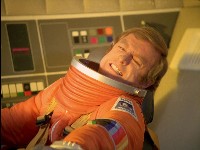 Koenig tells Alan to cut the engines, although the switch is clearly on his side of the cabin (when Koenig operates the gravity shield switch above, he uses his left hand, so it is on his left side).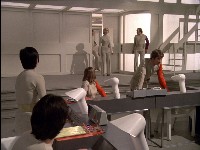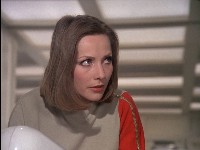 When Helena is transported into Main Mission, there is a reaction shot of Tanya. The same shot appeared at the start of the episode when Ted Clifford went to the computer. Then the doors to the Command Office were open, but in the later sequence they are closed.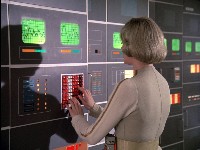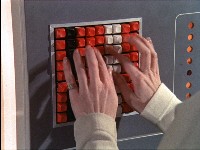 When Helena is typing on the computer, one speeded-up close up is flopped left for right- note her right sleeve is white, and the ring is on her left hand.
A small photo of Skylab can be seen on Victor's noticeboard, taken from the departing Skylab 2's final fly-around inspection on June 22 1973. The single solar panel and parasol solar shield, rigged to replace the missing micrometeoroid shield (damaged during launch), can be seen. Thanks to Marcus Lindroos.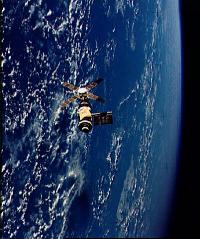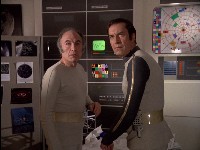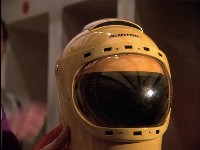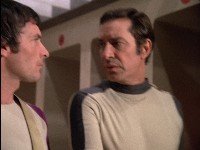 A helmet with the name tag "Quinton" is held up. Koenig puts his hand on it: "You won't need that.". Narratively this establishes they don't need spacesuits, a point made in a very staged shot. Normally when putting on spacesuits, the helmet is the last to be put on. It's Tony Allyn holding up the helmet (normally named "Allan"), for another unssen guard. The helmet belongs to guard Quintin Pierre, who wore this helmet earlier in the episode. He's standing to attention by the door, nowhere near the helmet. Thanks to Richard Totis.