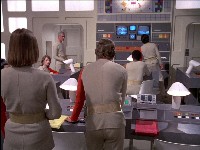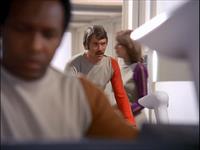 The opening scene in Main Mission shows Paul from behind. We then cut to the other side. In the first shot, Tanya was standing to his side. In the second, there is a female security guard.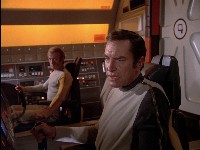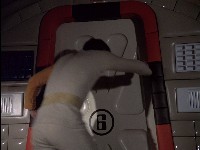 The number on the Eagle 1 door is "4" except when Alan opens the door after the crash, when it has suddenly changed to "6". (The earlier scene was a re-shoot, the later shot is from the original version of the episode).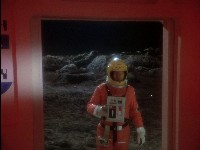 "Come in, Eagle Four! Come in, Eagle Four!" calls Koenig. How does he know it is Eagle 4? We can assume a rescue Eagle is always ready on a launch pad, and Koenig knows that the current duty Eagle is Eagle 4.
Koenig holds his commlock by his helmet, although in the vacuum his voice would not be carried across the short distance. There must be short range radio microphones in the helmet. The commlock must pick up the radio signals and transmit them over a longer range. Thanks to Richard Totis.
We see Koenig waving to the Eagle passing overhead. A little later, Koenig enters the airlock. In both scenes, the lunar landscape behind is identical, with a small crater rim visible.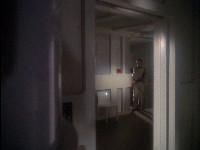 Moonbase corridors don't normally have windows, or steps (not clearly seen in the episode, but watch carefully in the shot through the Diagnostic Unit doors). The production redressed Koenig's command office set as Diagnostic, and used part of Main Mission as the corridor. These windows are actually in Main Mission, with a curved corner and blank walls along the top of the Main Mission steps.
We also see Koenig alone in an empty Moonbase in the next episode, Guardian of Piri, and Helena and Tony visit another replica Moonbase in One Moment Of Humanity. Thanks to Richard Totis.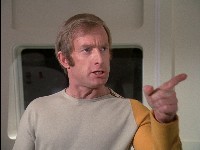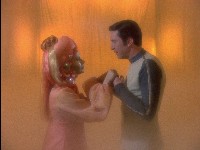 Alan Carter argues with Victor and Paul: "he is still the Commander". The contrast is striking between Alan's fierce loyalty and Koenig in the next scene on Zenno, apparently willing to abandon Alpha to live with Vana. In the script, it's a little clearer that Koenig is manipulating Vana so that Raan will send him back, although by this scene he has real feelings for her. This is too subtle to be seen on screen. Thanks to Richard Totis.
After Helena performs cardiopulmonary resuscitation, we see Sandra. She has sensors are on the outside of her gauze. Later shots show them inside. Thanks to Anthony D.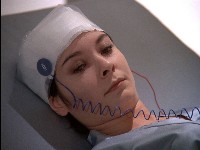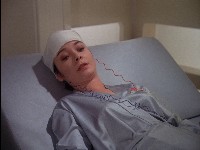 The This Episode segment contains several scenes that did not appear in the episode.
---