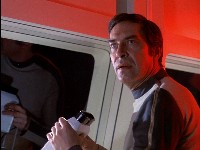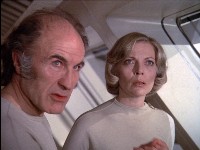 Koenig looks through his binoculars to see the missiles strike Delta, then turns to Helena and Victor who have joined him to state "It's bombarding the right hand planet." The shot of Koenig is actually of a ground level window, either in Main Mission or his office. The wall is vertical (see especially the top section illuminated red by the lights), while the balcony has a sloping roof immediately over the window. Thanks to Craig Rohloff.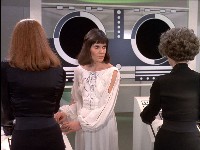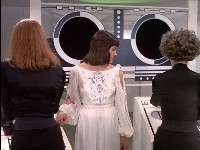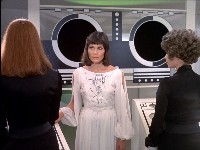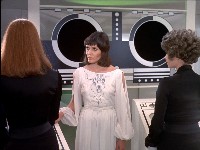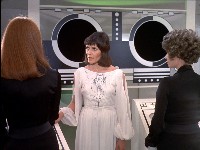 These two scenes in the Satazius control room show a reflection of the microphone. Beyond the women is a black and white "display" with two circular black "screens". The transparent top area shows a reflection of the false ceiling, and a reflection of the microphone on the top left. The first is just before the radar dishes rise ("Activate scanners"); the microphone moves to the right as Dione turns. The second scene is immediately before they open fire ("Weapons ranged and ready to fire"); the microphone reflection hovers on the left edge. Thanks to Marc Abernathy.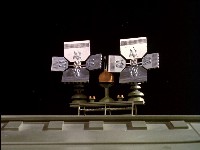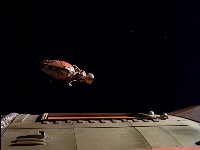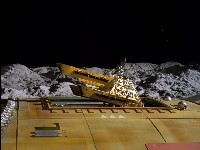 The hull section is seen on both the Bethan and Deltan ships. First it is seen around the radar dishes. Then it is seen when Dione's escape ship is launched. Then it is seen on the Deltan ship rocket launcher (which has one of the Bethan radar dishes mounted on top). The rocket nozzles seen on the left are particularly obvious kit decoration.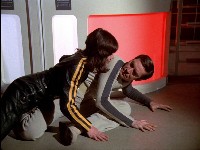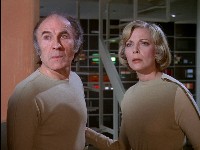 Helena and Victor watch Dione and Koenig at his office windows ("What is happening to you was never our intention"). The colour of the panel is a pale pink, rather than the bright red seen in other shots.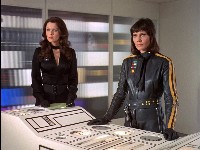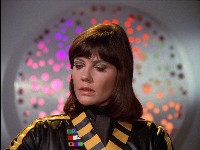 On her return to Satazius, Dione answers Koenig's call wearing a yellow sash; she wasn't wearing it moments earlier, as she talked to Theia. Later she wears a thick black scarf. Thanks to Ed Carlyle.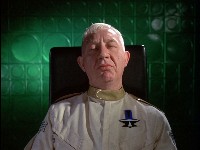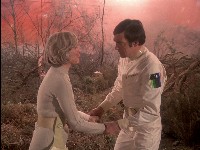 Talos appears to be wearing the same type of suit worn by Lee Russell in Matter of Life and Death, albeit with the addition of epaulettes (in the same plastic/pvc as the collar) and different badging. Thanks to Richard Totis.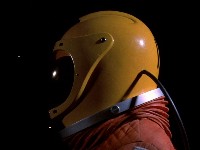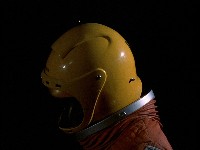 Presumably the helmet falls off the astronaut suit because of the vibration from the rocket launches as it nears the Satazius. However, as Anthony D points out, the oxygen tube for the helmet somehow also detaches and disappears.
Copyright Martin Willey.