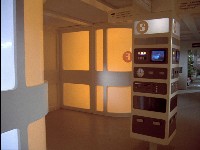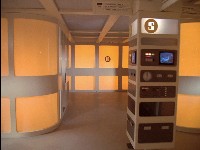 As the camera tracks down the corridor towards Hydroponics Unit 2, we pass a communications post. On the sign pointing left it says "Hydroponics Unit 2", but the actual Hydroponics Unit 2 is visible beyond. Later, when the camera tracks out of the Unit past the same communications post, the opposite signs can be seen. Seen from this side, "Hydroponics Unit 2" points to the other direction (still not in the direction we came from).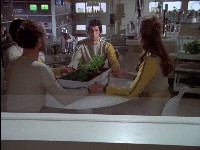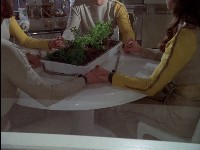 As the camera tracks towards the window, we can see a white reflection moving over the shoulder of the man on the left. This is probably the camera crew.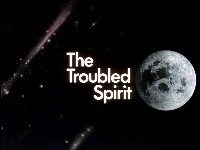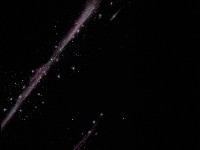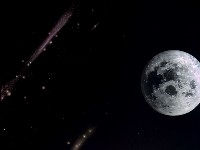 Compare the title shot of this episode, with the POV shot of space when Koenig looks out the windows at the start of Space Brain, the opening shot of The Infernal Machine, and the shot of the Moon in deep space immediately after the flashback sequence in Dragon's Domain.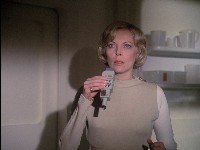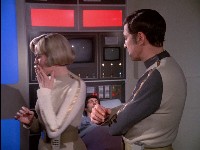 Helena's commlock prop is different when she uses it. When she sees the ghost in Medical, her commlock has all 9 keypad buttons with numbers. In the next scene as she explains to Koenig, the prop on her belt is missing the top left button and none of them have numbers.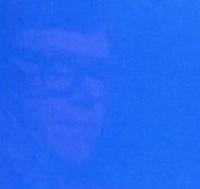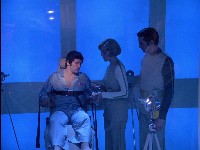 There are many reflections of lights and indistinct shapes of camera equipment in the glass, but this shot reveals the ghostly head of a man in glasses, top left.
Copyright Martin Willey.