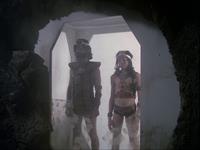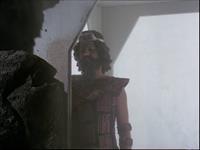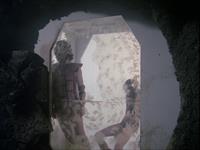 The glass of the stasis chamber is seen breaking away, with most of the top half including the symbol disintegrated. In a close up we see Pasc slump to the side, with no glass in front. We then see a wider view, with both Archanons slumped, but the glass has reappeared, and most of the symbol is visible again. Thanks to Thomas and Michael Thompson.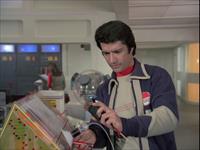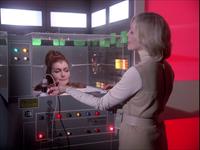 The instrument that Tony uses to scan the Power Unit is the same instrument Helena uses to adjust the expression of the robot Maya in The Taybor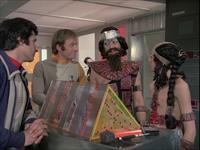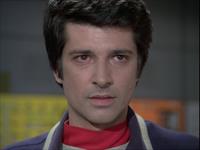 When Pasc is asked to open the Power Unit in Techlab 3, one shot shows Tony looking at Pasc suspiciously. The close-up of Tony is actually in Command Centre (the coloured computer panels are behind him).
We don't see much of the computer panels in TechLab 3 before Alan has to hit the "Alarm" button. The publicity photo proves that button wasn't there earlier (there was a wooden step-ladder, however).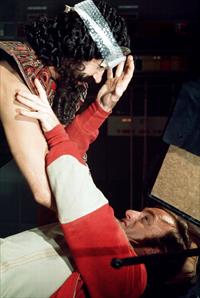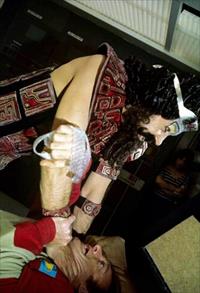 Behind the scenes. Notice Nick Tate has a cushion under his head. The wooden boards keep light away from the sides of the camera.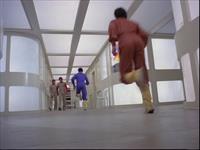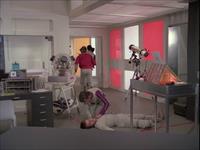 Tony arrives at Techlab 3 with two guards, Long and Pierce (the latter, played by Quentin Pierre was named Quinton in Year One). After Helena is called, we see jump-suited men run down a Moonbase corridor. The first man, in the blue jumpsuit, is Pierce (Quentin Pierre). We then cut back to Techlab 3, where both guards are still present, examining Johnson.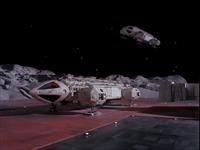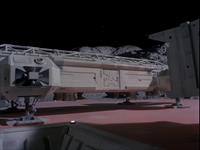 Shots of Eagle 3 on the pad show it changing sides repeatedly (port to boarding tube; starboard to boarding tube). It moves forwards and backwards, and when the boarding tube connects the edges of the pad are around the red cross section.
Tony orders "Launch Area. I want Eagle One in the air above the pad. Nothing else is to move off the base. Repeat, nothing, but Eagle One to lift off." Eagle 1 is Koenig's Eagle.
Does Pasc know how to fly an Eagle? Where would he fly to?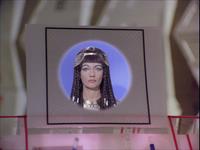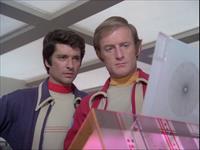 When Alan shows Tony the recording of Lyra in Medical Centre, the backdrop behind the Archanon screen shows hexagonal boxes- the exact same backdrop seen in Techlab 3.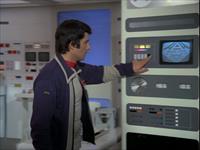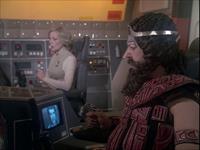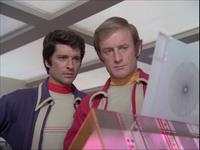 Tony goes to the communications post to call Pasc in the Eagle. As usual, on the Eagle screen shows a shadow immediately behind Tony's head, although he has Medical Centre behind him. When we cut back to Medical Centre, Tony has leaped back from the communications post to stand by Alan, watching the screen in the exact same pose as before he left.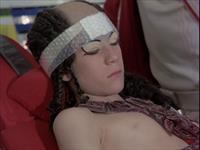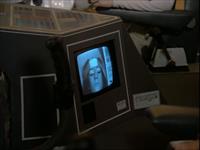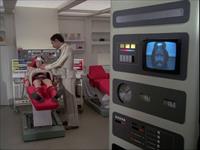 When Lyra mentions Etrec, we cut to a close-up of the boy. We see Alan standing alongside him. We cut to the Eagle, when Pasc asks to see Etrec. The next shot of Medical Centre shows Raul standing by Etrec, with Alan no longer in sight.