by Martin Daoust with contributions thanks to Thomas, Jim Burke, John Day, David Sisson and Simon Rhodes.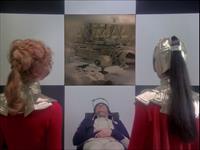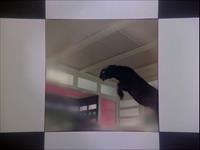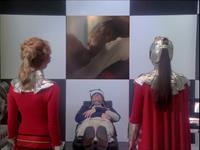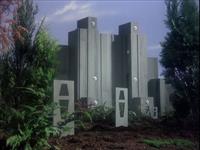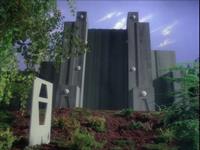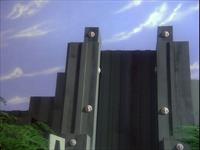 Koenig's "top floor" cell on Entra has an oval window. No windows are visible from the outside. Two trapezoid doors are seen. Obelisks (also seen in A Matter Of Balance and The Dorcons) are widely spaced.
| | | |
| --- | --- | --- |
| Closeup on the Lion's head molding seen next to the window | Lion's head as seen from the inside. | On this shot, you can easily compare the Lion Head's size to Koenig (he's 190cm). I would estimate it is around 90cm in diameter. Given around 3m between floors and a higher ground floor, this would roughly place his cell on the 5th floor when looking at the exterior model. |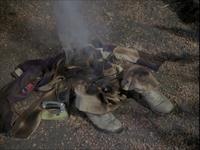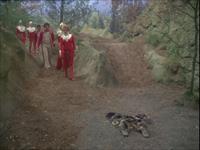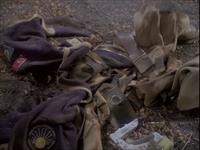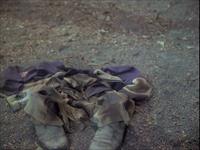 Although they make a point of having the prisoner dressed as Koenig walk into an undisturbed area, his clothes are rearranged by the time Fraser and Alibe see them. After the prisoner has been zapped, the stun gun, still in the holster, points forward. As Fraser and Alibe walk up, it points to the side. In the close up when they look down, it turns round, outside the holster, to point at the clothes. When Koenig jumps down, it points to the side again, although the feet now point together. Koenig doesn't attempt to take back his weapon, although he could at this point.
When Koenig looks out the window, he sees Elizia's guards walking back in between those "giant bottle openers". Two things here:

The point of view couldn't be any higher than the 3rd floor (see the size of the guards against the obelisks), so there's a definite scale problem between the interior set and the model
The gate, made of aligned obelisks, is never seen from the outside.

Small squares of transparent perspex with coloured dots, normally seen as Helena's Medical Equipment props, become communication devices here. See Crael's Hand Held Transmitter and Koenig's Distress Homing Transmitter.

After Koenig escapes, Elizia changes from her dress to a cat-suit uniform. She also has a new hair-do. The on-screen elapsed time is 14 seconds. After her party sets out, roughly 30 seconds later Koenig had discovered his "burnt" clothes and we hear the hunters footsteps from Koenig's point of view. Subsequently the chase is "real-time". Either Koenig wastes his head start or Elizia and the search party are incredibly efficient.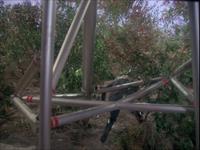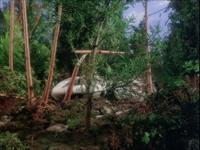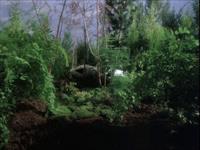 Who put up the scaffolding under the Eagle? It wobbles dangerously when Koenig jumps down beside it. It is not visible in the model shots. The entire Eagle is at a 30 degree angle but the interior set is level (immediately after the crash -and when Fraser and Alibe visit- it was more level, but the command module was embedded into dirt). Thanks to Thomas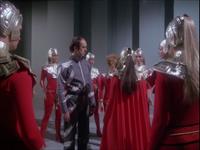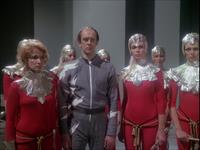 After Koenig has transported himself to Ellna, the Interrogator and guards confront Elizia. The Interrogator says "I'm not political" and leaves, walking out the door and away. When Elizia transports herself, the Interrogator is standing where she stood before. Thanks to Jim Burke