Thanks to James C, Thomas and others.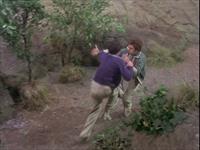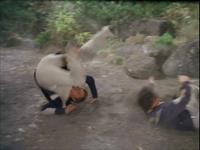 In these frame, the stuntmen's faces are visible.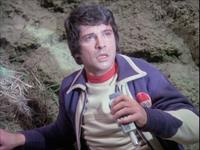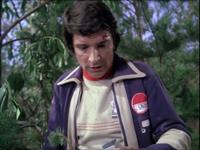 Initially Tony wears his normal uniform tunic, which has two horizontal red lines and a seam across the chest. After he sees the alien, he is in a different tunic, with three horizontal red lines and no seam (a converted Year 1 top). Thanks to Fergus.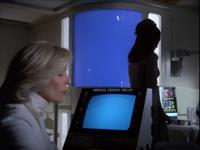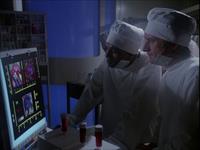 The scans of the Maya creature from Space Warp can just be seen.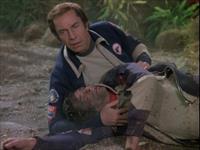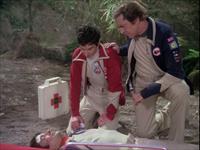 After the fight with Koenig, Tony is covered in dirt. When Spencer inspects him, not only has his face been cleaned, he wears a fresh, clean uniform.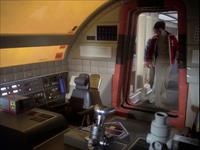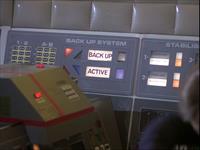 The Eagle cockpit is equipped with the space warp detector (from Space Warp). It also has the nuclear bomb controller from Space Brain.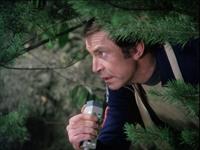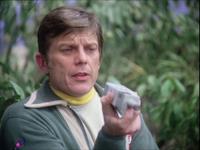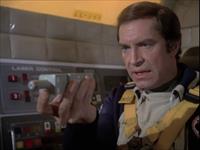 Abruptly, people start holding their commlocks in a different way than normal. It turns out this is prudent. Incidentally, this and The Rules Of Luton are the only two Year Two episodes in which close-ups of the commlock screen are shown.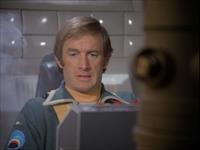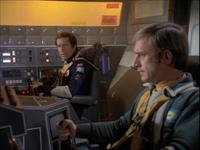 After the explosion, smoke rises behind Alan as he says "We're holding." We cut to a wide shot of the command module, and the smoke has disappeared. Thanks to Simon.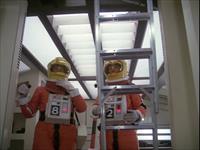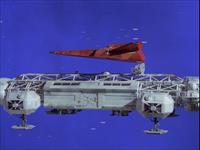 The ladder is shown "forward" of the passenger pod's port and starboard access doors. The access "tube" is clearly "aft" of the pod's access doors. Thanks to Martin Daoust.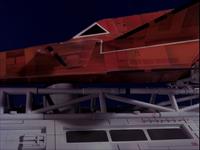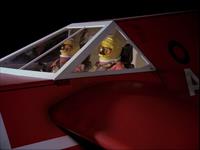 There are subtle differences between the model glider and full sized set. The full sized glider has side wings immediately under the cockpit windows, and they are strongly curved. The model glider side wings are further forward and flat. There is a black "O" and a white triangle outline behind the wing on the studio set, but they are not present on the model.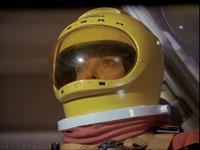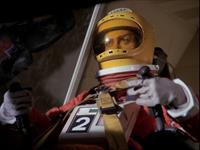 In the glider, Maya's helmet has the air hose connected. Helena's helmet has no air cable. Thanks to Simon. The neck ring is painted white, rather than silver, to indicate they have replaced the "metal seals on the spacesuits".