This ATV press release is based on a larger press booklet also in the Catacombs.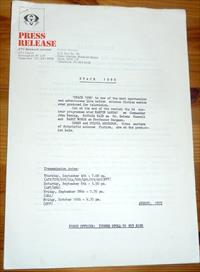 ATV PRESS RELEASE
ATV Network Limited
Elstree Studios
P.O. Box No.78
Eldon Avenue,
Boreham Wood
SPACE 1999
'SPACE 1999' is one of the most spectacular and adventurous live action science fiction series ever produced for television.
Set at the end of the century the 24 one- hour programmes star MARTIN LANDAU as Commander John Koenig, BARBARA BAIN as Dr. Helena Russell and BARRY MORSE as Professor Bergman.
GERRY and SYLVIA ANDERSON, those masters of futuristic science fiction, are at the production helm.
Transmission dates:
Thursday, September 4th -7.00 pm.
(ATV/YTV/STV/CHA/TTT/GPN/UTV/WTV/BTV)
Saturday September 6th -5.50 pm.
(LWT/ANG)
Friday, September 26th -7.35 pm.
(GRA)
Friday, October 16th -6.35 pm.
(HTV)
AUGUST 1975