---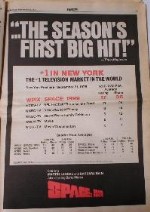 This is a four page advert in the US show business newspaper Variety, for Wednesday, September 24 1975 (pages 57-60). Page 57 boasted the ratings for the first episode on New York's WPIX-TV channel 11 from 3 days before, pages 58 and 59 showed four columns of newspaper reviews, and page 60 showed the Wernher von Braun recommendation with the ITC logo. The ratings for New York state that 17% of television owners watched it, and 36% of those watching television at the time were watching Space: 1999
Variety
Wednesday, September 24 1975
"...The Season's
First Big Hit!"
- Time Magazine
#1 IN NEW YORK
THE #1 TELEVISION MARKET IN THE WORLD
New York Premiere September 21, 1975

6:30-7:30 P.M.





Average





Rating

Share

WPIX

SPACE: 1999

17

36

WCBS-TV

NFL Football/Three for the Road

11

24

WNBC-TV

News/World of Disney

6

14

WABC-TV

News/Swiss Family Robinson

6

12

WNEW-TV

Movie

5

11

WOR-TV

Movie/Documetary

3

7

Quarter-Hour Averages





6:30 P.M.
6:45 P.M.


7:00 P.M.
7:15 P.M.




Rating
Share
Rating
Share


Share

Rating

Share

WPIX

SPACE: 1999

15

33

16

36

SPACE: 1999
18

37

18

36

WCBS
NFL Football
14

30

13

29

Three for the Road
8

18

10

19

WNBC

News
5

11

5

11

World of Disney
8

16

8

16

WABC

News

5

10

5

10

Swiss Family Robinson
6

13

7

14

Source: Neilsen The audience figures shown are estimates subject to the techniques and procedures used by the service.
Starring
Martin Landau and Barbara Bain
Also starring Barry Morse
Space: 1999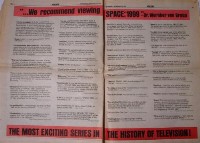 "...We recommend viewing SPACE: 1999" - Dr. Wernher von Braun
"It is fun television! With the new season's general level of mediocrity, television executives have enough to worry about, but now they are nervously preparing to contend with "Space: 1999". It is fun television. The visual lavishness is immediately apparent, from the dazzling array of electronic gadgets and hardware to the 'moon city' costumes designed by Rudi Gernrich. The stars are entirely suited to the sci-fi genre."
- New York Times
"Class! At last - a new science-fiction series with class." - Washington Star.
"Unimpeachably above average! The directing was imaginative, the acting was unimpeachably above average. It was material far better suited to the big screen than little. The most exciting, ingenious and brilliantly produced space series yet developed for television."
- Sunday San Francisco Examiner-Chronicle.
"The heart of science fiction! A winner. It is the heart of science fiction produced by professional enjoying big budget and featuring established performers and some of the most elaborate special effects ever seen on television." - Cue
"There is every reason to expect that the Landaus will return to London in November and that the unfortunate survivors on Moonbase Alpha will go on being lost in space for heaven only knows how long." - Los Angeles Times
"Innovative! Television could use more innovative shows such as 'Space: 1999', where new concepts, talents and outstanding scripts will produce a variety of entertainment materials for viewers who appear tired of repetition. Maybe next year ... the networks will find a spot in one of their schedules for the series." - Fort Wayne News-Sentinel.
"Unqualified hit! I unhesitatingly say that 'Space: 1999' will be an unqualified hit." - St Petersburg Times
"Outstanding! It is a show so outstanding that it makes 'Star Trek' look like children playing astronauts in the backyard." - The Tampa Tribune & Tampa Times
--
"The big one! Presented with lavish gloss. A series that will turn the networks green with color television envy. This earthling suggest that the networks may find that 'Space: 1999' is the big one that got away." - Los Angeles Herald Examiner
"Finest! A series which is guaranteed to drop a science fiction fan at 20 paces with the finest special effects on the tube." - San Francisco Chronicle
"Amazing! A super science fiction series. The special effects are amazing and absolutely breath taking." Enterprise (Boston)
"Effective! The series is spiced with social comment...an effective thought-provoking weekly program." - San Antonio Express News
"Grandiose! It's a grandiose concept, and it's been given a grandiose treatment." - Boston Globe
"Flashy! Flashy production." - The Pittsburgh Press
"A run for the ratings! 'Space: 1999' looks like it will give the network shows a run for the ratings."
-Newsday
"Elaborate! The most elaborate series ever produced for television." - The Tampa Times
"Spectacular! It may be that one new fall spectacular, 'Space: 1999' may become the world's most widely viewed television series... it is one of this fall's most exciting shows/ The sets and special effects are spectacular." - Oregan Journal (Portland)
"A hit! It is difficult to imagine 'Space: 1999' not becoming a hit." - Hollywood Reporter
"Star Trekkers finally have a place to light as syndie series hits." - Daily Variety
"Lush! Viewers will find 'Space: 1999' big in production values. The money spent on it shows in the elaborate sets, the special effects, in the costuming and the lush musical score." - The Miami Herald
---
"Fantastic! A winner if only for its outstanding outer space special effects. They are fantastic. To the networks, 'Space: 1999' represents to their well-ordered orbits." - Associated Press
"Hottest show! Space fans have something to cheer about. If you liked 'Star Trek', you'll love 'Space: 1999'. The series...is already the hottest show in the country. It is hard to believe that the three big commercial networks passed up 'Space: 1999'." - Philadelphia Daily News
"English spacemen give networks nervous jitters." - Houston Chronicle.
"Spectacular! 'Space: 1999' utilities the most spectacular array of hardware ever built for a television series." - The Daily Post (Los Angeles)
"All-family programming! Adventure and drama on a scale never before attempted...meets the needs of the public and broadcasters for all-family programming." -Sunday News Register (Wheeling, W Va)
"The best! One of the best shows I've seen." - The Oreganian (Portland)
"Unique! 'Space: 1999' already unique in TV history." -San Antonio Light
"Ambitious! One of the most ambitious television series ever." - The Blade (Toledo)
"Out of this world! New series out of this world." - The Denver Post
"Remarkable! Martin Landau and Barbara Bain are well cast. Fantastic sets and remarkable technical effects distinguish the lavish science-fiction series." -Boston Herald American
"This could be The One." - The Palm Beach Post-Times
"Thrilling! Bain, Landau highlight thrilling space series." - Fort Lauderdale News and Sun Sentinel
---
"Super! A lavish blast off into 'Space: 1999'... The gadgetry is super. It makes 'Star Trek' look like a tacky attic production." - Washington Post
"The $6.5 million series! Last winter when they probably should have been fighting over who would get the rights to the $6.5 million series, the three American commercial networks were studiously ignoring 'Space: 1999'. They will be sorry." - Pittsburgh Post-Gazette
"The best! The best new series I've seen so far this fall." - Providence Sunday Journal
"Packed! 'Space: 1999' is packed with enough electronic, nuclear and psychic action to make 'Star Trek' look like a Shetland pony exhibition." - San Francisco Examiner
"Suspenseful! Suspenseful and well written. The acting was above average. The show offers the television viewer thought provoking futuristic entertainment." - Santa Ana California Register
"Out of this world! Landau and Bain out of this world in new TV series." Press Telegram (Long Beach, Ca)
"Lavishly produced! A brand new lavishly produced science-fiction series to relish." - El Paso Times
"Dazzling! ...dazzling sets, special effects and lush production values. Move over 'Star Trek'." - The Indianapolis Star
"Plushest! Science-fiction at its plushest." - Harrisburg Patriot News
"Super! The best newcomer presented this season ... a super television show no matter what standard of measurement is used and should bring untold joy... network programmers will spend the season cursing themselves for not snapping up 'Space: 1999'." - Sunday Plain Dealer (Cleveland)
"First-rate! A first-rate production - from sets, costumes to dazzling special effects." - New York Daily News
THE MOST EXCITING SERIES IN THE HISTORY OF TELEVISION!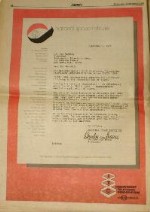 September 5, 1975
Mr. Abe Mandell
President
Independent Television Corp.
555 Madison Avenue
New York, N.Y. 10022
Dear Mr. Mandell:
The National Space Institute welcomes Independent
Television Corporation's new series SPACE: 1999.
SPACE: 1999 imaginatively captures the excitement
of living in the incredible age of space.
Freeing the creative imagination -- so effectively
accomplished in SPACE: 1999 -- characterizes
mankind's exploration of space.
The National Space Institute is conceerned with what
comes next in our space program; what our Country's
long range goals are; and how we can make space
exploration benefit mankind.
Presented on the mass medium of television, SPACE: 1999
will stimulate the public interest in the potentials of
space techonology in such fields as energy, environment,
natural resources and food production.
It is for this reason that we recommend viewing
SPACE: 1999, for the series can only make the public
more enthusiastic and concerned with the further
exploration of our universe.
Sincerely,
NATIONAL SPACE INSTITUTE
Wernher von Braun
President.
---
ITC Independent Television Corporation.