Thanks to Stephen Herbert. See Space: 1999 in Australia guide
The Australian Women's Weekly of 19 February 1975 had an 8-page section on "What you'll see on color TV", with network programmers picking their favourites for "the first 3 color months" after 1 March 1975- "C-Day", when Australia began broadcasts in colour. In their top lists, ATN7 Sydney picked Space: 1999 in 3rd place (after Australian drama Cash and Company and Planet of the Apes. Like most of Australia the series was held over until 1976. On page 28, program managers Glen Kinging (ATN7 Sydney) and Gordon French (HSV7 Melbourne) described the shows with colour photos.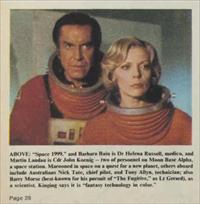 Space: 1999 and Barbara Bain is Dr Helena Russell, medico, and Martin Landau is Cdr John Koenig - two of personnel on Moon Base Alpha, a space station. Marooned in space on a quest for a new planet, others aboard include Australians Nick Tate, chief pilot, and Tony Allyn, technician; also Barry Morse (best-known for his pursuit of "The Fugitive" as Lt. Gerard), as a scientist. Kinging says it is "fantasy technology in color."
"Space" Premiere
HSV7 (Ed: Melbourne) previewed its latest overseas purchase, a spectacular $4 million space series called "Space 1999", starring Barbara Bain and Martin Landau, at the Hilton Hotel this week.
The series, produced in Britain for the Independent Television Corporation, will have its world premiere on HSV7 on Monday night, July 23, at 7.30.
Although sold to the U.S. and other countries, "Space 1999" will not be seen overseas until later in the year.
Landau plays "Commander John Koenig" who heads a vital mission to probe deep space. Barbara Bain is "Dr Helena Russell", the mission's medical chief.
---
Melbourne Reviews
"I wasn't over-excited by the first episode... it was slow and fell for sometimes meaningless scientific jargon too much, but I'm sure it will improve... any series which cost $4 million to make can't be all that bad.
Lawrie Masterson - Melbourne Herald - 28 July 1975 p6
I'm sure it will grab the audience Seven seeks, people who'll strap themselves to their armchairs every Monday night as the moon and its brave band of spacejockeys sweep inexorably through the black vortex into the abyss of intergalactic space to fulfil their destinies.
David Park - TV Week, 2nd August 1975 p16
Gimmick free suspense drama in "Space 1999"
The News 23 Feb 1976
Science fiction television shows are rarely a huge success.
They use plenty of cheap gimmicks and camera tricks to amuse and enthral audiences into the strange world of outer space.
But not since the days of "Star Trek" has television had a science fiction drama like "Space 1999".
The program has it premiere on Channel Seven tonight.
The series is a multi-million dollar extravaganza filmed in England by ITC in association with Italy's State television authority.
It is brilliantly suspenseful science fiction and visually exciting.
The show brings back husband and wife team Martin Landau and Barbara Bain (Mission Impossible), and Barry Morse, the relentless cop in the "Fugitive".
Australian born actor, Nick Tate, also has a leading role in the series.
"Space 1999" has the fascination of fast moving science fiction on a scale never before attempted. It stretches production ingenuity to new limits.
The series is set around Alpha, a moon base set up for the scientific investigation of outer space.
In the opening episode the occupants of Alpha are hurtled into a bizarre nightmare of the unknown when the moon is ripped apart by violent nuclear explosions.
Part of the moon is pulled out of orbit moving away from the earth into the unexplored regions of outer space.
Martin Landau plays Commander John Koenig, who is sent to Alpha to take control and handle a delicate landing on an approaching planet.
"Realistic"
But things go awry on the moon when nuclear waste dumps explode due to intensive heat caused by magnetic forces from the rogue planet.
The sets are almost realistic with imaginative gadgets, a talking computer which is able to work out the most obtuse mathematical problems, and a fleet of exploration craft known as Eagles.
And what makes "Space 1999" a more attractive science fiction program is that its cast are quite human.
They are plain intelligent people with their feet still in the twentieth century and not simply puppets to provide elements for gripping science fiction adventure.
The acting, production and direction make "Space 1999" a superb viewing highlight.
---
Subtle Changes As 1999 Returns
TV Guide #841, 4-10 Dec 1976
Space 1999, the high-budget, science fiction series starring former Mission Impossible husband and wife team Martin Landau and Barbara Bain returns with new episodes.
Although a second series has been made in Britain, the episodes Channel 7 will screen at 7.30 pm Mondays will be the remainder of the first series cut short earlier this year.
One of the features of Space 1999 is its special effects. Brian Johnson, who worked on Stanley Kubrick's successful "2001" movie is the special effects director for the series. Producers, husband and wife team Gerry and Sylvia Anderson, have worked for years on the popular children's program Thunderbirds.
If the episodes to be screened are popular, the second series may be screened later. The new series has a few subtle changes. Australian Nick Tate, who starred in the award-winning "Devil's Playground", will be featured more strongly, and Fred Freiberger, former producer of Star Trek, has been hired to inject more human drama into the plots.
The unisex costumes will give way to more colorful gear for the men and briefer sexier outfits for the women. Catherine Schell, star of the movie "Return Of The Pink Panther", joins the cast as an alien who can turn herself into any object.
---
A New Blast-Off For The Aussie Astronaut
TV Week August 14, 1976
From Our London Bureau
When the new season of Space 199 hits the screens a couple of new faces will be noticed on the popular sci-fi series.
But Australia's handsome Nick Tate will still be among the hearty crew of Moonbase Alpha and Nick says it's largely because of fan response, not so much from Australia, but America.
"I get only a minimal amount of mail from home, but I get literally hundreds of cards and letters from the USA" he says.
And Nick admits he's actually troubled by this.
"I read and answer everything I get. And quite honestly it's costing me an awful lot since the studio won't pay for the postage. I must spend $100 every time I drop off another sack of mail to my fans over the world.
"I love to read these letters and answer them. But I also love to socialise with my friends and go out with women. And one of the other has got to sort itself out."
Nick has been rotating between Sydney and London for the past 10 years. And listening to him today, he sounds more English than Australian.
The with a second breath he will relieve your anxiety with some good old back-home talk.
Nick was busy at work on the third season [sic] of the series when he took a break to attend the Cannes Film Festival this year to help promote Fred Schepisi's film The Devil's Playground, for which he shared the Australian Film Institute's Best Actor award.
"Doing it was really a labour of love rather than one of financial consideration" he'll tell you.
Immediately after Cannes it was back to London for more outer space acting.
This next season promises to be even more exciting and far out than the previous one.
For one thing. producer Gerry Anderson has employed the talents of Star Trek producer Freddie Freiberger. And already the new man at the top is promising "Our new series will be far superior to any other science fiction series I have ever had to offer."
And while Freiberger denies he's setting out to duplicate Star Trek he admits much of the action and gimmick oriented Star Trek plot styles will be incorporated into Space 1999.
How does Nick Tate feel about this? He's enthusiastic, yet a bit worried.
Already Barry Morse has been chopped from the cast and replaced with a new young English face- Tony Anholt.
"With the new set-up the supporting characters aren't being given contracts anymore. You remain a regular in the cast, but it's on an episode to episode basis. The security isn't there as it was before," says Nick.
"On the other hand, the new shows promise to be better than ever. I'm very excited about them" he says.
Nick admits getting his role in the hit TV series was an amazing stroke of luck.
"An Italian actor had originally been set to take the role I am now doing. I was just an extra who supposed to be killed off.
"Well the Italian actor turned down the role at the last second and I was made part of the cast."
---
TV Guide, Saturday November 16, 1976
The British produced sci-fi spectacular, Space: 1999, has returned to the Channel 7 line-up, and is screening on Saturday nights at 7.30 pm. To re-establish the plot for viewers, the channel is first repeating a number of episodes from the first series. Then it's time for series two- 24 one hour programs in which there is a new look overall, new character and romantic developments, more humor, a variety of way-out aliens and new faces, among them...
The Miracle Girl From Outer Space
She's gorgeous, sexy and has a computer-like brain. That's how Space 1999 producer Fred Freiberger describes Maya, the series' new miracle girl from outer space.
But that's not all. Maya knows the secrets of molecular transformation, and thus has the uncanny ability to transform herself into other life forms.
She can immediately become another human being, an animal of any kind, a tree or even a rock, a monster or a dove, an ocelot or a bird of prey.
Handy attributes, all right. Which is why the leaders of Moonbase Alpha snap her up as a science officer when she is rescued from her own doomed planet.
It's all a bit far fetched of course, but that's the way things are in TV's sci-fi land. And producer Freiberger (who is Space 1999's story editor also, and a former producer of Star Trek) isn't at all embarrassed about it.
"I firmly believe our new concept is far superior to anything other science fiction series have ever had to offer." he says. "We are not competing with Star Trek or any others, but are setting out with the premise that we must be creative in every respect."
Naturally, this means monsters, or aliens, as they prefer to call them around the studios. In series two there are more, and they're more bizarre which should suit the audience. Series designer Keith Williams [sic] revealed that the strongest reactions to the first series came for episodes which "stretched the imagination to the limits".
"The more outrageous the aliens are, the more successful they are with viewers," he says. "This time, we make the contrasts between aliens and the Earth people even more striking.
"And as well as the new outer space aliens, there are the amazing variety of creatures into which Maya transforms herself from time to time."
A total of 154 actresses of various nationalities were tested for the role of Maya before the producers selected Catherine Schell.
The tall and beautiful Hungarian-born star has appeared in many movies and TV series on different continents, but by coincidence her first major role was in "Moon Zero Two", in which she portrayed a girl who went to the moon in search of her missing astronaut brother.
TV productions in which she has appeared include Paul Temple, The Troubleshooters, Family at War, The Sweeney, The Persuaders, The Adventurer, Search For The Nile and Napoleon And Love, in which she was the emperor's mistress, Maria Walewska. Movies include "On Her Majesty's Secret Service", "Callan", "The Black Windmill" and "Return Of The Pink Panther".
Born in Hungary, Catherine is the daughter of the Baron and Baroness Schell Von Bauschlott, but her father renounced his title when the family fled to the United States during the Communist takeover of Hungary. Formerly a diplomat in the Hungarian Embassy at Washington DC, he returned there with his family and became tour manager for visiting European orchestras until going back to Europe.
Catherine spent her schooldays in America, first of all in Washington and then Staten Island, New York, completing her education in Munich, Germany.
"So" she says, "I can't help feeling that my role as Maya is apt casting because I am an alien myself - a foreigner in every country, even in Hungary, where I was born. I have up my nationality when my family fled to America. I have an American passport and an English resident permit. But I am virtually an alien wherever I go, so it's natural enough for me to be an alien in Space 1999."
When embarking on a stage and screen career, she changed her name to Caterina Von Schell, later Anglicising it to Catherine Schell.
While still a drama student, she appeared in a radio play, then had a brief part in a film before going to Brazil for her first lead - in "Lana, Queen of the Amazons". After this, she was based in Munich with her family but filmed all over Europe and elsewhere.
Of her role as Maya, she says "I have feline looks, and my make-up is marvellous. Transforming myself into all sorts of other creatures is intriguing. To help in these changes, I have to study the animals and other creatures beforehand and to help the transformation I slip into poses which suggest them. I've learned to crouch, snarl, growl. They never taught me these things at drama school."
---
Space: 1999 copyright ITV Studios Global Entertainment