TV Years issue 5- Sci-Fi (August 2019)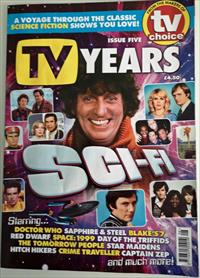 "from the makers of TV choice"
Vintage Doctor Who is still popular enough to appear on UK newstands in 2019, and this magazine, TV Years featured Tom Baker on the cover. He was simultaneously on another cover, Infinity magazine, while there were at least two other specialist Doctor Who titles alongside these magazines.
TV Years is a monthly title looking at the television of previous decades. The scope of this one, "sci-fi", is wider, but it's mostly 1970s and 1980s UK TV science fiction: Doctor Who, Star Maidens, Blakes 7, Sapphire and Steel, Hitch Hikers Guide To The Galaxy, Tomorrow People and Space: 1999... There are a few 1990s series covered, and only passing mention of US TV, mostly in a year-by-year guide to SFTV from the 1960s to 2009 (when apparently it stopped).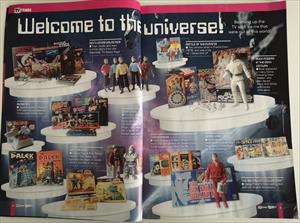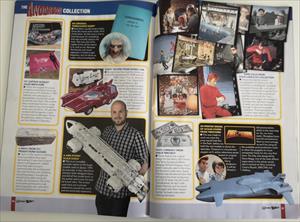 The articles are mostly interviews (some, such as the Who interviews, are old interviews from the 1970s); the Hitch Hiker's article a more historical profile (similar to Infinity's articles). There is a four page photo article with Jamie Anderson (son of Gerry) which promises to show mementos of the Anderson series. Actually most are vintage and current merchandise, including the 44 inch Sixteen 12 Eagle.
The four page article on Space: 1999 is titled Shooting for the moon, on pages 88-91. "It was visionary, progressive and expensive, but Space: 1999's journey was all too short". The writer is Samira Ahmed, a UK TV journalist and presenter. She is not pictured or profiled in these pages, but she is a recognisable face on news and arts programming. In 2010 she won a celebrity edition of the legendarily tough BBC TV quiz show Mastermind, and the end of the article notes she will return to the quiz with a specialist subject of Space: 1999 (possibly Christmas 2019).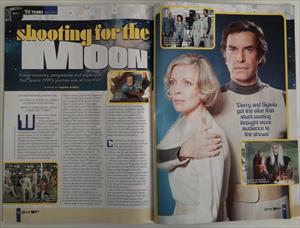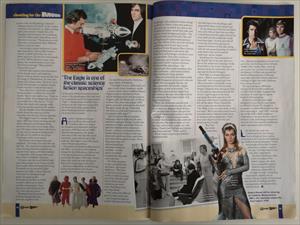 It is a general profile of the series, based around comments from a number of interviews. Jamie Anderson (again) describes some of the horror themes and the supplies bulk of the other quotes in the article, although he hadn't been born when the show was filmed and shown. There is a short paragraph of comments from Dr Kevin Fong, a health broadcaster, and from SFX designer Paul J Franklin (Interstellar, Inception). There are several quotes from Nick Tate (the only real mistakes here are his quotes, specifically about Another Time, Another Place (he didn't play two versions of himself, that was Barbara Bain), and Journey To Where (confused with Full Circle). There are also some short comments from Brian Johnson and Catherine Schell. It doesn't really explain the effects ("green screen wouldn't have worked"- why?), but it covers the basic background (the 2001 and Star Wars connections)
Perhaps for Mastermind, Ahmed will need to watch the episodes again to double check a few details. However, it is a pretty good overview, using the comments to tell some of the stories behind the series. The photos alongside the article are nice, although we've seen them all on the Network discs.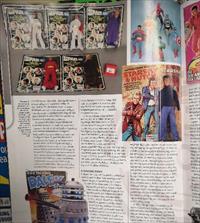 Oddly enough, the Infinity issue (21) also includes Space: 1999. An article on action figures pictures the Palitoy figures, and also mentions the Mattel figures. The October issue (22) features a Brian Johnson interview.
---