New sci-fi TV series in works
This was an agency news report by John N Goudas of King Features Syndicate. This appeared around 4 May 1975 under various titles in different papers ("New sci-fi TV series in works", "'Space: 1999' Lavish Sci-Fi TV").
It was used as the cover story for the California newspaper Modesto Bee's TV section of 7 September, 1975 under the title "Move Over, 'Star Trek', Here's 'SPACE: 1999'", as Sacramento station KOVR channel 13 launched the show on 6:30pm Saturdays.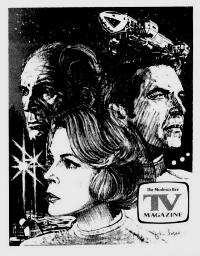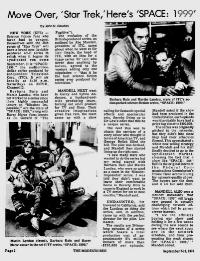 NEW YORK - Science fiction fans who have had to content themselves with the 25th rerun of "Star Trek" have a brand new, lavishly produced sci-fi series to relish when it begins its syndicated run come September.
It is "Space: 1999," the multi-million dollar series produced by Independent Television Corp. (ITC). Barbara Bain and Martin Landau, who have not worked in a series since their highly successful tenure on "Mission: Impossible," are the stars of "Space: 1999," along with Barry Morse (best known as Lt Gerard of "The Fugitive").
Abe Mandell, president of ITC, is very enthusiastic about the sales power which "Space: 1999" has shown and anticipated the series would be sold in 150 markets by June of this year.
The evolution of the British-produced series, as outlined by the loquacious and dapper Mandell, came about when he went to Sir Lew Grade, the head of ITC, with an idea for a space series. Sir Lew, who never does anything by halves, agreed to the venture adding only one stipulation - "that it be the best science fiction series ever produced for television."
Mandell next went to Gerry and Sylvia Anderson, a husband - and - wife producing team, turning out sci-fi product for TV and films. Their creative imaginations given free rein, the team came up with a show calling for fantastic special effects and spectacular sets - interior and exterior - than have ever been used in the production of a single TV series.
The next step was to obtain the services of a story editor who thought in terms of American TV, and George Bellak filled the bill. The pilot was devised, and Mandell then started lining up the right cast.
"I saw many stars who wanted to do the series but my mind stayed with Barbara Bain and Martin Landau, who were so good as a team in the 'Mission: Impossible' series. I was told they didn't want to leave their comfortable home in Beverly Hills to come to England to work in a TV series for six to nine months," Mandell said.
Undaunted, he traveled to California, sold the Landaus on doing the series and, in addition, came up with the perfect director for the pilot, Lee Katzin.
The results are 24 hour - long episodes of a series which boasts a total production coat of approximately $6.5-million or more than $250,000 per episode. Mandell noted if the show had been produced in the United States, each episode probably would have had a price tag of closer to $400,000.
The series originally was pitched to the networks, but they didn't bite since they had their schedules firmed. This necessitated a whole new selling strategy and Mandell and his staff finally decided to go to the syndication market, stressing the fact that a show such as "Space: 1999" fulfils the original intent of the Federal Communications Commission's Prime Time Access Ruling for network-quality shows.
The buyers saw the show and it all but sold itself. Seldom before had they been offered new product of feature film quality week after week.
Mandell also sees a distinct possibility that "Space: 1999" will break new ground in actually challenging network entries which fail to garner viewer interest.
"I see the affiliates buying our show and holding it for a few weeks during the new season to see where the weak spots are in the network schedule, and then pre-empting the weak sisters for 'Space: 1999" Mandell added. In the final analysis, it will be the hungry sci-fi fans who will be served when "Space: 1999" reaches the home screen in the fall.
Viewers in the Tampa Bay Area will be seeing the series on WFLA Channel 8.