TV Enters the Space Age
The Cleveland Press TV supplement "TV Showtime", 31 October, 1975; cover and p54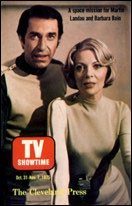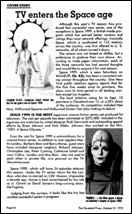 Although this year's TV season has produced few successful new series, one of the exceptions is Space 1999, a British-made program which has earned better reviews and ratings than most network offerings. Ironically Space, which is syndicated in 155 stations across the country, was first offered to U.S. networks, all of whom turned it down.
The reason was not based on dislike, but a preference to produce their own shows. According to trade paper information, each of the three networks has had second thoughts and would like to acquire it for next season.
Space 1999, which is seen Saturdays on WUAB (7, Ch. 43), has been a consistent ratings winner throughout the country. One New York public relations agency reports that for the first five weeks since its premiere, the show won its time period in all leading markets except Los Angeles.
The local Arbitron rating for its Sept. 13 premiere in Cleveland was 15, or a 32% share of the audience. Its competition included Hee Haw, Hollywood Squares and Hollywood Screen Test (also making its debut).
SPACE 1999 IS THE MOST expensive science fiction series yet produced for television. The cost per episode has been estimated at $275,000. Included in the expenses are costumes by noted designer Rudi Gernreich and outstanding special effects by Brian Johnson and Nick Allder. Johnson also worked on the film 2001: A Space Odyssey.
Even the cast for Space 1999 is extraordinary for a science fiction series. In addition to cast regulars Martin Landau, Barbara Bain and Barry Morse, guest stars have included Margaret Leighton, Richard Johnson, Christopher Lee, Peter Cushing, Catherine Schell and Joan Collins. Landau and Miss Bain, who are wed to each other in private life, are pictured on the TV Showtime cover.
Space 1999, which will have 24 episodes telecast this season, marks the TV series return for the Landaus who also co-starred on CBS' Mission: Impossible a decade ago. Morse is best remembered for his role as Lt. Girard on David Jansen's long running show the Fugitive.
Judging from the surveys, it looks like this trio has another successful series in progress.
---
Thanks to Bill Adkins, Allen Barnella