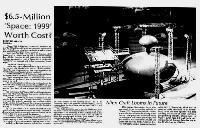 This was a report in the Evening Telegraph of St Petersburg, Florida, USA, on 5th September 1975.
by Perry Fulkerson
"Space: 1999" is billed as "The Ultimate Adventure Series" by WFLA Channel 8, which has spent more for this syndicated series, from an initial cost standpoint as well as promotion, than for any program it has ever aired.
There probably isn't a household on the Suncoast which hasn't heard of "Space: 1999" by now, if promotion manager Larry Kellogg has done his job. There are ads everywhere, including the sides of 44 buses in Tampa and St. Petersburg, which have been plastered with 12-foot signs touting "Space: 1999".
Tonight you taste the pudding.
"Space: 1999" airs in a pre-premiere at 8 p.m. before moving into its regular Monday 8 to 9 p.m. slot. What if you don't like it? Or what if it doesn't meet your expectations after you have heard so much? Just what have you heard?
You have heard how much it costs, how elaborate the sets are, who stars in it, and maybe, even what it's about.
I'll give you the plain truth. It's gimmicky (they've spent $6.5-million on "hardware"). And it's incredible. In the literal sense of the word.
But with imaginative writing and a continuation of the excellent acting in the first episode, "Space: 1999" will be a popular series... the question as to whether or not it will be another 'Star Trek" or even a cultish series remains to be seen.
It is unfortunate that "Space 1999" would have to be compared with "Star Trek." because they are two totally different variations of a common theme.
There are no monsters, no freaks, no aliens in the first episode. They come later. The sets are stunning. The drama is average. The acting by the stellar cast - which includes Martin Landau, Barbara Bain and Barry Morse - is as expected. And the basic premise, while possibly a bit far-fetched, is exciting.
In 1999, a moon colony of 311 people is blasted out of the earth's orbit by a nuclear waste plant explosion. The peak of drama is here, in the moments of strongest G-forces, as the moon rockets into space toward the unknown.
The base is able to maintain survival conditions, but It is understood from Martin Landau that the colonists will never be able to return to earth. What lies ahead, undoubtedly, are the mysteries of space, of new worlds and new forms of life.
Aside from the actual explosion and the blast into space, the most interest In the opening episode lies in the "hardware" such as the ingenious, obviously working communicators about the size of those used on "Star Trek" but with 1-inch TV screens.
The Eagle space ships used by the colonists to move about the moon - and in future episodes to move onto newly discovered planets - are fascinating in their spartan simplicity. You will be able to buy one, a metal kit, soon at your toy stores for about $14, manufactured by Dinky Toys. (Expect T-shirts, records, books, dolls, the works, to follow.)
The plain truth about "Space: 1999" is that it looks expensive. Let's just hope the producers put their money where their mouths are.
Alien Craft Looms In Future
This strange blue object is an alien spacecraft in an upcoming episode of "Space: 1999," reputed to be the costliest science fiction series in the history of television. The program's hardware alone, including this and other spaceships, cost $6.5-million. An additional $275,000 was spent per episode. WFLA Channel 8 offers its first showing of the series tonight, while WXLT Channel 40, which can be seen on cable television in St. Petersburg, aired the first episode this past Monday.