Daily Express, Friday February 14, 1975 p5
Victor Davis goes into orbit with the boldest science fiction series ever to hit your TV screen
Girls who'll warm the icy depths of Space '99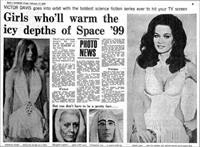 That bold television mogul Sir Lew Grade has placed a bet of £2,500,000 on the future.
It's a science fiction series called "Space 1999". And when they stop filming next week, Sir Lew and his partners, Italian State TV, will have 24 one-hour segments in the can.
The idea is that if you were awed by the scope of Stanley Kubrick's "2001: A Space Odyssey", you'll be stunned by this.
For 14 months, the sound stages at Pinewood have been like a gigantic adventure playground for a succession of great stars, while over at Bray Studios a technical team has constructed space ships, lunar landscapes, planets and all manner of cosmic oddities.
Wicked
Catherine Schell strutted around as the wicked robot lady of space, and Catherine Mortimer as a leather-clad Woman's Libber and rocket ship commander.
Margaret Leighton appeared to be a thousand years old, and Joan Collins the survivor of a dying civilization. Peter Cushing could magically create his own universes to order, and Anthony Valentine, the sinister SS major from "Colditz", developed a huge domed head. Christopher Lee looking devilish. And Valerie Leon looking galactically lovely.
There's also a disembodied character known as The Supreme Being who, rumour has it, was being played by Sir Lew himself!
The series, which should start in Britain in April, opens with a bang, as nuclear waste dumped on the moon causes a cataclysmic explosion,
A large chunk of lunarscape is hurled off into the Solar System and with it the 300 inhabitants of Lunar Base Alpha. This space spectacular is the prelude to the weekly adventures that follow.
The producers are husband and wife team Gerry and Sylvia ("Thunderbirds") Anderson. The dominant symbol in their office is a huge model moon.
Said Gerry: "When Sir Lew first gave us the go-ahead for the series, we had 20 minutes of heaven and then 18 months of hell.
"When we ran seriously over budget, we had to go back to Sir Lew. He saw what we had achieved already and instantly gave us the extra money.
"Not counting the casualties, we've used 10 British and American writers who have been allowed to let their imaginations soar."
The series regular stars are another husband and wife team, Martin Landau and Barbara Bain from "Mission Impossible" and Barry Morse, the impeccable hunter from "The Fugitive".
Whisper
Moon Base Alpha has a high proportion of beautiful girls among the operatives - recruited deliberately to warm up the chilly outer reaches of space.
The base is kept operational by a massive speaking computer. The voice is also female and was provided anonymously by "one of the best known Canadian actresses living in England."
If you whisper "Barbara Kelly", I don't think she'd deny anything.
Sir Lew already has his sales force at work in America.
"Instead of selling the series to one network we are selling to individual stations" he says.
"That way we hope to bring home three times as many dollars as any British-made series has ever taken."
Photos:
Catherine Schell... taking the plunge as a robot.
Valerie Leon... with the sideless and almost topless out-in-space look
But you don't have to be a pretty face... (smaller photos)

Margaret Leighton ... aged 1,000 years
Christopher Lee ... in space make-up