Titbits was a UK tabloid magazine, equivalent to America's National Enquirer. It was founded in 1881, one of the pioneering examples of what would become tabloid newspapers.
Dial 1999 - for Jean, TV's girl of the future
Titbits 12-18 December 1975, cover title and page 24.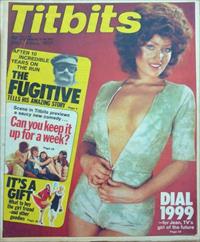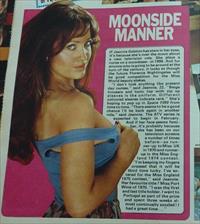 Moonside Manner
IF Jeannie Galston has stars in her eyes, it's because she's over the moon about a new television role. She plays a nurse on a moonbase - in 1999. And for anyone who is going to be around at the turn of the century, it looks as though the future Florence Nightingales will be good competition for the Miss World beauty stakes.
"I don't look anything like present day nurses," said Jeannie, 22. "Beige trousers and tunic top with zip up sleeves is the uniform. Different coloured sleeves indicate rank." She's hoping to pop up in Space 1999 from time to time. "There seems to be a good chance I'll be back again in another role," said Jeannie. The ATV series is expected to begin in February. And if her face seems familiar, it's probably because she has been on our television screens a number of times before - as runner-up to Miss UK in 1970 and runner-up in the Miss England 1974 Contest. "I'm keeping my fingers crossed that it will be third time lucky. I've entered for the Miss England 1975 contest." said Jeannie. Her favourite title ? Miss Port Wine of 1970. "I was the first and last title holder. I went to Portugal as part of the prize and spent three weeks almost continually sozzled! I had a great time..."
Jeannie Galston appeared in the music recital scene of The Troubled Spirit, which was filmed from the 20th November to the 4th December 1974 - so this was very soon after filming. Note the series was still expected to be shown on British TV in February 1975- it was actually held back to September 1975.
Out Of This World
Titbits No 4663, 24-30 July 1975, cover and page 20-21.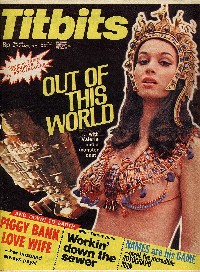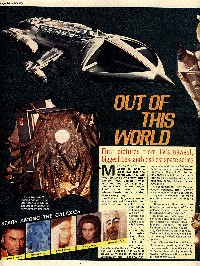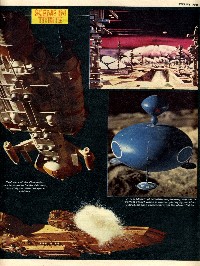 First pictures from TV's newest, biggest, best and costliest space series
Men from Earth are about to make a giant leap into the unknown. They will meet up with aliens from other planets, risk collision with asteroids and face a phenomenon known as the "Black Sun", an astronomical body whose irresistible attraction draws everything into it.
And since this great adventure has been planned for our television screens, we will be able to relax comfortably at home and watch it happen. The new series, called Space 1999, is to be nationally shown by ITV beginning in September, It will be the most ambitious futuristic British TV production ever screened. And also, at around £3 million for 24 one-hour episodes, the most expensive. Martin Landau and Barbara Bain - husband and wife in private life- star together in Space 1999, the first time they've acted together since their epic 80 episodes in the internationally popular Mission Impossible series.
A spokesman for ATV, the production company, said "Viewers will join them on Moon Base Alpha, a logical development of man's real-life conquest of the moon's secrets.
If necessary, Alpha could also become the first outpost of Earth's defence system, should we be threatened by other planets."
To bring you right to earth, the episodes will star a galaxy of familiar faces: Richard Johnson. Margaret Leighton. Joan Collins, Roy Dotrice, Cyd Hayman. Ian McShane, Catherine Schell, Jeremy Kemp and our cover girl Valerie Leon will all appear.
Even Christopher Lee and Peter Cushing are forsaking their fangs for a trip into the future. We are used to seeing them display unearthly powers, but this time they really will "out of this world."
Caption: Even though the series has only one monster, it's one of the most impressive members of the cast.
Caption: Real stars of the £3m serie may turn out to be the fabulous, intricately constructed space vehicles.
Caption: A "Taj Mahal" of scientific engineering, top, on the Perfect Planet which is run completely by machines. Above, an alien spacecraft from the planet Caldor.
The Hawk appears twice- once in the pre-episode white colour scheme, then again with the yellow stripes, seen from beneath.