Ribbon Chair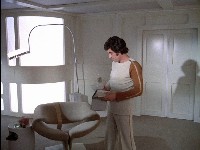 The "ribbon" chair was designed by Pierre Paulin (1927-2009), a French furniture designer. His chair designs, for the Netherlands company Artifort, were very influential. The chairs used modern materials, metal frames with foam rubber, covered in stretch fabric, and rounded shapes for comfort. In 1970 he was commissioned to decorate a suite of reception rooms at the Elysee Palace, and in 1983 he decorated the office of Francois Mitterand.
The "ribbon" chair was created by Paulin for Artifort in 1966. The chair is 100cm wide, 74cm front to back, 72cm high with a 39cm high seat, and it weighs 35kg. It has a tubular steel frame with horizontal springs, covered with foam and stretch fabric, and a base of pressed wood. There is an optional ottoman. It is available in a variety of fabric colours and designs, but the one used in Space:1999 has the beige Tonus 2000 fabric, with white lacquered base.
On Moonbase Alpha, it is seen in the living quarters of Koenig, Russell and the Zorefs, and Maya's quarters in Year 2. It also appears as the throne of Archon in The Dorcons.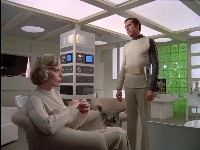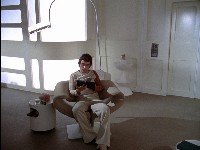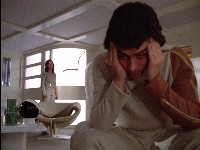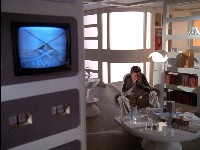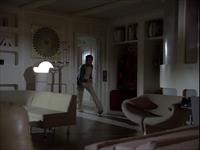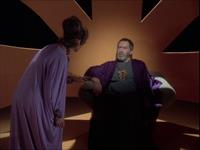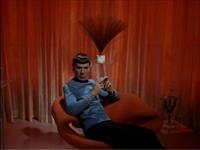 Spock sits in a ribbon chair in the 1969 Star Trek third series episode "The Cloud Minders"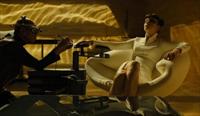 50 years since it was designed, and 40 years since it appeared in Space: 1999, the ribbon chair appears in another futuristic science fiction movie, Blade Runner: 2049 (2017)
---