Recital Room
The recital room is seen at the start of The Troubled Spirit. There are 34 people present, including the musician.
On the walls are paintings of the planets by Ludek Pesek: Plate 26, Mars, is partially hidden behind artificial flowers. Further along the wall is plate 38, Uranus. On the back wall are plate 35, Saturn's rings, and plate 2, nucleus of a comet.
We never see the rear door (through which the wind blows at the end of the scene).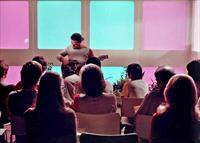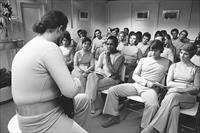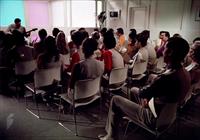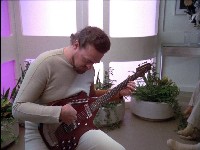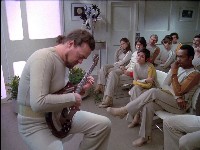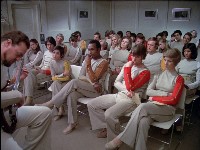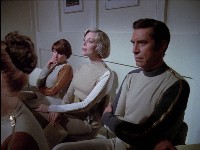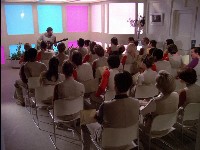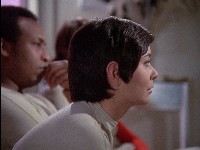 The set was built with 3 walls, but there is one "cheat" shot showing the "other wall" where the camera normally is. The reverse shot of Sandra is achieved by turning the row of chairs around, so the wall that was to their right is now on their left. We can see the same table, with black and white flowers, and the picture frame ("Mars from Phobos" by Ludek Pesek), that was by Judith Hepburn. Hepburn's recital program is still on top of the table. The curved wall panel glows pink, rather than white, but that may be the overspill colour from the pink panels. Thanks to Craig.
The plan for the room; the left wall and corner left door are hypothetical.