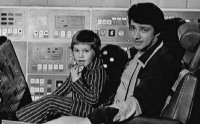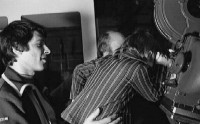 Born 19th January, 1941, Singapore; died 26 th July 2002, aged 62. He was 1.77 m (5'10") tall.
His Dutch father was captured by the Japanese shortly after his birth and died in Malaysia. His mother, whose own parentage was Swedish, Irish and French, took him to Australia, South Africa, Burma, and finally Britain. At school he was a success in athletics and Shakespearian plays, and he decided to become an actor. But first he went through a variety of jobs, starting as a trainee tea tester, joining an uncle selling novelties, then teaching English and Latin at a school in Herne Bay, Kent. Other jobs followed: insurance, more school teaching (where he met his first wife, Shelia), a travel agency, English teaching in Barcelona and Paris, and a publishing firm. In 1964 he took a crash course in acting while working as a night watchman, and made his debut in a television commercial for potato crisps. More commercials and provincial plays followed. His son Christien was born in 1971. Although there were long periods between work he appeared in episodes of Jason King (1971), The Mind Of J G Reeder (1971) and The Sweeney (1975). He had important continuing roles in the series The Strauss Family (1971) and The Protectors (1972-73). He also worked in radio, doing the science fiction play Sophie in 1975. Abe Mandell and Gerry Anderson offered him the part of Verdeschi in the second series of Space 1999.
Subsequent work concentrated on the theatre, including the plays Sleuth, 1977-78 and Amadeus, 1985. He filled in with work from television, including Minder (1984), Hammer House Of Mystery And Suspense (1985), Bulman (1985) and various roles in sketches in Kelly Montieth (1984-85). He had continuing roles and popularity in the soap operas Triangle (1981-84) and Howard's Way (1985-90). His role in Howard's Way as wealthy philanderer Charles Frere gave him huge popularity, and his affair with co-star Tracey Childs generated much attention in tabloid newspapers. In 1986 he divorced his first wife, Shelia, and in 1990 he married Tracey Childs. They were divorced in 1998. In 1989 he narrated an episode of the science series Equinox. From 1997 he appeared in episodes of Lexx.
Anholt appeared in 23 episodes of Year Two. He says It's the happiest unit I've ever worked on. I think some scripts on 1999 worked...but some were just awful. But on the whole I think it was a very well made series.
Print: SIG Number 8 (1983); Tony Anholt interview p5-7