The editing department was run by Dave Lane in Year 1, but in Year 2 he moved to a liaison role between the shooting crews and editing. The main editors were Alan Killick (Year 1 and 2), Derek Hyde-Chambers (Year 1) and Mike Campbell (Year 2). First assistant editors in Year 1 were Peter Gray and Colin Needs, with second assistant Linda Pearce. In Year 2, the first assistants were Peter Gray and Roy Helmrich, with second assistant Stephen Pickard.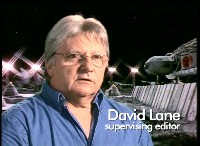 Lane joined AP Films as a director in 1964. He directed episodes of Thunderbirds and UFO and both Thunderbirds films. He became a producer of Joe 90 and The Secret Service, and was associate producer on the 5 Star 5 film project. He also wrote episodes of UFO, and he edited The Investigator and Into Infinity. He was asked to direct on Space: 1999, but preferred to work in editing on Year 1. In Year 2 he acted as a liaison between the cutting rooms and the shooting crews at Pinewood and Bray, especially the directors, many of whom were new to science fiction and effects.
He was a visual coordinator on Superman (1978) and Supergirl (1984). More recently he has worked as a producer of television commercials. He appears in the These Episodes documentary (2005).
Print: FAB (Fanderson fan club) 39 (2000) p24
Originally a music editor, he moved into film editing with Gerry Anderson's series. Danger Man (1964-1967), Man in a Suitcase (1967), Joe 90 (1968), UFO (1970), The Adventures of Black Beauty (1972), Star Maidens (1976), The New Avengers (1976), The Professionals (1982), Anderson's Terrahawks (1983), the Bond film The Living Daylights (1987), Agatha Christie's Poirot (1993).
Born 1914, died 1980. The Persuaders (1971), The Adventurer (1972)