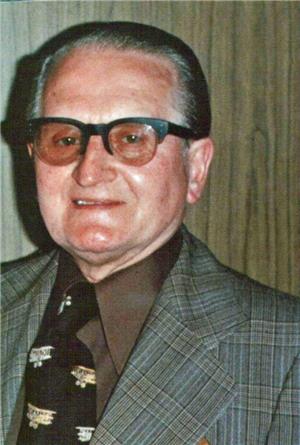 Born in 1908, Gray worked first for a London music publisher, gaining experience writing and arranging songs, piano scores and orchestrations. He joined Radio Normandy as a composer-arranger until World War 2. During the war he served in the RAF writing, arranging and conducting camp dance bands. After the war he was taught composition by the noted Hungarian composer Matyas Sieber, and continued his musical career in BBC radio, for films, and for artists such as Eartha Kitt, Hoagy Carmichael. In 1949 he joined Vera Lynn, working for ten years as her arranger and accompanist.
In 1956 Roberta Leigh approached Vera Lynn with some children's songs which Gray polished before they were recorded. Leigh then invited Gray to arrange her tunes for her two series being produced by Gerry Anderson's company AP Films, The Adventures Of Twizzle and Torchy The Battery Boy. Gray wrote the format, scripts and 5 songs for Anderson's Four Feather Falls. Gray was to compose, arrange and conduct the music for all Anderson series except The Protectors until the first series of Space: 1999. His Fireball XL5 song, sung by Don Spencer, achieved success in the pop charts, but his most famous theme was the Thunderbirds march. He was interested in electronic music and used an Ondes Martenot, a development of the Theremin, in Supercar and the film Doppelganger, and he used the first synthesisers in Britain on the UFO score. He has used the Spinetta and other electronic instruments on Anderson series and non Anderson films including Dr Who and The Daleks (1965), Fahrenheit 451 (1966) and Island Of Terror (1967).
Between 1970 and his death in 1984 he lived on Guernsey, practising drawing and calligraphy. In 1979 he was asked to arrange and conduct a 12 minute orchestral suite of his film and TV themes and a fanfare to open Filmharmonic 1979. In 1980 he composed the fanfare for the Royal Film Performance, and in 1981 the music for the stage show preceding that year's Royal Film Performance.
---