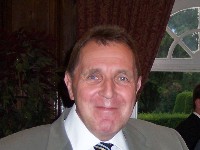 Derek Wadsworth was born in 1939. He died in December 2008.
Wadsworth began playing the cornet at 11, and later learnt the trombone. He played in an amateur band in Brighouse, Yorkshire, and got his first job in the Squadronaires, a resident band at a Butlin's holiday camp. He occasionally arranged music for his band and jazz groups. He intended to go into design, but instead took a job in Dusty Springfield's back up group, which inspired his interest in rock. He worked with Georgie Fame, George Harrison and The Rolling Stones, and he was musical director on the British staging of Hair. He did film scores for Spring and Port Wine and Alfie, Darling and commercials. He was introduced to Anderson for the Into Infinity film, which led him to being asked to do the second series of Space: 1999.
He recorded a cover version of his own Year Two theme (as well as Barry Gray's Year One theme) with The City Of Prague Orchestra for the 1997 Silva Screen CD "The Cult Files: Re-Opened".
Wadsworth attended conventions in 1993, 1995, 1996, 2005. He appeared in The Space: 1999 Documentary (1996).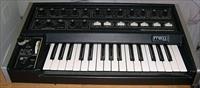 Wadsworth composed the Space: 1999 theme on this Moog MicroMoog 2090. Moog produced this analogue synthesizer between 1975 and 1979, as a scaled down version of the Minimoog. Uniquely, it has a joystick for pitch blending.