"My FAB Years!" by Sylvia Anderson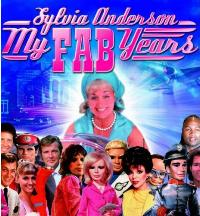 Published by Hermes Press (USA)
July 2007 (large format paperback and hardcover editions, 208 pages)
Reviewed by Martin Willey
The first thing that impresses about this book is the sheer size- a huge 30cm square book with a hefty weight. Turn the pages and you'll continue to be impressed, as every page has large format black and white pictures, often filling the page. Of course there's some filler (pictures of toys, books, comics, newspapers and a particularly pointless one and half page map of Australia), and some familiar shots. But mostly these are interesting pictures of Sylvia and the production crew from the 1960s.
Sylvia explains on the back cover blurb that this book is intended to bring up to date her 1991 autobiography, Yes M'Lady. Well, sort of. The second half of the book covers more recent events, mentioning for instance how she "discovered" the boxer Lennox Lewis, and several chapters cover her visits to the set of the 2004 Thunderbirds film. You won't know it from her glowing account, but the film was a disastrous flop. The fans hated it and the public stayed away. Sylvia seems to be the only person who liked it.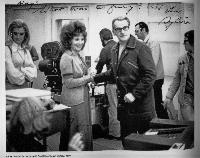 Fortunately the first half of the book revisits the period of the early puppet shows, with particular emphasis on the original Thunderbirds, of course. On the gossip side, she explains how Gerry resented when she received media attention for her Lady Penelope role, and how they nearly broke up during the promotional tour for the (1966) Thunderbirds movie. There is decent coverage of Doppelganger (and how John Read was expelled from their company) and UFO, and a rather short discussion of Space 1999, with just 9 paragraphs mostly describing how Sylvia and Gerry Anderson separated. It doesn't contradict what's in Gerry's autobiography (which is actually a lot more detailed, including about the property problems that Sylvia only mentions in passing). She does mention a story about Gerry coming to her house to pick up their son for a visit and complaining about his co-producer (Fred Freiberger, not named here). "I recognised the signs of Gerry's bruised ego" she says. "It was ironic that having thrown away our marriage and our highly successful partnership, Gerry now sought sympathy for his plight. "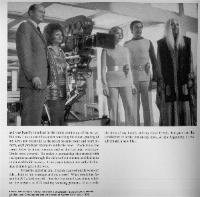 There's not much in the way of photos for Space 1999 either- one shot of her and Gerry with Landau, Bain and Christopher Lee, a shot of Reg Hill and Sylvia by the Main Mission desk, and a shot of Sylvia with Tony Curtis, captioned as being on the set of Space 1999 although we don't see any of the set. Martin Landau appears in colour in the back page montage. If you're not interested in Thunderbirds, Space 1999 fans will be disappointed, although these are nice photos (thumbnails of two are shown here, but remember these each take up most of a 30 inch square page). For her thoughts on Space 1999, see her previous autobiography or her commentary on the A&E bonus DVD.
In truth there's not a lot of detail in the text, and the writing style is easy but a little bland. The sole exception to her breezy upbeat comments about actors and crew is when she refers to Gerry Anderson. Even here she qualifies her criticisms about his ego by mentioning how successful their partnership was. As the cover suggests, Sylvia likes name-dropping about her "famous fans" and various celebrities she's met over the years, but there's not really any gossip about them and many are just fleeting appearances. The stories she tells sometimes ramble, and the chronology jumps around a bit, especially later in the book. But it's not really intended to be a definitive reference or detailed history, and overall it's an easy enjoyable read with some great photos to look at.