UK, September 2013, £100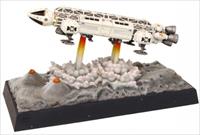 Robert Harrop is a UK company that produces ceramic resin figurines (hence the odd name for this Eagle). They have a successful range of characters and vehicles based on Gerry Anderson puppet series.
The Eagle is 130mm tall and 240mm wide. It is a limited edition of 250, individually numbered. The Eagle is shown hovering on vertical rocket flames over a lunar surface with waste disposal caps. The red-yellow flames from the vertical rocket thrusters isn't accurate to the series, but makes for an exciting composition.
The grey base is 24cm x 11cm x 22mm, upon which is a lunar landscape with realistic craters and the oddly shaped waste disposal hills (approximately like the NDA 1 caps, but out of scale). The Eagle itself is 20cm long and 7.5cm wide. The girder framework and spine are solid, painted gray inside, except for the top of the spine. The area between the engines at the back is also solid with gray between the engine cylinders. Otherwise the Eagle looks reasonably accurate to the first 44 inch SFX model with detailing and decals. There are highlights in orange and red, and all 4 front windows are orange. At the rear, the rocket nozzles have baffles (as seen in Missing Link).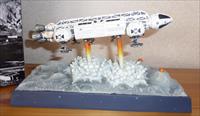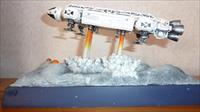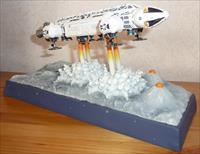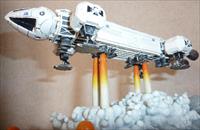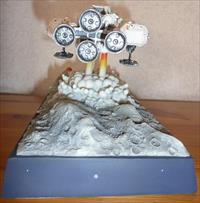 On the underside of the base is a sticker showing the item number.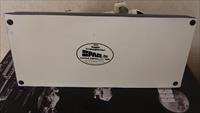 Box
The card box is 22.5cm wide, 33cm tall and 19.5cm sides. It features a picture of a rescue Eagle and Moonbase Alpha below. The Alpha picture is reflected so the base wraps round the entire base of the box.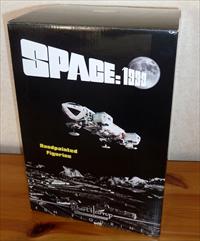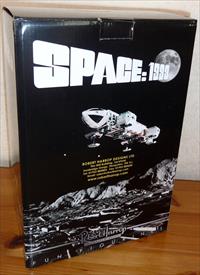 Inside the model is packed securely in an expanded polystyrene square.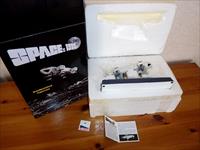 The box contains a small card (14cm x 7.5cm, folded in two). The outside face has the same moonbase picture and a different Eagle to the box photo (not a rescue Eagle). The inner face has a textual description of the Eagle spaceship.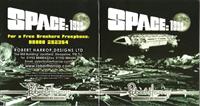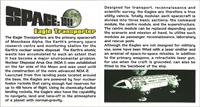 ---
Copyright Martin Willey