This is the brochure given to the press describing Year Two of Space: 1999. See also the photo brochure. Scanned by Paulo Jorge Morgado.
INDEX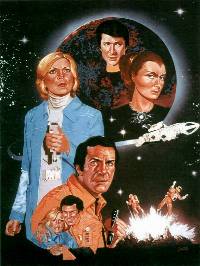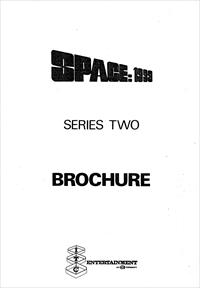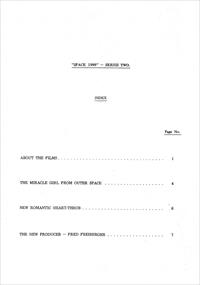 ITC Entertainment presents:
"SPACE 1999" - SERIES TWO.
(A further series of 24 one-hour films).
A new look. New faces. New ideas.
It is the new "SPACE 1999," a second series of 24 one-hour filmed episodes, produced on an even more spectacular and imaginative scale than the first internationally successful series of Gerry Anderson's futuristic science-fiction adventures, distributed by ITC Entertainment, an ATV company.
Martin Landau and Barbara Bain continue in their starring roles as Commander John Koenig and Dr. Helena Russell. They are joined by Catherine Schell in the most fascinating, remarkable role any actress has ever been asked to play. She is seen as an amazing girl from Outer Space - a girl who knows the secrets of molecular transformation and has the uncanny ability to transform herself into other life forms, not only human but of any living organism, whether animal, vegetable or mineral.
Another new member of the cast, closely linked with the girl from Outer Space, is a security chief named Tony Verdeschi, played by Tony Anholt, whose many outstanding television appearances have included the dashing young Eduard Strauss in "The Strauss Family" series and the French detective Paul Buchet with Robert Vaughan and Nyree Dawn Porter in "The Protectors."
Favourites from the first "Space 1999" series continue to be seen, notably Nick Tate as the chief pilot and the many glamorous girls in Moonbase Alpha.
Throughout the series, there are many other fresh and vital characters portrayed by major guest stars.
A new producer, Fred Freiberger, is at the helm, working closely with executive producer Gerry Anderson, whose Supermarionation puppet series like "Thunderbirds" and the live action "U.F.O." set new standards in futuristic science-fiction on television screens.
Bringing long experience as a movie screenwriter and producer of television hits, including the third series of "Star Trek," Hollywood's Fred Freiberger is producer and story editor on the new "Space 1999."
He says: "I firmly believe our new concept is far superior to anything other science-fiction series have ever had to offer. We are not competing with 'Star Trek' or any others but are setting out with the premise that we must be creative in every respect."
To bring new ideas to the series, experienced directors and writers who have never before worked on sci-fi subjects join the team of technicians who have been previously associated with the series. Charles Crichton, the noted film director who has also become one of Britain's leading television-film directors, is one of the regulars to continue on the new series.
Character Developments.
The basic situation is in no way changed. The moon, devastated by an atomic explosion continues to plunge through the galaxies and into eerie regions mankind has never before encountered.
But one important new aspect to the second series is greater depth in the relationships between the characters. "We want audiences to live the situations with them," says producer Freiberger. "It is important that they are likeable, believable people."
More Humour
Though principally an excitingly dramatic series, the new "Space 1999" programmes display considerably more humour than before. This stems from situations and characterisations.
"Barbara Bain," Fred Freiberger says, "is a naturally warm and vibrant person, and we exploit these qualities. Catherine Schell, too, is an actress who has shown her sense of comedy on the screen, particularly in such films as Peter Sellers' 'The Return of the Pink Panther.' The extension of humour adds to the humanity of the characters."
Such humour is to be found, for instance, when Maya transforms herself into a duplicate of Helena Russell to see if Commander Koenig's love for Helena can enable him to tell which of them is which.
Humour is also a running feature of Tony Anholt's portrayal of Tony Verdeschi when, throughout much of the series, he makes enormous efforts to manufacture a palatable beer.
Romance
The romantic element has been developed considerably in the new series, with the emphasis on the relationship between John Koenig (Martin Landau) and Helena Russell (Barbara Bain).
It is romance on the moon for the two players who are husband and wife in real life.
Throughout the 80 episodes of "Mission: Impossible" in which they were teamed as Rollin Hand and Cinnamon Carter, it was never actually established that they were in love. "There was some kind of relationship," Martin says. "If Cinnamon was in trouble and needed me, I'd be there. And if Rollin Hand needed her, she'd be there. This time, the romantic relationship is much stronger and is developing all the time."
There are romantic relationships too, between other characters from time to time, and it is not long before Tony Verdeschi and Maya, the wonder girl from another planet, are in love.
New Looks.
A new look for Barbara Bain...
A new hair style. In the first series, she had a 'set' job - hair set in rollers, lacquered. This time, it is softer, looser, smart but casual and slightly longer. Barbara explains: "It is cut into movement, which makes me feel freer and easier. And it's a change. 'That's the important thing. It also goes with new developments in the characterisation.
New clothes, both for the men and the girls, have been created by Keith Wilson who, as overall production designer for the series, is responsible for the clothing as well as the sets.
Unisex fashions have had their day in the second series. Styles for the girls, headed Barbara Bain and Catherine Schell, have the feminine touch.
Keith Wilson explains: "When the first series went into production, the occupants of Moonbase Alpha were not prepared for the long stay ahead. For the most part, they were seen in uniform - the same outfits for both sexes. They have now had time to adjust themselves to the conditions and we imagine they have found ways and means of weaving new materials and designing new clothes. When on duty, of course, the characters are still in uniform, but the uniforms are 'busier' in design than before and tailored for the individual characters.
"The girls wear skirts; the men, trousers. So legs are on view again instead of being hidden as they were during most of the first series, seen only in occasional off-duty moments and when encounters with other planets made it possible for the girls to get out of uniform. So we have more femininity, more glamour, and even the uniforms are distinctly feminine in cut."
New Aliens.
There are more aliens than in the first series. And they are even more bizarre.
"The more outrageous the aliens are, the more successful they are with viewers," says Keith Wilson. "The strongest reactions we had from viewers of the first series were for the episodes which stretched the imagination to the limits. This time, we make the contrasts between aliens and the Earth people on the moon even more striking."
There are also new, stranger Outer Space creatures, and an amazing variety of creatures into which Maya transforms herself from time to time.
New Look for Moonbase Alpha.
No-one guessed what dangers lay ahead for Moonbase Alpha and its occupants when the futuristic complex was designed by Earth scientists in the first series. It was built on the surface of the moon and open to attacks from other planets.
Though not completely safe from such attacks, part of the complex is now underground "Winston Churchill," Keith Wilson points out, "had his control centre underground during World War II. We are taking a leaf out of his book."
The change enables Moonbase to have a new look. The sets at Pinewood Studios have been re-designed. Main Mission is much more compact, though all the ultra-modern computers and electronic marvels are still there. Being smaller provides a closer feel to the action and heightens the atmosphere of excitement when danger threatens.
There is also a complete complex instead of having separate sets for various parts of Alpha. All are positioned exactly where they would be in reality. This, too, adds to the authenticity of the atmosphere for players and viewers alike.
The set occupied the whole of one sound stage at the Pinewood Studios. Another sound stage was reserved for surface scenes and other planets. And at Bray studios, the special effects department again worked under the control of Brian Johnson, the man who has master-minded the breath-taking visual effects which, both literally and figuratively, take the series right out of this world.
"She is gorgeous, sexy and has a computer-like brain," is how producer Fred Freiberger describes the wonder girl from Outer Space, Maya, in the new "Space 1999" series.
Because she knows the secrets of molecular transformation, Maya has the uncanny ability to transform herself into other life forms. She can immediately become another human being, an animal of any kind, a tree or even a rock, a monster or a dove, an ocelot or a bird of prey.
Because of her scientific knowledge, she becomes a Science Officer on Alpha when she is rescued from her own doomed planet.
The search for the most fabulous female of all time necessitated testing 154 actresses of numerous nationalities - and Catherine Schell was chosen.
The tall, beautiful, Hungarian-born actress has recently won plaudits for her performance in the Peter Sellers comedy "Return of the Pink Panther," one of the many films and television shows in which she has attracted attention, notably as Napoleon's glamorous mistress Marie Walewska in the TV series "Napoleon and Love" and a documentary, "Search for the Nile."
By a coincidence, her first major role in a British film was in "Moon Zero Two," in which she portrayed a girl who went to the moon in search of her missing astronaut brother.
Television productions in which she has appeared include "Paul Temple," "The Troubleshooters," "Dial M for Murder," "Family at War," "The Sweeney," the Bette Davis feature "Madame Sin," the Brian Clemens thriller "The Next Voice You See," "The Persuaders" (with Tony Curtis and Roger Moore), "The Adventurer" (with Gene Barry), "Arthur" (with Alfred Lynch) and "Looking for Clancy." Among her feature films: "On Her Majesty's Secret Service," "Callan" and "The Black Windmill" (with Michael Caine).
Born in Hungary, Catherine is the daughter of the Baron and Baroness Schell Von Bauschlott, but her father renounced his title when the family fled to the United States during the Communist take-over in Hungary. Formerly a diplomat in the Hungarian Embassy at Washington D.C., he returned there with his family and became tours manager for visiting European orchestras until going back to Europe.
Catherine therefore spent her schooldays in America, first of all in Washington and then Staten Island, New York, completing her education in Munich, Germany. "So" she says, "I can't help feeling that my role as Maya is apt casting because I am an alien myself - a foreigner in every country! Even in Hungary, where I was born. I gave up my nationality when my family fled to America. I have an American passport and an English resident permit. But I am virtually an alien wherever I go, so it's natural enough for me to be an alien in 'Space 1999!"
When embarking on a stage and screen career, she changed her name to Caterina Schell, later Anglicising it to Catherine Schell.
While still a drama student, she appeared in a radio play, then played a brief part in a film before going to Brazil to play her first lead in "Lana, Queen of the Amazons." After this, she was based in Munich with her family but filmed all over Europe and elsewhere.
Of her role as Maya, she says: "I have feline looks, and my make-up is marvellous. Transforming myself into all sorts of other creatures is intriguing. To help in these changes, I have to study the animals and other creatures beforehand and to help the transformation I slip into poses which suggest them. I've learned to crouch, snarl, growl. They never taught me these things at drama school!"
Drama, comedy and romance come into Tony Anholt's portrayal of the new regular male character, Tony Verdeschi. "A man of Italian extraction," he explains. "He's tough and articulate, with a scientific brain. He's in love with Maya and he has a sense of humour."
In the international world of "Space 1999" characters, Tony Anholt is himself the most international of them all. He is British, but with French, Dutch, Swedish and Irish blood.
Two series in particular have attracted international attention to him. He was the French representative of the detective organisation with Robert Vaughan and Nyree Dawn Porter in "The Protectors," and in the successful "The Strauss Family" series he portrayed the dashing young Eduard Strauss.
Another of his outstanding roles has been that of Josephine's lover, the handsome Captain Charles, in "Napoleon and Love" and his many other major television appearances have been guest roles in such series as "A Family at War", "Jason King", "The Seasons" and numerous other British series. He has also appeared on the London stage, most recently in "The Gentle Hook," with Dinah Sheridan.
Son of an insurance company representative, Tony was born in Singapore (on 19th January, 1941) when his father was working there but was hurriedly evacuated with his mother to Australia and then South Africa when the Japanese arrived. His father was taken prisoner and died while working on the notorious Burma railway.
The youngster's travels continued. He was taken to Burma and then London, where he went to school. His working life began as a trainee tea-taster. He left this to join an uncle in selling toys, dolls and fancy goods, but gave this up to teach English and Latin at a school in Herne Bay, Kent.
After this, insurance, further school-teaching (where he met his wife, a fellow teacher named Sheila), taught English in Barcelona, joined a travel agency, moved to Paris where he again taught English, joined a publishing firm in England and finally, at the age of 23, took a crash course in acting (working as a night watchman to help his expenses) and made his television debut in a potato crisps commercial.
There followed other commercials, then stage repertory, small parts in television plays and series, more stage work and his West End of London theatre debut in "Boys in the Band." His first big opportunity in television came when producer Gerry Anderson cast him for one of the starring leads in "The Protectors."
New York-born Fred Freiberger is the producer and story editor of the new "Space 1999" series.
He has an impressive background of writing motion picture scripts, features for television and production of such series as "Ben Casey," "The Iron Horse," "The Wild, Wild West," "Star Trek" (series III) and "Slattery's People."
This is the first time he has worked in England, but he was a visitor to that country and was stationed there during World War II with the 8th U.S. Air Force - until being shot down over Germany, where he remained a prisoner-of-war for two years.
The war over, he returned to Hollywood, where he had previously taken himself from the colder atmosphere of New York because, he says, "I like warm weather!"
His early experience of advertising copy-writing (and also handling accounts) led to his deciding that he would like to become a movie publicist. This he might well have done but for a studio strike. Waiting for a promised opening, he turned his hand to writing a script and his new career was born.
Rapidly establishing himself as a film story-writer, he had 13 feature film credits, among them "The Weapon," "Beast From 20,000 Fathoms," "The Goddess of Evil" and "Crash Landing," before television caught him in its web and becoming a producer as well as writer.
---
Space: 1999 copyright ITV Studios Global Entertainment