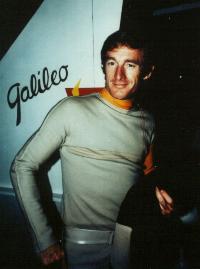 The August Party convention was one of the first major fan-organised Star Trek conventions in the 1970s. In 1976 it was held at the University of Maryland, College Park on Saturday 31 July and Sunday 1 August. One of the organisers was Mary D. Bloemker, a very active fan writer, artist and publisher who would run the Main Mission Alpha Space: 1999 fan club for many years.
The August Party convention was notable for not inviting guests, but an exception was made for Nick Tate, who was on a promotional tour of the US. The first series of Space: 1999 had only just finished on US television. ITC showed the first episode of the second series, The Metamorph at the convention. Tate wore his actual Year 2 costume.
Various publicity photos were taken of him with a full sized replica of Star Trek's Galileo shuttle. There were a few press reports plus some coverage in fan magazines such as this interview with Nick for Trek Times by Jim Burns.
There is a long account here by Darlene Palenik.