Fanderson Gold
Weybridge, UK 24-26 August 1996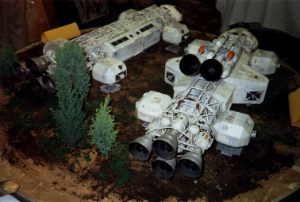 Guests included Gerry Anderson, Zienia Merton (she is very small, full of stories and an amazing memory of the series), John Hug (looking very different, much older), Keith Wilson and Derek Wadsworth (he may not remember much about the series, but he has many long, fascinating and funny stories). Zienia revealed that the Frasers, Bill and Annette, could have replaced Alan Carter and Sandra Benes. Zienia also remembered playing Helena Russell, in the scenes in Another Time Another Place when Helena talked to her other self. Keith remarked on Barbara's claim that the sets took a long time to set up the lighting; "Barbara took a long time to light". She was literally stiff in the first series because she would only be filmed from certain angles and would only make certain movements. This was because the costumes revealed too much her middle aged figure; in the second series the jackets disguised her "lumps" better and she was much freer.
John Hug remembered waiting round in a hot spacesuit for three days before they got to filming him. He also remembered the scene when he burst up behind Mentor shouting "Don't believe him, Commander" and is zapped. His first take was to jump forward, shout the line and fall down, all within a few seconds. Brian Blessed took him aside to tell him that he should slow down and try to get as much camera time as possible. John admired how generous Brian was to give him that advice when most actors would be happy to keep the screen time to themselves and let the lesser actors flit past invisibly.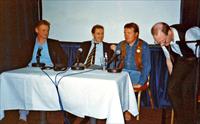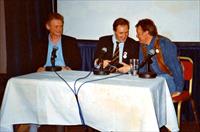 Chris Penfold, Derek Wadsworth, Martin Bower; Chris Bentley takes a bow
Derek is arranging and conducting an album of Barry Gray music; the album will include both themes from Barry and his own, in a specially extended edition. [This was released as THE CULT FILES: RE-OPENED (Silva Screen) in 1997] Apparently he used the "scary music" from Space to make his children go to bed at night. Derek is a great story teller- so much so that he forgets the question (and so do the audience), but he's so entertaining it doesn't matter. The model room contained two of the three big Eagles (Eagle 2 and Eagle 3 with laboratory pod), Moonbase Alpha (its first public appearance, looking a bit healthier since I last saw it in a box), Koenig's desk, the Bringers Of Wonder probe (now liable to collapse, spreading its feet out), Taybor's jump drive plan and one laser tank (with the Eagle nose). I also had a good look through Chris Trice's photo albums, with some fascinating closeups of the models and behind the scenes shots.
The convention hotel itself was quite luxurious and had a nice park with a lake just like the one on Luton. The corridors were a bit of a maze and walks through the park outside would be interrupted every 3 minutes by an aircraft climbing above us having just taken off from Heathrow Airport. But overall very nice, a lot better than the normal anonymous hotel.