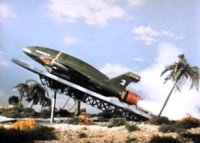 Thunderbirds was Gerry and Sylvia Anderson's most popular series. It perfectly embodied an enthusiastic sense of adventure and style that marked the best of the 1960s; for British children, it was the equivalent of TV series like The Avengers and film series like James Bond. Although aimed at children, it attracted whole families by avoiding juvenile story telling, and emphasising adventure and spectacle. The special effects were, for their time, the best seen on television, and often far superior to contemporary live action film.
Thunderbirds features the adventures of International Rescue, who use fantastic technology to perform heroic rescues. The team comprises millionaire Jeff Tracy and his five sons (a concept loosely based on another TV hit, Bonanza) who operate from a secret base hidden under their home on a remote Pacific island. Their craft, designed by eccentric genius Brains, are the Thunderbirds. Thunderbird 1 is a fast rocket; Thunderbird 2 is a large cargo carrying plane (the central pod is exchangeable, much like Space: 1999's Eagle), Thunderbird 3 is the space rocket, Thunderbird 4 is a small submarine, and Thunderbird 5 is a space station that monitors for distress calls.
The stories anticipated Irwin Allen's disaster movies, and were often inspired by actual events. The series concept was born after news coverage of a mining disaster in Wales, which gave the idea of a series based on the heroism of rescuers. The events of the first episode, written by Gerry and Sylvia Anderson, were inspired by an event Gerry witnessed while working as a radio telephone operator for RAF air traffic control. A plane was about to touchdown with its wheels up, but the pilot was warned just in time. In the episode, a supersonic plane cannot land because of a bomb in its undercarriage.
Filming was done by two teams, one responsible for the marionettes, the other for the special effects sequences. The six initial episodes were, like the previous Anderson series, filmed as 25-minute long adventures. But the production so impressed Lew Grade and ITC that they ordered 50-minute long episodes, which meant the early episodes had new scenes written and filmed and the studio facilities in Slough underwent considerable expansion.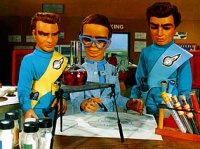 The puppets were much more sophisticated than the marionettes of the early shows. The tungsten control wires were finer, and a variety of heads were constructed with different expressions (neutral, smiler, frowner, and heads with blinking eyes). The leading characters were often sculpted after 1960s movie stars, with leading character Scott Tracy based on Sean Connery. Lady Penelope, the aristocratic British spy who aided International Rescue, was modelled after Sylvia Anderson, who also provided her voice. Her butler, Parker, was based on a waiter at a pub in Cookham-on-Thames, close to the studio. Gerry Anderson took actor David Graham to the pub every day so he could copy his distinctive accent. The two foot puppets required one-third scale sets, often created with great skill and care (cleaning man Arthur Cripps one day stunned everyone by showing a model maker how to make a leather settee; immediately the cleaner joined the prop department and eventually became head property master).
Special effects were supervised by Derek Meddings and his assistant Brian Johnson (then Brian Johncock). Both began their careers working with Les Bowie on Hammer horror films. There were three special effects teams working simultaneously, with over 40 people, working on the 50 effects shots required per episode. The effects team pioneered the technique of "kit-bashing", detailing models with parts from commercial construction kits as well as interesting shapes from everyday objects such as containers and hair dryers. Models were "dirtied down", with realistic weathering. They also used skies and roads and treadmills, so the models could be stationary while the backgrounds moved; Brian Johnson refined the technique in Space: 1999 to minimise the use of wires. Many of these techniques were copied by Star Wars in 1977 and became widespread thereafter.
Thunderbirds collared some unexpected fans, much to Anderson's surprise. His interest in aircraft from boyhood took him to Feltham, England, where the Concorde was being built. A design engineer gave Anderson a tour of the facility. "I was dreading that he would ask me what work I did" explains Anderson, "because here was state-of-the-art aircraft, supersonic, and here I was, a filmmaker of puppet shows." The engineer did, indeed, ask Anderson, who remained evasive until he finally offered only that he was in film business and finally later that he was a producer. The engineer persisted. "Finally I mumbled Thunderbirds" says Anderson. The response was electric. "I was told. 'Don't move!' He ran upstairs and all of the designers came down with him. They talked with me for an hour. All of them were fans. They even had a theory that Thunderbird 2 would fly if it were built. Quite amazing. I thought they would all sort of laugh." When the Concorde made its maiden flight to Toulouse, France, to be unveiled, it was greeted by the Band of the Royal Marines striking up Barry Gray's Thunderbirds March.
The success of Thunderbirds was, and remains, astonishing. All three U.S. networks bid for the show, but the bidding war collapsed with no network sale (a situation echoed ten years later when Space: 1999 was launched). Like Space: 1999, Thunderbirds was sold to individual stations, and eventually aired in 150 U.S markets and went on to be sold to 80 countries. It spawned a merchandising gold mine called Century 21 Enterprises. (At the time of Thunderbirds, the Andersons dropped the title AP Films for Century 21 Productions). Items popularising the series that sold all over the world included model kits, friction toys, jigsaw puzzles, Dinky Toys, puppets, dolls, cigarette candy, bubble gum cards, games, books, and records. Two comic books, TV Century 21 and Lady Penelope, together sold 125 million copies a week, an unbroken record. The show's largest following was in the land of the rising sun, where it influenced Japanimation. (ITC later imported a Japanese cartoon influenced by Thunderbirds to the US under the name Thunderbirds 2086.) The Japanese bought $2.6 million in Thunderbirds memorabila when the series was a hit there in the late 1960s. Profits from the series related merchandise made quality production possible.
The rewards were not only monetary. The series earned Anderson the Royal Television Society's Silver Model for "outstanding artistic achievement," and he was also made an Honorary Fellow of the British Kinematograph Sound and Television Society.
The appreciation and affection for Thunderbirds endures. In 1978 when Sylvia met with the Rolling Stones to discuss their appearance in a film she was helping set up (without Gerry), all of them, especially Mick Jagger, were much more interested in asking questions about International Rescue and Lady Penelope than talking about the movie.
After two seasons, or 32 episodes, Thunderbirds was at its height of success when Anderson paid Lew Grade a visit in his office. "I went to say, 'Obviously, we'll go on,' not 'What should we do next?"' stresses Anderson. Out of the blue, Grade told him it would be better to do a new series, something fresh. "He was the boss, and that was what we had to do." The lack of a network sale was probably the deciding factor for Grade, much as it would be for Space: 1999's two series.
The huge popularity of Thunderbirds inspired two feature films: Thunderbirds Are Go! and Thunderbird 6. To everyone's surprise, both pictures failed at the box office. Despite the fact that the movie versions were every bit as entertaining as the series, people evidently did not wish to pay for what they could watch on television for free.
The early 1990s saw a resurgence in Thunderbirds mania. The BBC repeated the entire series during prime time and ITC released all of the episodes to video. (Michael Jackson reportedly bought all of them while in London on tour). Sales of Thunderbirds merchandise once again soared into the millions. A successful live stage version of Thunderbirds opened in the early '90s in the West End of London. In 1991, the rock group Dire Straits produced a music video for their song, "Calling Elvis" that featured Thunderbirds puppets, used with Gerry Anderson's assistance A 1992 exhibition of puppets and models from the Anderson series. displayed in Wolverhampton, England, drew over 85.000 fans. Lady Penelope made a guest appearance on the hit TV comedy Absolutely Fabulous in a dream sequence.
The series was to be revived again in 2000, with new prints created by Carlton for broadcast on the BBC and for DVD release. A huge array of new toys, games and books were produced and repeated the merchandising sensation of the early 1990s- and the 1960s. Finally, in 2004, a live action Thunderbirds film was released, directed by Jonathan Frakes. The new film was faithful to many visual elements of the series, featured a good Lady Penelope and Parker, and started with a thrilling rescue mission. Unfortunately the story then shifted to a group of kids who fight off the Hood's goons in a sub-Home Alone adventure. Inevitably critics compared it to the original and found the new version a poor relation, although enjoyable for young children.
In 2015, a new TV series Thunderbirds Are Go was produced by a New Zealand company. The series combined model sets with computer characters and vehicles. The effects were by the SFX company behind the Lord of the Rings films, but the model work was photographed with no depth and the character animation was typical of children's TV cartoons, not the photo-realistic Gollum. The model designs and series format were faithful by the original series, and included Barry Gray's theme in the title music, David Graham returning as the voice of Parker, and Peter Dyneley's countdown during the launch sequences. The opening episode, "Ring of Fire", included an undersea base that had a distinctive Space: 1999 Eagle nose cone. Episode 15, "Relic", included a moonbase named "Shadow Moonbase Alpha", with a distinctive wheel and spoke layout.
Sadly, in the early 1970s, the Andersons sold all rights that they had retained on the Supermarionation series to offset 'a property deal that went wrong'. Neither Gerry nor Sylvia has a slice of the millions made in merchandising. 'Thunderbirds went on the air, ran for 32 weeks and I thought, that's that" says Anderson. "When I heard they were going to repeat it soon after, I thought how cheap these people are that they're going to run it a second time: So, if that's the way I was thinking, I sure in hell didn't think it'd be around 20 years later!"
Thunderbirds continues to have an enduring popularity. New generations will continue to discover it and past generations enjoy revisiting it almost like an old friend. Its technical standards and exciting format seem to have assured its immortality.