Area 51, subtitled "Sci Fi Collecting", was a late 1990s UK magazine, concentrating on TV and film science fiction merchandising. It started in late 1997. and ran for 14 monthly issues.
This is Area 51 Number 7, June 1998 p47-54. Strangely, two different pictures of Hawks are labelled as "Eagles".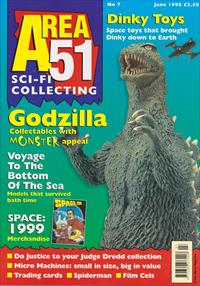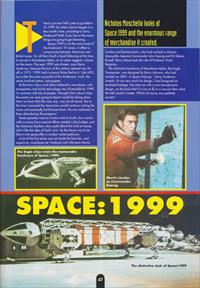 Nicholas Moschella looks at Space: 1999 and the enormous range of merchandise it created.
There's just over half a year to go before it's 1999. So what's due to happen in a few month's time, according to Gerry Anderson? Well, if you live on the moon, things are going to get interesting. Space: 1999 is not the most loved of the Andersons' TV series, in effect a compromise between American and British tastes. For all that it built a loyal following at the time. It was set in Moonbase Alpha, as its name suggests, a base on the moon. The year 1999 was chosen, says Gerry Anderson, because the turn of the century seemed very far off in 1973. '1999 had a science fiction feel to it.' Like UFO, but unlike the most successful of the Andersons' work, the series involved actors, not puppets.
At the time, Gerry and others believed a moonbase, with transporters and lavish technology was all possible by 1999. 'In common with lots of people, I thought that's about when the events we were going to depict would be taking place. Now we know that this was way, way out of course. But at the time I assumed the Americans would continue visiting the moon and eventually build bases there. No one reckoned on them abandoning the program.'
Some episodes were to involve visits to Earth, but a series with as many fancy special effects needed a big budget, and the American backers who could afford this kind of money didn't like the idea of Earth visits. So the Moon was to be blown into space after a nuclear waste explosion.
A lot of the first series was set inside the futuristic, and expensive, moonbase set. Husband and wife team Martin Landau and Barbara Bain, who had worked in Mission Impossible, became Commander John Koenig and Dr Helena Russell. Barry Morse took the role of Professor Victor Bergman.
The distinctive hardware of Moonbase Alpha, the Eagle Transporter, was designed by Barry Johnson, who had worked on 2001 : A Space Odyssey. Gerry Anderson reveals: 'It was very much his design. I had imagined an enclosed fuselage. He came up with a non-aerodynamic design, on the basis that if it was to fly in a vacuum then what the hell would it matter. Which of course was perfectly correct.'
The American backers kept changing scripts at the last minute: because their weren't enough girls; or the story was too slow; or the characters weren't deep enough, etc.
Filming began in November 1973, and the show was first aired in Britain in September 1975. It wasn't a huge hit, though it did do well enough for a second series to be planned. The credits and opening music sequence was popular, but people felt that the characters were not sufficiently involving. It was difficult to care about what happened to them. Episodes ranged from the abysmal 'Full Circle' to the excellent, such as 'Earthbound' with Christopher Lee.
The show opened well in America, but audiences fell there as well.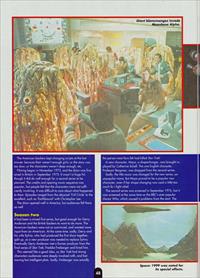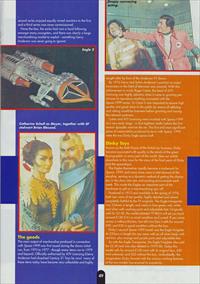 Season two
It had been a mixed first series, but good enough for Gerry Anderson and the British backers to want to do more. The American backers were not so convinced, and wanted more input from an American. At the same time, sadly, Gerry and his wife Sylvia, who had produced the first show together, split up, so a new producer was needed to replace Sylvia. Eventually Gerry Anderson met a former producer from the final series of Star Trek, Freddie Freiberger and hired him.
This seemed like a good idea, as Star Trek had strong characters audiences were deeply involved with, and fast moving but intelligent plots. Sadly, Freiberger was actually the person most fans felt had killed Star Trek!
A new character, Maya, a shapechanger, was brought in, played by Catherine Schell. The one English character, Professor Bergman, was dropped from the second series. Sadly, the title music was changed for the new series, an unpopular move. But Maya proved to be a popular new character, even if her shape changing was used a little too much for light relief.
The second series was screened in September 1976, but it was screened at the same time as the BBC's ever-popular Doctor Who, which caused it problems from the start. The second series enioyed equally mixed reactions to the first, and a third series was never commissioned.
None-the-less, the series had won a loyal following amongst many youngsters, and there was clearly a large merchandising market to exploit - something Gerry Anderson was never going to ignore!
The goods
The main output of merchandise produced in connection with Space: 1999 was first issued during the shows initial run, from 1975 to 1977 - though many items ran to 1979 and beyond. Officially authorised by ATV Licensing (Gerry Anderson had dissolved Century 21 Toys by now) many of these items today have become very collectable and highly sought after by fans of the Anderson TV shows.
By 1974 Gerry and Sylvia Anderson's position as major innovators in the field of television was assured. With this achievement in mind, Roger Caton, the head of ATV Licensing was highly selective when it came to granting per- mission to reproduce anything connected with the Space: 1999 series. To Caton it was important to ensure high quality and good value to the public by means of selecting and vetting would-be licensees before granting and issuing the relevant contracts.
Caton and ATV Licensing were involved with Space: 1999 at a very early stage - in fact eighteen moths before the first season episodes went on the air. The first and most significant piece of memorabilia produced to tie-in with Space: 1999 were the two Dinky Eagle space craft.
Dinky Toys
Known as the Rolls-Royce of the British toy business, Dinky became associated with quality in the minds of the great buying public in every part of the world. (See our article elsewhere in this issue for the story of the final years of Dinky and the spaceships).
The Eagles themselves rapidly became a trademark for Space: 1999, and many times were a vital element of the storyline, serving as a dynamic method of getting the characters in the show into new and exciting environments each week. This made the Eagles an important part of the hardware to sell as a merchandising spin off.
Produced in 1975 and available in the spring of 1976, both toys were of top quality, highly detailed and almost completely faithful to the TV originals. The Eagle transporter was 234mm in length, and came in lime green, red, white and silver with working parts and adjustable feet. Originally sold for £2.50, the model (deleted 79-80) it will set you back around £l50 if it's in mint condition and boxed. If you come across it without the box, but still mint then it sells for around £90, and £5O in good condition without the box.
Dinky's second Space: 1999 model was the Eagle Freighter. At 222mm in length this toy came with an all silver body with red trim, plus orange and purple parts and adjustable feet.
As with the Eagle Transporter, the Eagle Freighter also sold for £2.50 and was also deleted in 1979/80. Today this model sells for around £100 mint with its original box, £5O mint unboxed, and £25 without the box. Undoubtedly, the imagination Dinky showed with the various working features of the two models has ensured its popularity.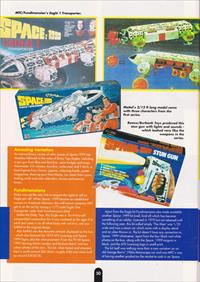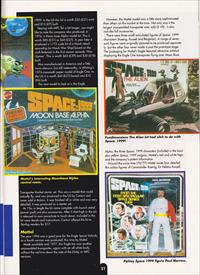 Amazing variation
An extraordinary variety of other pieces of Space: 1999 merchandise followed in the wake of Dinky Toys Eagles, including a stun gun from Blue and Red Box, some badges and mugs, Viewmaster 3-D viewers, transfers, underwear and T-shirts, a board-game from Omnia, jigsaws, colouring books, poster magazines, chewing-gum from Monty, ice cream from Lyons, trading cards and even calendars, diaries and exercise books.
Fundimensions
Dinky was not the only firm to acquire the rights to sell an Eagle spin-off. When Space: 1999 became an established success on American television, the well-known company MPC got in on the act by issuing a 1/72 scale Eagle One Transporter under their Fundimensions label.
Unlike the Dinky Toys, this Eagle was a 'Do-It-Yourself unassembled construction kit. It was marketed as for ages 8 to adult and came in an all white body with red trim, and was faithful to the original design.
Also faithful was the attractive artwork displayed on the box - which also featured the 1975 ATV Licensing and Space: 1999 logos, plus the announcement 'From the TV Hit Space: 1999 Starring Martin Landau and Barbara Bain!' and two colour photos of the stars. This kit, when boxed and unassembled is worth around $60 (that's roughly £36) and when built up around $30 (£18).
Apart from the Eagle kit Fundimensions also made available another Space: 1999 kit (well, kind of) which has become something of an oddity. Licensed in 1975 but not released until the following year, this kit called simply 'The Alien' was 1/ 25 scale and was a moon car which came with a display stand and an alien thrown in. The kit doesn't have any connection to Space: 1999 whatsoever, apart from the four black and white photos on the box, along with the Space: 1999 insignia in black, and the ATV Licensing logo in small print.
The kit itself was nothing more than a new variation on an old George Barris' 1960s Moonscape car and was MPC's way of having another product on the market to cash in on Space: 1999. In the US this kit is worth $35 (£21) mint and $15 (£9) built.
Staying with MPC for a bit longer, you might like to note the company also produced, in 1976, a Moon base Alpha model kit. This is worth $85 (£l) or $45 (£27). A year later it produced a 1/72 scale kit of a Hawk attack spaceship (or Hawk War Ship) based on the craft featured in the first season episode 'War Games'. This is worth $65 (£39) and $30 (£18) built.
Also manufactured in America and a little more obscure, but still noteworthy, is Whiting's 1976 mammoth paper model of Eagle One. In the US it is worth $45 (£27) boxed and $10 (£6) built.
The next model to look at is the Eagle Transporter Rocket starter set. This was a model that could actually fly, and was produced in the US by Centuri and never sold in Britain. It was finished all in white and was very detailed, it was produced as a starter set. At 13in in length the kit came complete with launch stand (power pad) unit plus accessories. After it shot high in the air it released its own parachute to touch down. Included in the kit were decals and instructions. Centuri offered the kit to Starlog readers for $17.
Mattel
The year 1999 was a good year for the Eagle Space Vehicle, as a fourth version was produced, this time by Mattel. Made available until 1977, this Eagle-toy was another unassembled transporter, again with an all-white body, without the red trim down the side of the Dinky or MPC versions.
However, the Mattel model was a little more sophisticated than others on the market at the time. Not only was it the largest unassembled transporter ever sold (2 1/4ft), it also includes full accessories.
There were three small articulated figures of Space: 1999 characters (Koenig, Russell and Bergman). A range of seven such figures were originally planned to be produced separately, but the other four never made it past the prototype stage. The packaging for Mattel's Eagle featured attractive artwork displaying the Eagle One transporter flying over Moon Base Alpha, the three Space: 1999 characters (included in the box) plus yellow Space: 1999 insignia, Mattel's red and white logo, and the company's patent information.
Around the same time (76/77) Mattel issues four detailed 8in action figures of Commander Koenig, Dr Helena Russell, Professor Bergman and an alien called Zython. For some reason, the Commander Koenig figure was the only one issued with the right colour uniform - beige with a dark blue left sleeve.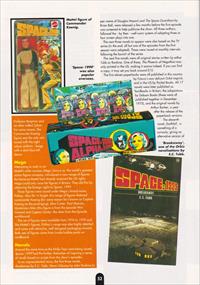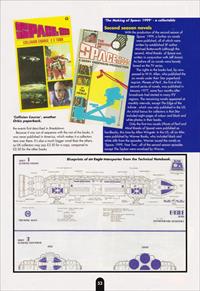 Mego
Attempting to cash in on Mattel's sales success, Mego, known as 'the world's greatest action figure company, introduced a new range of figures. But because Mattel had already acquired the US rights, Mego could only issue the figures in Britain. They did this by obtaining the foreign rights to Space: 1999.
These figures were issued under Mego's brand name, Palitoy. [This is incorrect. UK company Palitoy was owned by a US company, General Mills, but the only connection to Mego was a tooling license, allowing them to issue Mego-type figures] Also 8in in height, this range of figures featured commander Koenig (for some reason he's known as Captain Koenig on the packaging), Alan Carter, Paul Morrow, Mysterious Alien (this figure is from the episode War Games) and Captain Zantor, the alien from the episode Earthbound.
The set of figures were available from 1976 to 1978 and, like Mattel's figures, Palitoy's range was also highly detailed and came with attractive, well designed packaging artwork. Both sets of figures came from inside bubble packs on cardboard.
Novels
Around the same time as the Dinky Toys were being issued, Space: 1999 had the further distinction of inspiring a series of novels based on scripts from the show's episodes. In an unprecedented move, the first three novels, Breakaway by E.C. Tubb, Moon Odyssey by John Rankine (a pen name of Douglas Mason) and The Space Guardians by Brian Ball, were released a few months before the first episode was screened to help publicise the show. All three authors, followed the - by then - well-worn system of adapting three or four screen plays into one.
The next three novels to appear were also based on the TV series (in the end, all but one of the episodes from the first season were adapted). These were issued at monthly intervals following the launch of the series.
The next five novels were all original stories written by either Tubb or Rankine. One of these, The Phoenix of Megathon was only printed in the US, making it scarce indeed. If you can find a copy, it may set you back around £10.
The first eleven paperbacks were all published in this country by Futura's now defunct Orbit imprint, and in the US by pocket Books. All 17 novels were later published as hardbacks in Britain, the adaptations by Dobson Books (these were all published together in December 1975), and the original novels by Arthur Barker, a year after the release of the paperback versions.
The eleventh novel, Earthfall, is something of a curiosity; giving an alternative version of the events first described in Breakdown. Because it was out of sequence with the rest of the books, it was never published in America, which makes it a collectors item over there. It's also a much bigger novel than the others, so UK collectors may pay £50 for a copy, compared to £2.50 for the other books.
Second season novels
With the production of the second season of Space: 1999, a further six novels were published, all of which were written by established SF author Michael Butterworth (although the second, Mind Breaks of Space was written in conjunction with Jeff Jones). As before all six novels were loosely based on the TV series.
The rights to the books had, by now, passed to W.H. Allen, who published the six novels under their Star paperback imprint. Planets of Peril, the first of this second series of novels, was published in January 1977, some four months after broadcasts had started in many ITV regions. The remaining novels appeared at monthly intervals, except The Edge of the Infinite, which was only published in the US. An initial bonus for collectors is that Star included eight pages of colour and black and white photos in their books.
Only the first two novels (Plants of Peril [sic] and Mind Breaks of Space) were published as hardbacks, this time by Allan Wingate. In the US, all six titles were published by Warner Books, who included black and white stills from the episodes. Warner issued the novels as 'Space: 1999, Year Two' , all of the second season episodes except The Taybor were novelised by Warner.
Annuals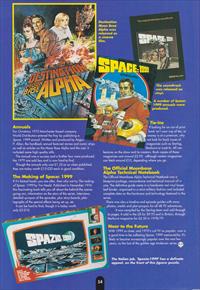 For Christmas 1975 Manchester-based company World Distributors entered the fray by publishing a Space: 1999 annual. Written and produced by Angus P. Allan, the hardback annual featured stories and comic strips as well as articles on the Moon Base Alpha and the cast. It included some high quality stills.
The annual was a success and a further four were produced, the 1979 one sold less and is now hard to find. Though the annuals only cost £l.25 or so when published, they are today worth £15-£20 each in good condition.
The Making of Space: 1999
If it's factual books you are after, then why not try The Making of Space: 1999 by Tim Heald. Published in November 1976 this fascinating book tells you all about the behind the scenes going ons, information on the stars of the series, interviews, detailed synopsis of the episodes, plus story-boards, photographs of the special effects being set up, etc. It can be hard to find, though it is today worth only £25-30.
Tie-ins
If looking for an out of print book isn't your cup of tea, or money is at a premium, why not look for back issues of magazines such as Starlog, Starburst or Look-In. All ran features on the show and its creators. Back copies of these magazines cost around £2.95 - although certain magazines can fetch around £l5, depending where you go.
The Official Moonbase Alpha Technical Notebook
The Official Moonbase Alpha Technical Notebook was a blueprint package, concordance and technical manual all in one. The definitive guide came in a handsome red vinyl loose- leaf binder, organised in a strict military fashion and included complete data on the hardware and technology featured in the series.
There was also a timeline and episode guides with more photos, credits and plot synopsis for all 48 TV adventures. It was compiled by the Starlog team and sold through its pages. It sold in the US for $9.95 and in Britain, through Starburst magazine for £5.50 in 1978/79.
Near to the Future
With 1999 so close, and 1970's cult TV so popular, now is a good time to be collecting Space: 1999 memorabilia. It's likely to become increasingly popular over the next few years, as the last of the golden age Anderson series