The UK magazine DVD Review was launched in 1999 and was for a time the best-selling title devoted to newly released DVDs. It ended in 2011. In 2001 it reviewed the Carlton DVD releases of Space: 1999. Magazine editor Andy McDermott wrote the reviews.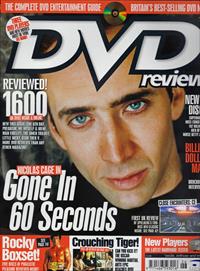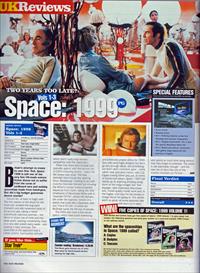 DVD Review No 26 (June 2001) p102
Britain's attempt to create its own Star Trek, Space: 1999 is still one of the very few UK-made science fiction shows not to suffer from the curse of cardboard sets and wobbly spaceships made from hairdryers. But did a big budget guarantee decent stories?
Decent-ish, at least to begin with. The first season of the show for the most part avoided the bug-eyed monsters and silly runaround plots of its second year. taking a rather scientifically ludicrous premise - the Moon is blown out of orbit and into deep space. passing conveniently close to a new alien planet every week - and treating it fairly seriously. The downside of this approach was a rather solemn. humourless attitude which didn't really help viewers sympathise with the characters.
These first three discs include four episodes apiece. with the second trio of DVDs following shortly - watch for the review next issue. The best episodes here include the opening show 'Breakaway', nothing to do with crunchy chocolate biscuits but showing the Moon's nuclear waste-propelled departure from Earth, taking the 300 inhabitants of Moonbase Alpha with it; 'Guardian Of Piri'. where the Alphans fall under the hypnotic control of a planet that looks like a Seventies café: and 'Force Of Life', in which Ian McShane sucks the life out of people
The DVDs also a few extras apiece, which have some interesting and previously unseen titbits for 1999 fans (like early Eagle designs) but don't go into enough detail, and something we don't often comment upon - some rather neat animated menus. with CGI Eagles roaring hither and yon. In terms of production values. Space: 1999 still stands up to anything showing today short of the mega-budget Star Trek: Voyager. with impressive Moonbase sets, movie-quality model work and. in the Eagles. cool toys for the heroes to charge about the galaxy in. The stories aren't so great. as some episodes take well-worn sci-fi ideas and spend so much time being serious that they forget to entertain. The series is still watchable, though - and the next set of discs has one of the scariest monsters on TV ever...
Final Verdict
Picture

***

Sound

**

Entertainment

***

Extras

***

Value

****

Big-budget TV sci-fi at a good price.

Overall

***
Stand out moment
Counter reading: 'Breakaway': 0.39:30
The Moon gets blasted out of orbit. Bad news for Earth-bound surfers waiting for high tide...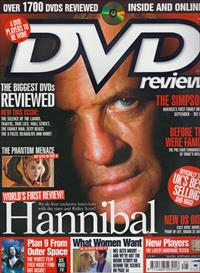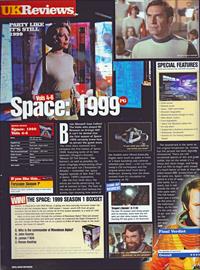 No 28 (Aug 2001) p74
Brian Blessed! Joan Collins! The bloke who played Mr Bronson on Grange Hill! It can't be denied that the first season of Space: 1999 certainly knew how to attract the guest stars.
The three discs reviewed here complete the first boxset of Space: 1999, featuring some of its best episodes ('Dragon's Domain', .Mission Of The Darians', 'War Games'). as well as possibly the most cringingly embarrassing effort of its two-year run ('Testament Of Arkadia' - remember the 'space hippies' episode of Star Trek? This is Space: 1999's equivalent).
Like the first three discs, the extras are hardly penetrating, but still of interest to fans. The best of the extras are the brief behind-the- scenes clips showing how some of the models were filmed (basically Eagles were stuck on poles in front of a black backdrop and cameras wheeled past them - a far cry from today's CGI techniques) and the original series brief from Gerry Anderson, showing how the show evolved from its conception to appearing on TV.
The soundtrack is the same as the original broadcasts (ie. mono). but the picture has been digitally remastered. There are still occasional specks of dirt and grain visible, but on the whole it's a sharp and clean image. and being shot on film to begin with means it's much better to look at than video-based BBC productions of the same era. Space: 1999 has dated in a lot of ways (the name, for a start). but it still stands the test of time quite well. The full boxset saves you a tenner on the price of the individual discs, so for fans it's the only way to go. Just don't let the monsters get you!
Final Verdict
Picture

***

Sound

**

Entertainment

****

Extras

***

Value

****

Fun episodes of retro sci-fi.

Overall

****
Stand out moment
Dragon's Domain: 0.17:35
The best TV monster ever! Grabs people with its tentacles, sucks them dry and spits out their slimy corpses, Saturday morning ITV was great in the Seventies!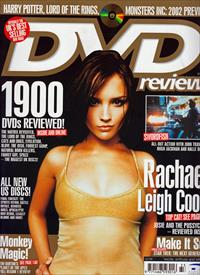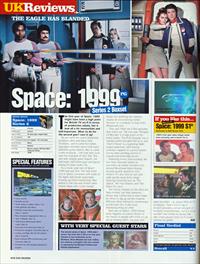 No 33 (Dec 2001) p78
The first year of Space: 1999 might have been a high point for British TV sci-fi in terms of production values, but it was all a bit humourless and self-important. What to do for the second year? Jazz it up!
So out went the duller characters, pompous plots and Barry Gray Orchestra, and in came hot babes, bug-eyed monsters and a funk-tastic Seventies guitar theme. Also in came a new producer... the man who took over the final year of Star Trek. The one with singing space hippies, the half-black/ half-white guys and Spock having his brain stolen. Ah.
As a result. year two of Space: 1999 was less Star Trek and more Lost In Space. complete with loads of fist fights and model spaceships blowing up most impressively. Also added to the mix was Schell's alien beauty Maya, who could change shape into anything she wanted, usually an unconvincing rubber monster or a creature on loan from Whipsnade Zoo.
That said. there are a few episodes that stand out. The two-part 'Bringers Of Wonder' is a high point of the entire series, 'The A-B Chrysalis' has a suitably weird and alien feel to it. and 'Devil's Planet' is a surprising S&M- tinged adventure. with Koenig (Landau) trapped on a prison planet run by whip-wielding women in catsuits and knee-high boots!
Balancing these, unfortunately, are too many episodes where an unconvincing rubber monster runs around Moonbase Alpha flinging security guards around in slow motion. It's also best to turn and walk quickly away from cringe- inducing nonsense such as 'The Taybor', 'All That Glisters' and 'The Rules Of Luton'.
The bonus features on the discs are fairly limited. but their presence shows that Carlton has at least made an effort to dig up archive material. SFX man Brian Johnson's commentary on the sixth disc is the most interesting thing on offer.
Year two of Space: 1999 shows what happens to science fiction in the hands of people who think it's all about blinking lights. ray guns and alien monsters - i.e. about 95% of TV producers. That's not to say it doesn't provide a certain amount of brainless entertainment, but it's small wonder that thanks to shows like this, most people think sci-fi is just silliness for geeks.
Final Verdict
Picture

***

Sound

**

Entertainment

**

Extras

***

Value

****

A few good episodes, but generally rather silly sci-fi.

Overall

**
WITH VERY SPECIAL GUEST STARS
The second series of Space: 1999 didn't attract the A-list like it did in its first year. Instead of such luminaries as Ian McShane, Brian Blessed and Joan Collins, the celebrity contingent this time around is represented by Bernard Cribbins and Pamela Stephenson!