Martin Landau obituaries
Martin Landau died on 15th July 2017, aged 89. On Monday 17th July, many newspapers carried obituaries. There were few mentions of Space: 1999, but many obituaries included photos from the series.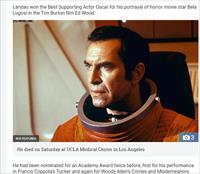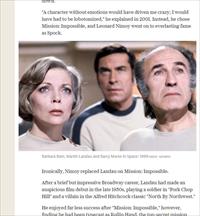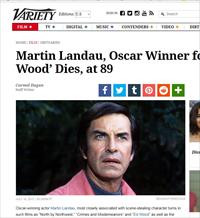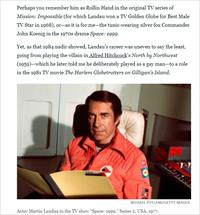 UK newspaper The Guardian had excellent coverage including a life in pictures and a video report, as well as several articles, including a news report and Peter Bradshaw's "A great actor who grew into his gravitas":
...later he became a much-loved presence in Lew Grade's cult sci-fi TV drama of the 1970s, with its now quaint millennial title - Space: 1999. Landau was Commander John Koenig, and just as in Mission: Impossible, he starred with his wife, Barbara Bain. As ever, the key to his performance was the absolute seriousness he brought to it - particularly in that piercing, commanding gaze.
The obituary is also good.
He and Bain moved to Britain to star in the TV series Space: 1999 (1975-77), created by the husband-and-wife team of Gerry and Sylvia Anderson. Landau was John Koenig, the commander of Moonbase Alpha, a character with integrity, humanity and authority. He was proud of how topical events were mirrored in the plots (one episode paralleled Henry Kissinger's role in the Middle East) but he felt the series became increasingly silly.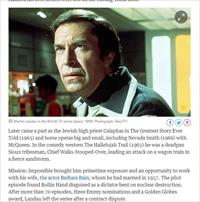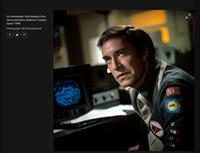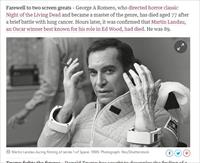 Landau even had a Space: 1999 photo in the Guardian's morning news email.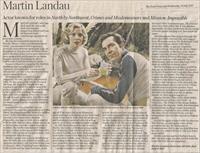 The Daily Telegraph also used a prominent photo from the series for it's print obituary.
Note: links may disappear or be hidden by paywalls.
---
Space: 1999 copyright ITV Studios Global Entertainment