Meet the model master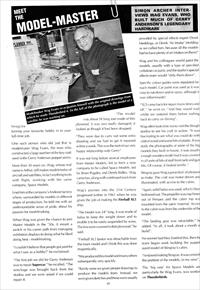 Century 21 No. 6 (Autumn 1991) p10 and p5
Simon Archer interviews Wag Evans, who built much of Gerry Anderson's legendary hardware
Imagine turning your favourite hobby in to your full-time job.
One such person who did just that is modelmaker Wag Evans, the man who constructed a large number of the key craft used in the Gerry Anderson puppet series. More than 30 years on, Wag, whose real name is Arthur, still makes models today of aircraft and satellites, in fact anything to do with flight, working with the same company, Space Models.
I met him at the company's Andover factory where, surrounded by models in different stages of production, he told me with an understandable sense of pride, about his passion for modelmaking.
When Wag was given the chance to join Master Models in the '50s, it meant a switch in his career path from managing exhibition displays to doing what he liked doing best - modelmaking.
"I couldn't believe that people got paid for what I saw as a hobby!" he exclaimed. "The first job we did for Gerry Anderson was to repair Supercar," he recalled. "The wreckage was brought back from the studios and we were asked if we could repair it.
The model was about 5ft long and made of thin plywood. It was very badly damaged, it looked as though it had been dropped. "They were due to carry out some extra shooting and we had to get it repaired within a week. This was the start of our very happy relationship with Gerry"
!t was not long before several employees from Master Models, left to form a new company to be called Space Models led by Brian Pugsley and Derek Ridley. Wag came too, along with continued work from Gerry Anderson.
Wag's journey into the 21st Century progressed further in 1961 when he was given the job of making the Fireball XL5 ship.
'The model was 24" long. It was made of balsa to keep the weight down and to enable it to be easily suspended by wires. The fins were covered in thin plywood,' he said.
"Fireball XL5 Junior was detachable from the main model and I think this was done magnetically.
"We produced this model and many others subsequently very quickly. Rarely were we given proper drawings to produce the models from. Instead, we were given sketches and these were usually provided by special effects expert Derek Meddings, or Derek 'Air Intake' Meddings as we called him, because all the models had to have plenty of air intakes on them!' Wag and his colleagues would paint the models, usually with a type of specified cellulose car paint and the studio's special effects team would "dirty them down". Specific colour guides were stipulated for each model. Car paint was used as it was easy to rub down and re-spray, although it was inflammable!
"XL5 came back for repair many times" he went on. "And they would wait whilst we restored them before rushing back to carry on filming
Wag often took time out to visit the Slough studios to see his craft in action. "It was fascinating to see what you could do with a bit of wood and some bits of plastic. If you study the photographs of some of the big models they built in-house, it was usually a rough wooden model but it was covered in ail sorts of bits of stuff from tank and gun kits. Of course, it looked terrific.
Stingray gave Wag a great deal of pleasure to make. The craft was motor driven and illuminated, with access to the cabin. "Again, solid balsa was used, which I then hollowed out. The propeller was machined out of Perspex and the cabin top was moulded from the same material. Access to the cabin was from the underside of the model.
"The landing gear was retractable," he added. "In all, it took about a month to build"
No sooner had they finished this, then the team began work building the puppet- sized model of Stingray's cabin.
I enjoyed making Stingray. It was certainly the prettiest of the models, in my view". The 'big one' for Space Models and particularly for Wag Evans, was working on Thunderbirds.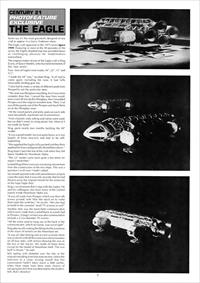 Some say it's the most gracefully designed of any craft to appear in a Gerry Anderson show. The Eagle craft appeared in the 1975 series Space: 1999. Featuring in most of the 48 episodes of the series, the highly detailed ship has provided hours of challenging pleasure for modelmakers everywhere. The original maker of one of the Eagle craft is Wag Evans, of Space Models, who has fond memories of this "epic series'
Four sizes of Eagles were made, 44", 22", 1 1 " and 51/2"
I made the 44" one," recalled Wag. "It all had to come apart, including the nose. It had fully retractable landing gear too.
"I also had to make a variety of different pods from Perspex to suit the particular story.
"The nose was fibreglass moulding, but it was more complex than that. I carved the nose from wood, took a tool off it to do the fibreglass, then I moulded Perspex over the original wooden nose. Then, I cut out all the panels out of the Perspex and stuck them on to the fibreglass nose .
All the raised panels and entry ports on each side were beautifully machined out of aluminium.
'A lot of plastic rods, tubing and valves were used, but we didn't resort to using plastic kits. Most of it we made by hand.
Wag spent nearly two months building the 44 model.
It was a good model, but was quite heavy as it was largely of brass structure and had to be self- supporting.
"We supplied the Eagles fully painted and they then applied the livery and generally dirtied them down." Wag hadn't seen the last of the craft when they left Space Models for Moonbase Alpha.
The 22" model came back quite a few times for repair I remember.
I asked Wag if there were any remaining mementoes from the construction of the two ships. This was a question I wish now I hadn't asked.
My mouth opened wide with astonishment as back came the reply that it was only recently that he had thrown-away the original mould for the nose cone of the large Eagle ship!
Wag's involvement didn't stop with the Eagles. He and his colleagues also built many of the control panels inside Moonbase Alpha too.
'It was all made from Perspex which was then silk screen printed. with little bits stuck on to make them look like switches," he recalls. "We also had to build-in the consoles' small TV screens as well Another item was the hand-held communicators which were made from a solid block of wood clad in Perspex. A larger version was also constructed to include a 2 1/2 inch diameter TV screen.
'All the wires used to hang out of the back of the communicator, which of course, was out of sight".
Wag also recalls making the fittings for the junctions of the maze of tunnels on the Moonbase set.
It was all inter-linking and at each junction there was a column with all this communications business on all four sides, with arrows showing the way to the exit or the reactor. We made all these items except for the model of Moonbase itself. This was built in-house," he said.
Still reeling with disbelief over the fate of the original moulding from that nose section, I drew the interview to a close, kicking myself that this conversation hadn't taken place a little earlier, when there might have been some chance of salvaging the item that was destined for the dustbin.
Still, that's showbiz!
---