TV ZONE SPECIAL Number 13, ITC Special (June 1994); p5-8 TV Zone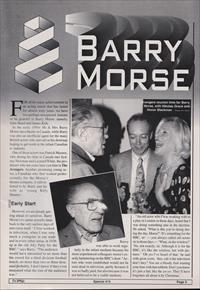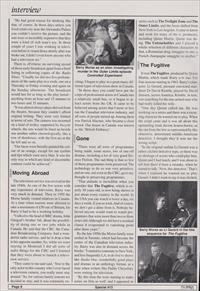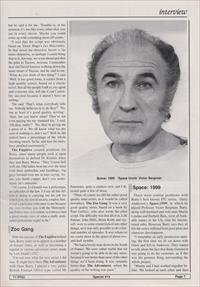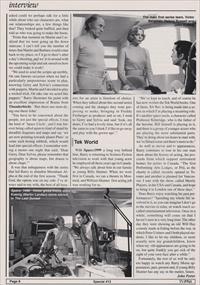 For all his many achievements in an acting career that has lasted for almost sixty years, we have two perhaps unexpected reasons to be grateful to Barry Morse: namely, John Steed and James Kirk.
In the early 1950s Mr & Mrs Barry Morse ran a theatre in Canada, while Barry was also an unofficial agent for the many British actors who arrived on his doorstep hoping to get work in the infant Canadian TV industry.
One of those actors was Patrick Macnee, who during his time in Canada met Sydney and Leonard White, the producers who ten years later cast him in The Avengers. Another promising young actor, a Canadian who first worked professionally for the Morse's theatre company, is still referred to by Barry and his wife as 'young Billy Shatner'.
Early Start
However, we are already getting ahead of ourselves. Barry Morse's TV career actually dates back to the very earliest days of television itself. "I first worked in television, when I was very much a youngster in our trade and in every other sense, in 1936 up at the old Ally Pally for the BBC." says Barry. "The audience would have amounted to no more than the crowd for a third division football match, no more than two or three thousand probably. I don't know if they even measured what the size of the audience was."
Barry was able to work regularly in the infant medium because his more experienced colleagues weren't exactly hammering on the BBC's door. "Actors who were established would not be seen dead in television, partly because it was so badly paid, but also because it was not believed to be a viable medium.
"An old actor who I was working with in a play in London in those days, heard that I was doing something else in the daytime. He asked, 'What is this you're doing during the day, Morse?' 'It's something for the BBC, sir' - you always called old actors sir in those days - 'What, on the wireless?' 'No, not exactly, sir. Although it is for the BBC, it's like the wireless, but with pictures.' 'Oh yes I've heard of that,' he said with great scorn, 'they call it the television don't they? You are a bloody fool wasting your time with that rubbish. Don't you know it's just a fad, like the yo-yo. They'll have forgotten all about it by Christmas.'
"He had good reason for thinking like that, of course. In those days unless you lived relatively near the Alexandra Palace you couldn't receive the picture, and the sets were so incredibly expensive that they were a kind of rich man's toy. In those couple of years I was working in television before it closed down shortly after war broke out, I didn't even know anyone who had a television set."
There is, of course, no surviving record of those early broadcasts apart from a brief listing in yellowing copies of the Radio Times. "Usually we did two live performances of the same play in a week, one on a Thursday or Friday evening and again on the Sunday afternoon. The broadcast would last for as long as the play lasted - anything from an hour and 15 minutes to two hours and 35 minutes.
"It was almost always plays derived from the theatre, because they couldn't afford original writing. They were very limited in terms of sets. The camera was mounted on a kind of trolley supported by bicycle wheels; the sets would be lined up beside one another rather chronologically, like a row of shoeboxes, with the first act at the far left and so on.
"Our faces were literally painted the colour of an orange, except for our eyelids and lips which were navy blue. It was the only way in which any kind of discernible contrast could be achieved."
Moving Abroad
The television service was revived in the late 1940s. As one of the few actors with any experience of television, Barry was very much in demand. Then in 1950 the Morse family visited relatives in Canada. At a time when tourists were allowed to take a maximum of £50 out of Britain, for Barry it had to be a working holiday.
"I talked to the head of BBC drama, John Gielgud's brother Val, about the possibility of doing one or two jobs while in Canada. He said that the CBC, the Canadian Broadcasting Company, had a wonderful radio service, and he'd drop a line to his opposite number. So, while we were staying in Montreal I did all sorts of radio things for the CBC and I learned that they were about to launch a television service. "They came to me and said, 'You're the only actor in this country who's ever faced a television camera, you really must stay around.' So, for various family reasons we decided to stay, and it was extremely exciting. I began to play in a great many different types of television show in Canada.
"In those days you could have put the corps of professional actors in Canada into a relatively small bus, so it began to attract actors from the UK. It came to be believed among actors that I more or less ran the Canadian television industry, and all sorts of people turned up. Among them was Patrick Macnee, who became a close friend. Our house in Canada was known as the 'British Embassy'.
Gone
"There were all sorts of programmes being made, some series, lots of one-off dramas, including a lot of very good Science Fiction. The sad thing is that so few of those programmes were preserved. The technology to do so was very primitive, and no one, not even at the CBC, gave any thought to preserving programmes.
"That attitude is incredible when you consider that The Fugitive, which is exactly 30 years old, is now being shown in just about every country in the world. In the USA you can watch it twice a day, six days a week, if you so wish. And of course, we don't get a dime from it. Nobody believed anyone would want to watch programmes that were more than two or three years old. Although we did have a residual clause it evaporated to vanishing point after three years."
By the late 1950s the Morse family were settled in Toronto, which had become the centre of the Canadian television industry. Barry was also in demand across the border. "I started to commute to New York, and less frequently LA, to do live TV shows like Studio One, wonderfully good plays and dramas in an anthology format, at a time when writers like Paddy Cheyefsky were writing for television.
"By this time the were starting to make series on film as well, and I appeared in series such as The Twilight Zone and Outer Limits, and the focus shifted from New York to Los Angeles. I came to know and work for many of the TV producers, including Quinn Martin. Quinn was doing The Untouchables and I played a whole selection of different characters in that, a Romanian drug smuggler in one, a French champagne smuggler in another."
The Fugitive
It was The Fugitive, produced by Quinn Martin, which made Barry a TV star. For four seasons starting in 1963, Barry's character, Lt Gerard, pursued convicted murderer Dr David Kimble, played by David Janssen, across America. Kimble. in turn, was searching for the one-armed man who had really killed his wife.
"One day Quinn called me. He was working on a series and there was a recurring character he wanted me to play. When the script came and it was all about this upstanding, kind, decent, honest doctor, on the run from the law as represented by this obsessive, determined middle-American detective. I thought they'd sent me the wrong script.
"In the original outline Lt Gerard was a rather cliched detective type, so there was no shortage of actors who could play him. Quinn and I had lunch, and I was about to tell him there'd been a mistake, when he started to talk. 'Now, this detective.' That's when I realized he wanted me to play Gerard. I didn't want to say it was cliched, but he said it for me. 'Trouble is, at the moment it's too like every other dick you see in every movie. Maybe you could come up with something more off-centre.'
"I said that the script was obviously based on Victor Hugo's Les Miserables. In that novel the detective Javert is far more obsessive, so perhaps I could bring that to it. Anyway, we went ahead and shot the pilot in Tucson, Arizona. I remember dear old David Janssen walking down the main street of Tucson, and he said to me, 'What do you think of this thing?' I said 'Well, it has good roots, it comes from a high quality source, based on a classic novel. But all the people I talk to, my agent and everyone else, tell me it can't possibly succeed because it doesn't have an ending.'
"He said 'That's what everybody tells me. Nobody believes in it, do they?' 'No, but at least it's good quality writing'. 'Sure, but you know what? They're not even paying me my standard fee.' I said, 'Oh dear, really?' 'No, they're giving me a piece of it. We all know what ten per cent of nothing is, don't we?' Well he did indeed have a percentage of the whole shooting match. So he, and now his heirs, have profited enormously."
The Fugitive created problems for Barry, since many people took it upon themselves to defend Dr Kimble when they met Barry Morse. "They'd raise hell with me. Old ladies beat me over the head with their umbrellas and handbags, big guys loomed over me in bars saying 'listen, you dumb copper, don't you understand, he's innocent.' "Of course, Lt Gerard was a policeman, an upholder of the law. I'd say all this fellow is doing is carrying out his job for which you, the rest of society, employ him. It had a particular relevance to me because my brother was with the Metropolitan Police here in London, so I always had a good inside view of what a really dedicated policeman ought to be."
Zoo Gang
With the success of The Fugitive behind him, Barry went on to appear in a number of feature films, as well as becoming a regular in various adventure series made by Lew Grade's ITC.
"I'm not sure what the next series I did was. It might have been The Adventurer with Gene Barry I played a very pukka British Foreign Office type called Mr Parminter, quite a chinless twit, and I directed quite a few of those. "Then, of course we did the rather good quality mini-series, as it would be called nowadays, The Zoo Gang. It was a very good quality series, based on a book by Paul Gallico, who also wrote the pilot script. The difficulty was that all of us, Lilli Palmer, John Mills, Brian Keith and myself, were to some extent locked into other things, so it was only possible to do a limited number of episodes. It was whatever we could shoot in the space of about two-and-half months.
"We had a lovely time down in the South of France. We were rather rueful that we weren't going to be able to do any more, because it was better than most of the other things we'd been doing. It was certainly better than The Adventurer, where the quality of the writing was poor."
Space: 1999
There were similar problems with Barry's best known ITC series, Gerry Anderson's Space: 1999, in which he played Professor Victor Bergman. Barry, along with husband and wife stars Martin Landau and Barbara Bain, were all bankable names in the US, vital for international sales. However, Barry says they all felt the series suffered from poor plots and character development.
"I remember an early production meeting, the first time we all sat down with Gerry and Sylvia Anderson. They started to talk about the fact that Rudy Gernreich was going to do the costumes, as if this was the greatest thing surrounding the whole project.
"Martin and I had worked together before. We looked at each other and then asked could we perhaps talk for a little while about who our characters are, what our relationships are, a few things like that? They looked quite baffled, and then told us who was going to make the boots. "From that moment on Martin and I realized that we were going up the down staircase. I can't tell you the number of times that Martin and Barbara would come back to my place, or I'd go to their's after a day's shooting, and we'd sit around with the upcoming script and ask ourselves how we could make it work?
"We used to send the scripts up terribly. On one famous occasion when we had a particularly preposterous scene to play, knowing Gerry and Sylvia's connection with puppets, Martin and I decided to play a wicked trick. On take one we acted like puppets." Barry illustrates his point with an excellent impression of Brains from Thunderbirds: 'But-there-are-men-dying-out-there-John'. "You have to be concerned about the people, not just the special effects. I was the kind of 'Space Uncle', and I was forever being called upon to kind of stand by dreadful diagrams and maps and say 'we are now pointing towards planet Pluto' or some such boring rubbish, which would lead into special effects. I remember writing a memo one night that said, 'Dear Gerry, Dear Sylvia, please remember that geography is about maps, but drama is about chaps."'
It was that unhappiness with the series that led Barry to abandon Moonbase Alpha at the end of the first season. "Thank God, the option was on my side. I've always said to my wife, the best of all luxuries for an artist is freedom of choice. When they talked about this second series coming and the changes they were proposing to make, bringing in Freddy Freiberger as producer and so on, I went to Gerry and Sylvia and said 'look, my dears, I've had a lovely time, but if it's all the same to you I think I'd like to go away and play with the grown ups'."
Tek World
With Space:1999 a long way behind him, Barry is returning to Science Fiction television to work with that young actor he employed all those years ago in Canada. "We always talk about him in our family as young Billy Shatner. When we were first in Canada, we ran a theatre in Montreal, and William Shatner first acting job was working for us.
"We've kept in touch, and of course he has now written the Tek World books. One of them, Tek War, is being made into a series in which I'm playing a recurring role. It's another space uncle, a character called Professor Kitteridge, who is the father of the heroine. Bill himself is playing in it, and there is a group of younger actors who are playing the more substantial parts. They're doing about ten hours to start with, we've filmed some and there's more to do."
As well as movie and TV appearances, Barry continues to tour in his one man show about the history of acting, the proceeds from which support retirement homes for actors in Canada. "The first Performing Arts Lodges, or PAL as the charity is called, recently opened in Toronto and another is planned for Vancouver. I tour with the show, called Merely Players, in the USA and Canada, and hope to bring it to London one of these days."
Does Barry enjoy watching his past performances? "Spending my whole life involved in it, as you can imagine I don't go to the movies to relax, or watch much so-called entertainment television. Once in a while, something will come on that I haven't seen in a very long time. The other day they were showing an old Will Hay comedy made at Ealing before the war, in which Peter Ustinov and I both played students. I like to let my children, or more usually now my grandchildren, know when my old appearances are going to be on, but quite frankly you get sick of the sight of your own face after a while." Fortunately, the rest of us will be only too happy to watch any Barry Morse appearances, past, present and, if young Billy Shatner has any say in the matter, future.
John Porter
---