MISSION "1999"
By Carol Burton Terry
Scanned by Paulo Jorge Morgado
Newsday, 1976, p4, 37-39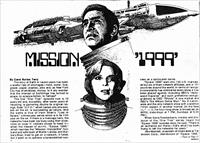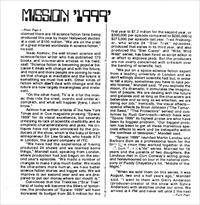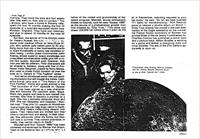 The story of Earth in recent years has been a woeful tale of shortages-food, water, fuel, power, paper, plastics, jobs and, as New York City has dramatized, money. Is it any wonder that the interest of Earthlings has turned to space, to science-fiction, to fantasy?
The first Star Trek episode now is 10 years old and, incredibly, after seven years of recycling, is garnering double its original ratings. Even "U.F.O." which lasted only one season on the air, is succeeding as reruns. And the same is true of Irwin Allen's "Lost in Space", a three-year series which is in its 11th year on the air. If there is a message here, the networks have been too busy using their slide rules on cops 'n' robbers shows to heed it when the newest of sci-fic. "Space: 1999", which reunites the "Mission: Impossible" husband and wife team of Martin Landau and Barbara Bain, tried to get on a network, it failed, but it went on to achieve unprecedented success as a syndicated series.
'Space: 1999" went into 155 U.S. markets, all but six of them network affiliates, and in 101 countries around the world. In terms of ratings it consistently has clobbered every show it has been placed against, including NBC's "Hollywood Squares" and such primetime ratings grabbers as CBS' 'Rhoda" in one market and ABC's "Six Million Dollar Man", No. 6 nationwide and the only network show with a science, fiction aspect, in another market. (in the New York area, the hour-long show is broadcast on WPIX, Saturdays at 7 PM, Sundays at 6:30 PM.)
When Gene Roddenberry creator and producer of the Star Trek series, heard the Space: 1999 success story, he said, There is an audience out there - that's what I've been' trying to tell the networks for years.
Abe Mandell, president of International Television Corp., distributors of Space: 1999, claimed there are 16 science fiction films being produced this year by major Hollywood studios at a cost of $100 million. 'We are on the crest of a great interest worldwide in science fiction", he said.
Isaac Asimov, the well known science and science-fiction writer who has published 170 books and innumerable articles in his field, said: "Science fiction is becoming popular, because it deals with change and with the future, and more and more people are coming to realise that change is inevitable and the future is something we must live with. Other kinds of fiction which don't deal with change and the future are now largely meaningless and irrelevant. On the other hand, TV is in it for the money; they ride the crest, overdo and under-accomplish, and what will happen there I don't know."
Asimov has written articles in the New York Times and in Cue magazine praising Space: 1999 for its visual excellence, but severely criticizing its lack of scientific credibility and its simplistic characterizations and plots. His critiques have not gone unnoticed by the producers of the show, which is the baby of British entrepreneur Sir Lew Grade, who heads ATV in London, the parent company of ITC.
We have had the experience of having produced 24 shows and we learned some things, Mandell said, speaking from London, where production had just begun on the second year's episodes. We made a number of changes to make A play much better. We made the characters more human, we have better -science fiction stories and bigger sets. We will improve in our second year and we are prepared to put our money where our mouth is.
Convinced that the Trekkies (Star Trek fans) of today will become the 99ers of tomorrow, the producers of Space: 1999 will have increased its budget from $6.5 million for the first year to $7.2 million for the second year, or $300,000 per episode compared to $260,000 to $275,000 per episode last year. Fred Freiberger, who wrote 24 Star Trek episodes, produced that series in its third year, and also produced the "Ben Casey" and "Wild, Wild West" series, has been hired as script editor in an effort to improve plots. But the producers are not overly concerned with criticism over the bending of scientific fact.
"We put on a space-science fiction expert from a leading university in London and we don't willingly distort scientific fact but, in order to tell a story, sometimes you have to take poetic license", Mandell said. If you explode the moon, It's dramatic; it stimulates the Imagination of people. We are dealing with the future and galaxies and as long as the characters are believable and as long as we entertain, we are doing our job. Ironically, the visual effects special effects by Brian Johnson ("The Tamarind Seed", "The Protectors" series) and costumes by Rudi Gernreich - which have won Space: 1999 its highest praise, are what have been its biggest problem. Our biggest problem has been to get all those marvellous specials effects to work and be believable within the confines of television, Mandell said.
Space: 1999 reunited Martin Landau and Barbara Bain as a professional team for the first time since they worked together in the "Mission Impossible" series. Married for 18 years and the parents of two daughters, the Landaus met in Curt Conway's acting group and honeymooned on tour in the national company of Paddy Chayefsky's hit, "Middle of the Night."
When we sold them on this series, it was August, two and a half years ago. Mandell said. I went to them with Gerry Anderson (producer-creator of the show with Sylvia Anderson) with sketches under our arms. We arrived at 4 PM and never left until 2 the next morning. They loved the idea and four weeks later they were on their way to London. The Landaus, who have a home in Beverly Hills, spent the next 18 months making the first 24 episodes at a specially-equipped studio near Windsor, England. They have just returned, and plan to spend 12 months on the next 24 episodes.
But Bain, the winner of three Emmys, plays Dr. Helena Russell, the very cool professional chief medical officer on Moonbase Alpha, who seldom gets called upon to do anything more than say a few businesslike words or stare transfixedly at some new condition or alien being. Landau plays Commander John Koenig, whose superior space knowledge and unequalled administrative ability give him a robot-like quality. Mandell said, however, that next year will be different. Their characters will be allowed to develop, along with that of Professor - Victor Bergman, played by Barry Morse, who used to chase David Janssen all over the tube as Lt. Gerard in "The Fugitive" series.
And we've introduced some new and exciting characters that will boggle the minds. Catherine Schell (who was in "The Return of the Pink Panther" movie and guest starred in the "The Guardian of Piri" episode of Space: 1999) has been signed as a new character. She will become the resident alien, Maya. She's very playful and likes to turn herself into animals. She likes to become a panther or a tiger. She has a fantastic computer mind and ESP. She can disappear and reappear, Mandell said. "They (the 131 people on Moonbase Alpha) hope she can help them return to Earth, but the ship keeps catapulting deeper Into space. Their resources are limited and they have to recycle food and energy. In their odyssey, they encounter other life forms, but their aim now is survival. They cannot procreate. In reality, they cannot return to Earth."
Mandell said that Space: 1999 has been screened and endorsed by Werner Von Braun, head of the National Space Institute, who is a father of the rocket and grand daddy of the space program. Mandell, whose enthusiasm knows no bounds, said he sees Space: 1999 as the source of a phenomenon greater than that created by "Star Trek." The show has drawn 256.000 fan letters since it Went on the air In September, including requests to start fan clubs, he said. - So far, we have licensed 171 items for merchandising. RCA Records plans to release a double album on March 1, Dinky Toys already has placed a die-cast steel replica of the Eagle spaceship on the market, the Pocket Books subsidiary of Bantam has printed three of the six books it contracted for, Charlton Comics has published a Comic book and a picture book. Milton-Bradley is working on a game and Mattel is designing dolls and lunar mobiles. The eve of the 21st Century apparently, is upon us.
[Captioned Photo]
Commander John Koenig (Martin Landau) and Dr. Helena Russell (Barbara Bain) in one of their "spaced out" crises.