Nick Tate, Where Eagle Pilots Dare
TV Zone Special #31 (December 1998) p94-98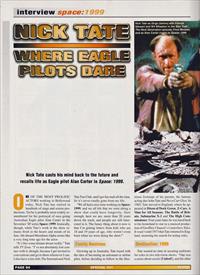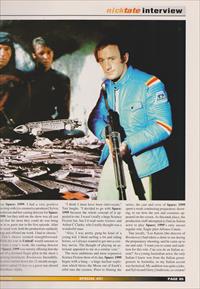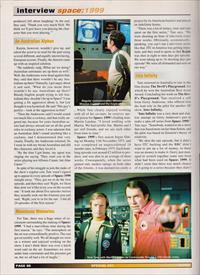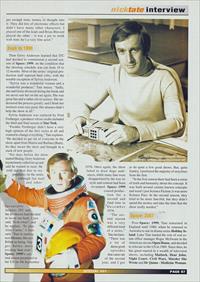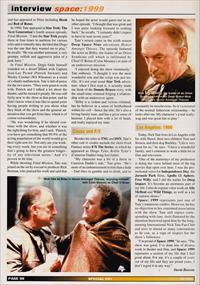 ONE OF THE MOST PROLIFIC ACTORS working in Hollywood today, Nick Tate has starred in hundreds of stage and screen productions. Yet he is probably most widely remembered for his portrayal of easy-going Australian Eagle pilot Alan Carter in the Seventies' SF series Space: 1999. Ironically, though, while Tate's work in the show re mains fresh in the hearts and minds of its fans, life aboard Moonbase Alpha seems like a very long time ago for the actor.
"It's like some distant dream really," Tate tells TV Zone. "I've not absolutely lost contact with it, though, because I get invited to conventions and go to them whenever I can. I also have a fan club, The International Nick Tate Fan Club, and I get fan mail all the time. So it's never totally gone from my life.
"We all had a nice time working on Space: 1999, and we all felt that we were doing a show that could have longevity. Sure enough, here we are, more than 20 years down the track, and people are still interested in it. The funny thing about it now is that I'm getting letters from kids who are 18 and 19 years of age, who weren't even born when we were doing the show!"
Growing up in Australia, Tate toyed with the idea of becoming an astronaut or airline pilot, before deciding to follow in the illustrious footsteps of his parents, the famous acting duo John Tate and Neva Carr Glyn. In 1965, Tate moved to England, where he appeared in Dixon of Dock Green, Z-Cars, A Man for All Seasons, The Battle of Britain, and The High Commissioner. Four years later, he was lured back to his homeland to star in a musical production of Geoffrey Chaucer's Canterbury Tales. It wasn't until 1973 that Tate returned to England, resuming his search for acting roles.
Tate wasted no time in securing auditions for roles in two television shows. "One was a series about soccer [United!], and the other was Space: 1999. I had a very positive meeting with [co-creator/co-producer] Sylvia Anderson and her casting director for Space: 1999, but they told me the show was all cast and that the most they could do was bring me in as guest star in the first episode. After the usual wait, both the productions suddenly rang and offered me work. I had to choose."
Tate's choice seemed straightforward. While his role in United! would amount to at least a year's work, the casting director of Space: 1999 was merely offering him the part of a doomed Eagle pilot in the show's opening instalment, Breakaway Incredibly, the actor turned down the 12-month assignment to spend 10 days as a guest-star aboard Moonbase Alpha.
"I think I must have been clairvoyant," Tate laughs. "I decided to go with Space: 1999 because the whole concept of it appealed to me. I wasn't really a huge Science Fiction fan, but I'd read some Asimov and Arthur C Clarke, who I really thought was a wonderful man.
"Also, I was pretty gung-ho kind of a young kid. I liked surfing a lot and riding horses, so I always wanted to get into a cow boy movie. The thought of playing an astronaut appealed to me in a similar vein."
The most ambitious and most expensive Science Fiction show of its day, Space: 1999 began with a bang - a huge nuclear explosion which blows the Moon out of Earth's orbit into the cosmos. Prior to filming the series, the cast and crew of Space: 1999 spent a week conducting preparatory shooting, to see how the sets and costumes appeared on the screen. As this took place, the production staff attempted to find an Italian actor to play Space: 1999's only uncast regular role, Eagle pilot Alfonso Catani.
Tate recalls, "Lee Katzin [the director of Breakaway] had taken a shine to me during the preparatory shooting, and he came up to me and said, 'I want you to come and audition for this role. Can you do an Italian accent?' As a young Australian actor, the only Italian I knew was from the Italian green grocers in Australia, so my Italian accent was hysterical. My audition was quite a joke, and Sylvia and Gerry [Anderson, co-creator/ producer] fell about laughing! At the end, they said, 'Thank you very much Nick. We think we'll just leave you playing the character that you were playing."'
Katzin, however, wouldn't give up, and asked the actor to re-read for the part using several different, and equally unconvincing, European accents. Finally, the director came up with an inspired solution.
"He suddenly said, 'What are we doing? Australian astronauts are up there as well.' Well, the Andersons were dead against that; they said that there wouldn't be any Australians up there! Naturally, I got angry about it and said, 'What do you mean there wouldn't be any Australians up there? Bloody English people trying to tell Australians they shouldn't be up in Space!' I was getting a bit aggressive about it, but Lee thought it was hysterical. He said 'This guy's perfect - look at the aggression in him!'
"Then the Andersons said I would sound too much like a cockney, and that really angered me, because for years Australian actors had always missed out on all the good roles to cockney actors. I was adamant that an Australian didn't sound anything like a cockney, and I demonstrated that very clearly. Finally, the Andersons relented. So I went in with my broad Australian and did this character, and they loved it
"By the time I got home, my agent was ringing me saying 'They want you in the series playing not Alfonso Catani, but Alan Carter."'
In spite of his struggle to join the ranks of the show's regular cast, Tate wasn't signed up to appear in every episode of Space: 1999 straight away. "They got me to do the first episode, and then they said 'Right, we liked that; now we'd like to try you on the second one.' It took me about five episodes before they actually took out the fountain pen and said, 'Right, you're in for the run'. I did all 24 episodes of the first season."
For Tate, there was a huge sense of excitement surrounding the making of Space: 1999. "I had a marvellous time during the first season," he says. "The atmosphere on the set was extraordinarily positive. The cast got on terribly well. We all thought we were on a winner and enjoyed working on the show. I don't think there was ever a harsh word said on the set. Sometimes we were under time constraints and the pressure got on, but we all had a lot of laughs."
While Tate clearly enjoyed working with all of his co-stars, he reserves special praise for Space: 1999's leading man, Martin Landau. "I loved working with Martin. We had terrific fun. Martin and I are still friends, and we see each other from time to time."
Space: 1999's first season began filming on Monday 11th November 1973, and was completed an unprecedented 18 months later, in February 1975. Each hour- long episode cost around £3 million to produce, and was shot in an average of three weeks. Consequently, when the series gained only modest ratings on both sides of the Atlantic, it was deemed too costly a project by its American backers and placed on indefinite hiatus.
"There was a lot of money, time and care spent on the first series," Tate says. "We were shooting an hour of television every three weeks. Obviously, economically speaking, you can't run a television series like that. ITC in America was getting impatient, and they used to quote us that Kojak was shot in eight to nine days per episode. We were taking up to 16 shooting days per episode! We were all disbanded and sent on our way.
Tate returned to Australia to star in the film drama The Devil's Playground, for which he won the Australian Best Actor Award. Concluding his work on The Devil's Playground, Tate received a call from Gerry Anderson, who offered him the lead role in the pilot for another SF show, Into Infinity.
"Into Infinity was a very short and shallow attempt on Gerry Anderson's part to make a spin-off series from Space: 1999," Tate says. "Somebody wanted to do a show that was based more on fact than fiction, and the pilot was based on Einstein's theory of relativity.
"We shot the one episode, but it didn't have ITC backing and the BBC didn't want to put up a lot of money, so there was no money to make it. Gerry just man aged to scratch together some sets from what had been used on Space: 1999. It didn't seem that there was much chance of it going to a series because they didn't put enough time, money or thought into it. They did lots of electronic effects but didn't have many other characters. I played one of the leads and Brian Blessed played the other - it was a joy to work with him: he's a very fine actor."
Then Gerry Anderson learned that ITC had decided to commission a second season of Space: 1999, on the condition that the shooting schedule was cut from 18 to 12 months. Most of the series' original production staff reprised their roles, with the notable exception of Sylvia Anderson.
"Sylvia was a wonderful woman and a wonderful producer," Tate muses. "Sadly, she and Gerry divorced during the break and we never saw her on the set again. She was great fun and a rather clever actress. She understood the process greatly, and I think her instincts were very good. Her absence didn't help the show at all."
Sylvia Anderson was replaced by Fred Freiberger, a producer whose credits included the third and final season of Star Trek.
"Freddie Freiberger didn't have a very high opinion of the first series at all and wanted to change everything," Tate explains. "He decided to get rid of everyone in the show, apart from Martin and Barbara [Bain]. So they recast the show and brought in a stack of new people
"Six days before the show started filming, Gerry Anderson mysteriously called me up and said he wanted to meet. He told me that due to my popularity on the series (through fan mail and other favourable factors) ITC the produces had decided to invite me back. I just said 'To do what?', and he replied 'To play Alan Carter'. I then said 'You're starting next Monday. Haven't [Original article abandons sentence here!]
Billed as being 'bigger, better, more exciting than ever', Space: 1999's second season premiered in the US on 4th September 1976. Once again, the show failed to draw huge audiences, while many fans were disappointed by the way its style and content had been revamped. Space: 1999 ceased production for a second and final time in December 1976.
"The second season was a very different kind of series,", Tate declares. "There was a lot of damn good episodes that came out of the second year, and I got to do quite a few good shows. But, quite frankly, I preferred the majority of storylines from the first.
"In the first season there had been a sense of truth and humanity about the concept. It was built around certain known concepts and wasn't just Science Fiction; it was more Science Fact. In the second season, they tried to be more fanciful, but they didn't spend the money and take the time that the show really needed."
Post-Space: 1999, Tate remained in England until 1980, when he returned to Australia to star in drama series Holiday Island. Later Tate landed the role of real estate office manager Roger McSwain in the American sitcom Open House, and decided to relocate to the US in 1989. Since then, he has guest-starred in a wealth of television shows, including Matlock, Dear John, Night Court, Civil Wars, Murder She Wrote and Dr Quinn - Medicine Woman, and has appeared in films including Hook and Bed of Roses.
In 1990, Tate appeared in Star Trek: The Next Generation's fourth season episode, Final Mission. "I met the Star Trek people three or four times to audition for various roles and eventually they decided that Dirgo was the one that they wanted me to play," he recalls. "He was another astronaut; a very grumpy, selfish and aggressive pilot of a junk ferry."
In Final Mission, Dirgo finds himself stranded on a desert planet with Captain Jean-Luc Picard (Patrick Stewart) and Wesley Crusher (Wil Wheaton) as a result of a shuttle malfunction. Tate is full of praise for the two actors. "They were great to work with. Patrick and I talked a lot about the theatre, and he missed it greatly. He was still fairly new to the show at that point, and he didn't know what it was like to spend years having people writing to you about what they think of the show and the general admiration that you get from fans, which is of course extraordinary.
"He was wondering if he should continue with the show, and whether it was the right thing for him, and I said, 'Patrick, you have got something that 99.9% of the acting population of the world would give their right arm for. Not only are you working every week, but you are in something that's going to have the greatest longevity of any television series.' And it's proven to be true.
While shooting Final Mission, Tate was joined on the set by executive producer Rick Berman, who praised his work and said that he hoped the actor would guest-star in an other episode. "I thought that was great and I was quite looking forward to coming back," he recalls. "I certainly didn't expect to have to wait seven years!"
Tate's return came in the sixth season Deep Space Nine adventure Honor Amongst Thieves. The episode featured the actor as Bilby, the leader of an Orion Syndicate cell which is infiltrated by Chief O'Brien (Colm Meaney) as part of an undercover mission.
"I enjoyed doing the show immensely," Tate enthuses. "I thought it was the most wonderful role and the script was just terrific. It's not your usual Star Trek adventure; when I first read it, it actually made me think of the Donnie Brasco story, with the small-time criminal forging a relation ship with an undercover agent.
"Bilby is a violent and vicious criminal, but he believes in a sense of brotherhood within his cell - hence the title. He's also a loving family man and has a great sense of humour. I played him with a lot of heart, and really enjoyed my time.
Besides his roles in TNG and DSN, Tate's other cult tv credits include the short-lived Fantasy series F/X The Series, in which he appeared as Dingo Tyler, Rollie Tyler's (Cameron Daddo) long-lost father.
"My character was a bit of a thorn in Cameron Daddo's side," Tate grins. "He's more of an embarrassment to him than a help - Dad likes to gamble and to drink, and to constantly be mischievous. So it's a reversal of the normal father/son relationship - he looks after me. My character's a real scally wag and was great fun to play."
Today, Nick Tate lives in Los Angeles with his wife Hazel, their two children Tom and Jessica, and their dog Buckley. "Life is very good for us," he says. "I have a wonderful family, and I continue to work a little bit in film and television.
"One of the mainstays of my profession is doing the voice behind most of the big movies that open over here. I was the pro motional voice for Independence Day, the Jurassic Park films, Apollo 13, Sphere, Free Willy, and I did the trailer for Deep Impact. It's become an enormous part of my life. I also do regular voice work on Ally McBeal and Wild Things, as well as a lot of cartoon shows."
Space: 1999 represents just one of Tate's numerous credits. However, he has no objection to his continued association with the show. Tate still enjoys corresponding with fans, feels flattered by the attention bestowed upon him by the long- running International Nick Tate Fan Club and tries to attend as many conventions as he can, as a sign of respect for the show's followers.
"I'm proud of Space: 1999," he says. "The show was good. I've done lots of diverse work in theatre and film, and Space: 1999 represents a section of my life that I feel good about. For me, it's a couple of years out of my life and they are proud years. I don't regret it in any way."
David Bassom