Nick Tate- A New Star With A Very Bright Future
My Weekly (July 1978); p8-10. My Weekly is a woman's weekly magazine that began in 1910 and is still published in 2015.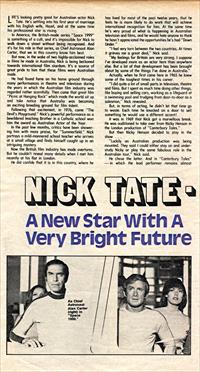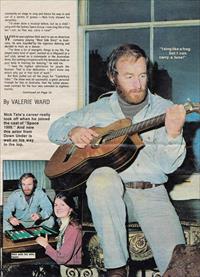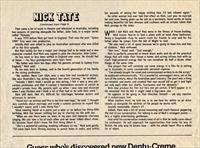 LIFE'S looking pretty good for Australian actor Nick Tate. He's settling into his first year of marriage with his English wife, Hazel, and at the same time his professional star is rising.
In America, the British-made series "Space 199" is something of a cult, and it's impossible for Nick to walk down a street without being recognised. And it's for his role in that series, as Chief Astronaut Alan Carter, that we in this country know him best.
But now, in wake of two highly-acclaimed roles in films he made in Australia, Nick is being beckoned towards international film stardom. It's a source of great pride to him that these films were Australian made.
He had found fame on his home ground through many performances in theatre and television during the years in which the Australian film industry was regarded rather scornfully. Then came that great film "Picnic at Hanging Rock" which made the world sit up and take notice that Australia was becoming an exciting breeding ground for film talent.
Following that excitement, in 1976, came "The Devil's Playground." Nick's powerful performance as a bewildered teaching Brother in a Catholic school won him the award as Australian Actor of the Year.
In the past few months, critics have been showering him with more praise, for "Summerfield." Nick portrays a mild-mannered school teacher who arrives at a small village and finds himself caught up in an intriguing mystery.
Now the British film industry has made overtures. But he couldn't reveal many details when I met him recently at his flat in London.
He did confide that it is in this country, where he has lived for most of past twelve years, that he feels is more likely to do work that will achieve international recognition for him. At the same time he's very proud of what is happening in Australian television and films, and he would hate anyone to think he hasn't appreciated the opportunities he's had "Down Under."
"I feel torn between the two countries. At times it grieves me a great deal," Nick said.
"My feelings for Britain are very strong. I suppose I've developed more as an actor here than anywhere else. But a lot of that development has been brought about by some of the things I've done in Australia."
Actually, when he first came here in 1965 he knew some of the toughest times in his career.
"I did quite a lot of small parts in television, theatre and films. But I spent as much time doing other things, like buying and selling cars, working as a lifeguard at a swimming pool and trudging from door-to-door as a salesman," Nick revealed.
But, in terms of acting, he didn't let that time go to waste. Each time he knocked on a door to sell something would use a different accent!
It was in 1969 that Nick got a marvellous break. He was auditioned to take over from Nicky Henson in tie London production of "Canterbury Tales."
But then Nicky Henson decided to stay in the show ...
"Luckily an Australian production was being mounted. They said I could either stay on and under- study Nicky or play the same fabulous role in the Australian tour," Nick said.
He chose the latter. And in "Canterbury Tales" -in which the lead performer remains almost constantly on stage to sing and dance his way in and out of a variety of guises- Nick truly showed his versatility.
"I'd never done a musical before, but as a child I sang with the Sydney Opera Group. I now sing like a frog but I can, as they say, carry a tune!"
When he was eighteen Nick went to see an American company playing "West Side Story ' in Australia. He was inspired by the vigorous dancing and decided to train as a dancer.
"I've done a lot of energetic things in my life. I've played every kind of sport, worked as a lifeguard at a surf club, served as a commando in the Australian Army. But nothing compares with the demands made on your body in training for dancing," he told me.
"I have the highest admiration for people like Nureyev. That is true dedication. I don't know any actors who put in that kind of work."
But Nick pulled out all the stops for "Canterbury Tales." The show was so successful, a great personal triumph for him in Australia, that the initial eleven- week contract for the tour was extended to eighteen months.
Then came a lot of work in theatre and television in Australia, including two seasons of starring alongside his father, John Tate, in a major series called "Dynasty."
It was 1973 before Nick got bock to England. That was the year "Space 1999" first went into production.
Initially was asked to play an Australian astronaut who was killed off in the first episode.
But then luckily for him a major cast change had to be made and a new character created. And Nick was signed to play the character, Alan Carter.
He has more or less been settled in England ever since. He should feel at home- his four grandparents were born here!
"My father was born ten days after his parents arrived in Sydney from England," Nick said.
He too was born in Sydney, and is fourth generation of his family in the acting profession.
"My mother, Neva Carr Glyn, was a very fine and wonderful actress. She won Australia's top acting award two years running," he recalled.
"Initially I didn't think I would go into acting. I felt it was a very precarious profession and that it caused a tremendous amount of unrest in people's private lives. My parents split up when I was nine and divorced when I was thirteen and I think a lot of that had to do with their work."
Nick still feels that it's difficult for marriages between actors and actresses to survive.
"Hazel isn't an actress and this is my first marriage," he said. "I thought very carefully about marriage and made a solemn promise to myself that I wouldn't marry until I was thirty-five."
Since meeting Hazel at a party just a year or so before his thirty-fifth birthday, Nick has known nothing but joy in sharing his life with her.
'When we met there were no stars in my eyes and heavenly choruses singing. We just saw a lot of each other and we never talked about show-biz because Hazel didn't know the first thing about it.
"She's a wonderful calming, levelling influence on me," Nick said gently. "I'd come bock from filming wanting to punch holes in walls, and within ten seconds of seeing her happy smiling face I'd feel relaxed again."
No other woman had ever had that effect on Nick. Last year he married her and now, having given up her job as a secretary, Hazel works at home making beautiful old lace dresses and cushions with an artistic talent that Nick praises to the skies.
When I met Nick and Hazel were in the throes of house-hunting. Nick insists they've to find a place with at least three bedrooms. Being a hospitable chap, he wants room for friends to stay and for his father when comes from the Isle of Wight to visit.
"We also need a lot of space because we're going to have lots and lots of children," Nick enthused.
"Not lots," Hazel said. "Just enough."
Nick is prepared to knock down walls and do all practical things that will make their house a home, and acting infuses him with so much high-powered energy that he can somehow do half a dozen other things at the same time.
One project that will certainly use some energy is a film he is setting up in Australia at some considerable personal expense.
"I've already bought the novel and commissioned writers to do the script," he explained enthusiastically. "It's a wonderful, extravagant story, set at turn of the century, about the Australian pearl industry. The pearl was a thing so romantic and exotic and coveted that men would kill to get it and fight not only each other but sharks, hurricanes and the elements."
Nick may produce his film but he's not yet certain if he'll appear in it. He remarked that he felt it might need a big-name star.
He appears to be going in that direction himself-yet any mention of it embarrasses him.
What matters most, he told me, is to see how his ability as an actor stands up alongside the abilities of the people he works with.
Sounds reasonable, doesn't it?
Indeed, there was a lot of sound reasoning and much humour peppering the rest of our conversation. For talking is one of Nick's strongest points - he's a highly entertaining gentleman.
And what his conversation reveals most of all is that he really cares about his profession. He will approach the opportunities that come his way in Britain the only way he knows how - with his whole heart. Plus a whole lot of talent.