From those battling lovers, Barbara Bain and Martin Landau...
Bedroom Secrets and other juicy marital morsels
TV Radio Talk, September 1977, p36-37, 61-67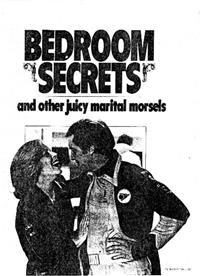 'I can't keep track of the quarrels Martin and I have had' confessed the lovely Barbara Bain. 'Often I have a good scream and thrown a thing or two. So has Martin. But since we're worthy adversaries, no one ever wins. We are very equal, which explains why we are so attracted to each other in the first place.
'Our feelings are, if you both have to be up and out at six in the morning, and at work together, better to kiss and make up the night before. It saves time and fuss.
Letting off steam when the occasion demands, and not keeping it pent-up, is one of the reasons for the Landaus' very successful marriage. But there are others too, as Barbara later explained.
Barbara Bain and Martin Landau have been married for almost twenty years, which is a record, no doubt about it, for show business marriages. They have two daughters, Susie, who's sixteen, and Julie, age eleven.
The television series Mission Impossible made them instant personalities throughout the world. They have enhanced this popularity the past three years starring in the science fiction TV series Space: 1999. Insiders consider that Barbara and Martin have one of the best working relationships in the business. Yet, when they first met, back in 1955, they instantly despised one another and did not hesitate to show quick tempers. Barbara recalled that moment for me.
'l was a model, with the Frances Gill Agency. Even though I had appeared in Vogue, Harper's Bazaar and other magazines. I couldn't see modeling leading me anywhere. But I was fascinated by acting. On a friend's suggestion, I enrolled in Curt Conway's acting classes. 'When I walked into class that first day, I was immediately introduced to Martin, who was the teacher-assistant. He had long hair, was dressed in black, looked plain scruffy to me. To him, I was the snooty, overdressed, over-made-up model.
'Several weeks later, at a small dinner, Martin and I got to talking, and discovered that appearances can be deceiving. The pupil-teacher relationship improved after this, and a personal relationship blossomed. Our feelings were so strong that when I'd completed my course a year-and-a-half later, we decided to get married.'
We were chatting in Barbara's comfortable dressing room at Pinewood Studios, before she was scheduled to begin a new episode of Space: 1999 that afternoon. It was not one of those make-shift theatrical dressing rooms one often finds in the theater. This was very homey, with wall-to- wall carpeting, warm tanish colored walls and matching bamboo furniture. Of course, there was the inevitable dressing table, hut this one was in elegant pine wood with an expensive mirror.
Barbara's hair had been done, and she was fully made-up, but she had not yet put on her costume, the habitual space suit. In blouse and skirt, she curled up on the chaise- lounge.
'Our sense of humor is a major factor in our marriage. It always rises to the occasion. For example, one morning, as we were heading to the studio at dawn, half-asleep, we suddenly remembered it was our wedding anniversary. The moment was so inopportune and unromantic, that both of us thought it terribly funny and started laughing.
'A number of things during filming break us up too. The wild space costumes and outlandish make-up and hairdos sometimes give us a good laugh when we first see them because they're so strange. And one would have to take with a smile some of the things we are asked to do. Other wives see their husbands behind car steering wheels, but I see mine steering space ships all day long. Isn't that funny?
'I am a great audience for Martin, as he is for me. We immediately grasp one another's point of view, and that is why we work so well together. Since we have such perfect communication, there is less need for explanations on set, saving everyone time and the producer money. Therefore Martin and I can devote our energies to assimilating into the show the guest stars we have each week, such as Joan Collins, Peter Cushing or Richard Johnson.'
On Space: 1999, Barbara plays Helena Russell, doctor to Moonbase Alpha. She is romantically involved with John Koenig, commander of the space station, played by Martin. There is a premise uniting the episodes. Following a nuclear explosion caused by man in the year 1999, the moon, together with Moonbase Alpha, are ripped out of the earth's orbit and thrust into outer space, where hostile environments are encountered. Each week, the so-called Alphans, with the invaluable help of special effects director Brian Johnson, must avoid collisions, deal with unforeseen accidents, defeat hostile beings from planets, and other bizarre occurrences, until they are able to return into orbit.
Each episode takes ten days to film, and each group of episodes, eleven to twelve months.
'If one was philosophical about it, the show might be described as an allegory of the human will to survive. But don't tell anybody,' said Barbara with a wink lo me 'Most people think of it purely as entertainment. And it is. Martin and I have a good time working on it, even though it requires a tremendous amount of stamina. We find we have to be in bed week-nights by ten.'
One rule which the Landaus maintain is never to argue in bed at night. First of it's very difficult throwing anything from a reclining position, and second of all, who wants to lose a good night's sleep over something which will probably be forgotten by the next morning.
But what fates brought this ideally suited dynamic duo together'?
Barbara hailed from Chicago. Martin from BrookIyn, New York.
'My father was a wholesale and retail grocer, Martin's was a machinist and manufacturer. I was a quiet, introspective girl, who spent her childhood in a state of confusion, I never dreamed I would become an actress. I was either going to teach or save the world!
'I attended the University of Illinois. While I was there, I became involved with a dance group named Orchesis. After graduation, I had my heart set on a career us a dancer. So I went to New York and enrolled in dancer Martha Graham's school. After a year, I discovered I wasn't as good as I wanted to be. I'd spend most of my time dancing to an audience of dancers at concerts at the local 'Y '. By now, I was also short of moneys. Consequently, I got the only decent job I could find, modeling.
'Martin went to News York schools and enrolled in the Pratt Institute, hoping to become an artist. To support himself he managed to obtain a job as cartoonist with the New York Daily News newspaper. But he became discouraged by the monotony of the work, and frightened by the idea of being tied down to a job like this all his life, So he quit on the spur of the moment .He answered a call for actors at an off Broadway theater, and with no previous experience, landed the role of highwayman Dick Turpin in a play called North Road.
Neither Barbara nor Martin have ever had to look back upon their initial careers. Middle of the Night, a play in which they were both acting, brought them to Los Angeles as part of the tour. From this, Martin received several film offers which he accepted, including Hitchcock's North By Northwest, and a war picture with Gregory Peck, Pork Chop Hill.
'We took a house in Malibu, on a bluff above the beach. It was lovely because we had three acres of land. That year was very romantic, like one long honeymoon. Susie was born when we were living there. We could have stayed there forever, except that Martin was offered a part he couldn't refuse General Rufio, Antony's best friend in the movie Cleopatra, with Elizabeth Taylor and Richard Burton.'
The Landaus packed up and went to Rome where the film was being shot. Barbara set up housekeeping in an apartment they rented on the Old Cassian Way. They had supposed they would stay for four or five months, but the shooting extended itself to a year.
'Susie took her first steps in the Roman Forum, and I became fluent in Italian. We saw a lot of Italy, especially Ischia, where the battle scenes of Cleopatra were shot. And we were witness to one of the most publicized romances of all time, Taylor Burton. We were always being rung up by the papers for information about them, which we felt wasn't our business to divulge. Everything considered, it was really a lot of fun. Alas. a great many of Martin's best scenes ended up on the cutting room floor.
'I took Susie and Julie to Rome last summer because they'd never seen Italy. Martin couldn't come. For sentimental reasons, I went back to visit that apartment on the Old Cassian Way where we lived for part of 1961 and 1962. When the porter's wife saw me, her mouth flew open in amazement. We kissed and wept in each other's arms, as in the best of Italian neo-realistic movies,'
After Cleopatra, they returned to Los Angeles where Martin worked steadily in the movies. He played Calaphus in The Greatest Story Ever Told, and made such westerns as The Hallelujah Trail and Nevada Smith.
All the time Martin was acting, he also conducted drama classes. Among those who studied with him were Jack Nicholson, Shirley Knight, Robert Towne. author of Chinatown, and a television writer named Bruce Geller, who was more of an observer.
Geller began scripting a television series about a group of undercover agents specialized in helping political prisoners and other persons detained against their will, especially from almost impossible places. This was, or course, Mission Impossible. Geller wrote the part of Rollin Hand, master of disguise and slight of hand, for Martin, In fact, the character was originally called Martin Land.
'I got the part of Cinnamon Carter, the girl on the Mission Impossible team, later. The producers were looking for a girl with a sophisticated edge, part Marilyn Monroe, part girl-next-door. They saw almost every actress in Hollywood before deciding upon me. After the series was aired, they were so impressed my part was enlarged. I received three Emmy awards for my work.'
Mission Impossible changed their lives. It made them not only considerably wealthier, but also very famous. They became household names round the world. They had to hire someone to answer all the mail which they received. They were mobbed by autograph seekers and the curious wherever they went. It was a unique experience, and a rewarding one for two actors who had worked hard to achieve recognition in a difficult business.
Between Mission Impossible and Space: 1999, Martin made more movies: They Call Me Mr. Tibbs with Sidney Poitier, A Town Called Hell with Robert Shaw, and Black Gunn with Jim Brown. Barbara did the odd television guest appearance and kept house.
They moved from Malibu, which they felt was too far from the stream of things, to a home in Bel Air, and finally 'Sous les Arbres.' the house in Beverly Hills in which they now live. It is a Tudor style house which was built around 1906 by the English architect Sir Elmer Grey.
'We named it 'Sous les Arbres' -literally 'Beneath the Trees'- because the road leading to it is lined with Chinese elms. It was the second house built in Beverly Hills. It is everything a family home should be. The rooms have oak and marble paneling and parquet floors. The window frames are in bionic, the halls high and long. Spaciousness and elegance are its most agreeable characteristics.'
In London, the Landaus live in a five story Georgian house in Belgravia, which they rent.
'Unlike our home in California, this place goes straight up and gives us more exercise than we need after a day whizzing about space. But we love it. The kitchen, dining and sitting rooms are on the ground and first floor, the master bedroom on the second floor, the children's and guests' rooms on the third, fourth and fifth floors.
The walls of most of the rooms are covered in either batik prints or heavy felt, and the floors are parquet. However, the kitchen is in pine. It's smaller than we're used to in Los Angeles, so we have to keep our elbows tucked in.
'We have a housekeeper-cook, but no governess. She came with the house. I'm glad to have someone around who can cook, since I simply don't have the time. She is a marvel. She knows how to prepare such typically American dishes as southern fried chicken and pumpkin pie. When I go into the kitchen these days, it's to help the girls learn to cook. I think they should know how to do more than a hard boiled egg!
'The chef of the family is Martin. He's into Japanese and Chinese cooking, and usually it's at four in the morning when he decides to have a nosh. It goes without saying, we're not on call the following day.
'We've been to all the Japanese restaurant in Los Angeles, and most of those in London. But Martin's passion for oriental cooking goes beyond the occasional Japanese or Chinese meal. He assiduously frequents the Japanese grocery store in Hollywood, and has a special cabinet all to himself for this stuff in our kitchen there. His exotic taste is shared by our two best friends, comedian Carl Reiner and his wife, Estelle. Between them, they've tasted just about everything from chocolate covered ants to hundred year old Chinese eggs. I've tried to eat some of these, but less courageously than they. This means I usually give up after the first bite!'
Having lived in London for three years, the Landaus consider it their second home. Their only regret in leaving Los Angeles was that they could not bring with them their two fox terriers. Sandy and Sox, because they did not want the animals to endure the six month quarantine.
'We lived here for two months without an animal and couldn't bear it any longer. We thought we would surprise the girls that Christmas and present them with an animal. It was the afternoon of December twenty- fourth, when we drove madly back from the studio so we could get to Harrod's before it closed. We just made it, and rushed up to the pet department. There was a great selection, but from the moment we saw him, our hearts went out to this lhaso apso. We named him Pippin. 'The girls were more happy to see him than us!'
Barbara described themselves, despite their uprooting, as a 'stable show business family.' I asked her what that meant.
'Outside of Martin's location trips to Europe for Mission Impossible, and this long stay in London, we move about only in frequently. Our working hours are just like anyone else's. 'The girls' lives have not at all been sacrificed for our careers. They have not suffered continual uprooting. They've been at the same school here since October of 1973. Susie and Julie have, probably learned more by being in London these past years than they would have if they'd stayed in Los Angeles. And they did go back to America last summer to see relatives and friends.
'I think we act just like any other family,' said Barbara smiling. 'When the mood strikes him, Martin can be as grumpy as any other father at the dinner table-even though it's not often.'
'I have to admit that Susie and Julie are products of' the television age. They grew up watching every episode of not only our shows, but friends' shows, like Carl Reiner's program. Every one of daddy's and mommy's friends seemed to be on television, so it disorientated them when they realized that some people actually were not on the small screen. However, for all their television viewing, the girls are quite literate and like to read a lot-like us. Martin and I read everything in sight.
'Both Susie and Julie are fun people. Outside of this quality in common, they are completely different. Susie was precocious. She learned the alphabet at two and to read at three. She was expected to do everything instantly and brilliantly, and she wanted to as well. Being our first child, Susie received our undivided attention and encouragement. Martin and I were a great audience and she benefited by the feedback. But as she grows older, Susie became irritated with herself and life when she wasn't able to do everything with equal skill. It's taken her years to learn how to live with herself.
'Julie has been able to adjust quicker to life, perhaps because the same demands weren't made upon her. She has an inner calm in a household of frenetic folk. She loves anything to do with music and can hum a melody after hearing it only once.
'Both Susie and Julie are good students. They take after me in this respect. Martin was bright in school, but he didn't bother to apply himself. He was always rebelling against the system. My ability to learn things quickly has usually benefited me. I have an easy time with lines. But so does Martin.'
Being right in the middle of adolescence, I wondered how Susie was coping with 'growing up.'
'Susie is in "giggle and boy time", but she has no steady at the moment. We never make any criticisms of her friends. However, we've noticed that she does seem to pick out nice ones. She spends a lot of time talking with them too-our phone is constantly busy. I don't mind in the least. I love all that silliness.
'In our generation, we kept everything to ourselves much more. That's why I believe this generation will be better adjusted. At Susie's age, I was very quiet and had a serious point of view about life. Because I was bright, I felt I ought to understand everything, and when I didn't, it annoyed me. I didn't realize that most people had been struggling for ages with these same questions.
'Susie and Julie have much more freedom than I did in my teens. I can hear it by their conversations and in their ideas. Sometimes when I ask them to do something which they don't wish to do, they question the validity of it. I could never contradict my parents. Their attitude is healthier. 'Both Martin and I come from medium size families. I have a brother who works for an insurance company in Michigan. Martin has two sisters who teach in the New York City public school system.'
When not filming, the Landaus are basically like any other family.
'Sunday is our night out with the girls. We dine in a restaurant and often go to the movies. Otherwise, we do remain at home a lot. Martin can't relinquish his first means of expression: art. He still enjoys painting and drawing very much. He's done some very good line drawings of Susie. When we couldn't find an adequate painting for the living room of the house in London, he did one, a shoreline blending into the sea.
'Both of us love the theatre, but we don't go as much as we would like because we're so tired by the end of the day. The girls and I go shopping on Saturdays usually. I buy a lot at Brown's on South Molton Street. Martin wouldn't shop unless you told him he was looking shabby. Then he'd run out and order an entire wardrobe. His shopping consists of browsing in bookstores and foodshops.'
Barbara threw back her head ever so slightly and laughed.
'Now what are you going to do with a man like that?'
Barbara's last remark, I thought, summed up quite well how they felt about one another ... even though they love to argue simply because they are still, after twenty years of marriage, so much in love!
by Jimmy Bertrand