Stars of 'Space: 1999' Agree To Trial Separation
Martin Landau and Barbara Bain put some space between them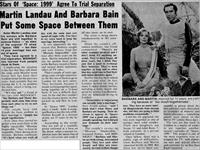 US article from magazine "Midnight", December 1975 or January 1976. Some details are wrong here: they were married in 1957,so their marriage had lasted 18 years in 1975, not 14. Their daughter Susan (born 1960) was 15 (not 11) and Juliet Rose (born 1965) was 10 (not 7). The statement that Bain left Mission Impossible to avoid working with her husband, and he continued on the show for another 3 years, is wrong. They left at the same time, when Landau's negotiations to raise his salary broke down. Her salary was not in dispute, so she could have continued with the series after he left. Leonard Nimoy was never a co-star; he joined the show as a replacement for Landau after both had left. The rest of the article, based on comments from a "friend", is therefore suspect, although their marital difficulties were well known.
The statement that they will return to London to film the second series in weeks (filming started 9 January 1976) dates the writing of the article to late 1975. Landau and Bain separated some time in the 1980s; they were divorced in 1993.
Actor Martin Landau and his actress wife Barbara Bain are still together in science-fiction - as stars of the popular TV show 'Space: 1999" -but their 14-year marriage has run out of space.
They have agreed to a trial separation, MIDNIGHT has learned from people close to them.
Complicating the situation the fact that they still share the same posh Mayfair town house that has been their London home for the past two years. And currently they are touring the U.S. to promote the show. which is being syndicated here.
"It's very sad," a friend of the two told MIDNIGHT. "but Barbara and Marty desperately need some time away from each other to try to sort things out."
The couple have told friends the basic problem in their marriage is "simply too much togetherness. "
Ever since they starred together a few years back in the highly successful "Mission: Impossible", they've been inseparable. Once during an interview. Barbara confessed: "It's hard when you work all day with the same man you spend all night with. You have to try extra hard to keep the marriage interesting."
It was apparently for this reason that Barbara sought and won release from her "Mission: Impossible" contract after three years on the show. Martin remained the star for another three years, while Barbara stayed at home and turned down numerous offers of TV roles.
Then couple of years ago, along came a bright opportunity for the two of them to go to London for the new series. They hesitated. because it meant working together again, being together on a 24 hour basis. It was a difficult decision. In the end they couldn't turn the chance down, so they packed up and flew to London.
In "Space:1999" Landau plays Comdr. John Koenig and Barbara has the role of Dr. Helena Russell in a disaster drama set 26 years in the future.
According to the script they are part of a scientific group stationed at a base on the moon, when a nuclear explosion tears the moon free of earth's attraction and sends it into space, on its own.
The series is being shown simultaneously in 101 countries.
About the couple's off-camera problems, one friend commented: "There's no other romance involved and I don't think it's anything unusual. They've been happy all these years, but I think they just feel a need to recharge their batteries. They've been together so long and so often that they need time to find their individual identities again."
Neither one has linked with anyone else. In fact Landau turned up stag at many London dinner parties, including a fairly recent one given by actress Lee Remick, also an American living in London.
"Sometimes a separation can actually help a marriage," their friend added. "and I think that's what Marty and Barbara are hoping. Their decision to appear in 'Space: 1999' was a good one, professionally speaking; but it did put new demands on their marriage."
The couple's co-star on "Mission:Impossible", Leonard Nimoy, told MIDNIGHT: "Barbara and Martin are strong, determined people. They love each other deeply and they are enormously devoted to their daughters. They have no more marital disagreements than anyone else, but they are going to have problems occasionally."
Until the rift appeared, the two were regarded as one of acting's most solid couples. Their two daughters are Susan, 11, and Juliet Rose, 7, both currently in a private school in London.
Once before, there was a public sign of difficulties, when Barbara and Martin separated briefly in 1969. But there has never been any scandal or gossip about the two, and they were often cited as examples of honesty and family closeness - something pretty near passe in the movie-TV colony these days.
The two are due back in London in a matter of weeks to put together another season's episodes of "Space: 1999". The project is one of the most expensive ever attempted for TV, with elaborate sets and special effects and costumes by no less than Rudi Gernreich.
---