SPACE:1999 History and Review
by Hugh James
Trek Times, issue 9-10, 1976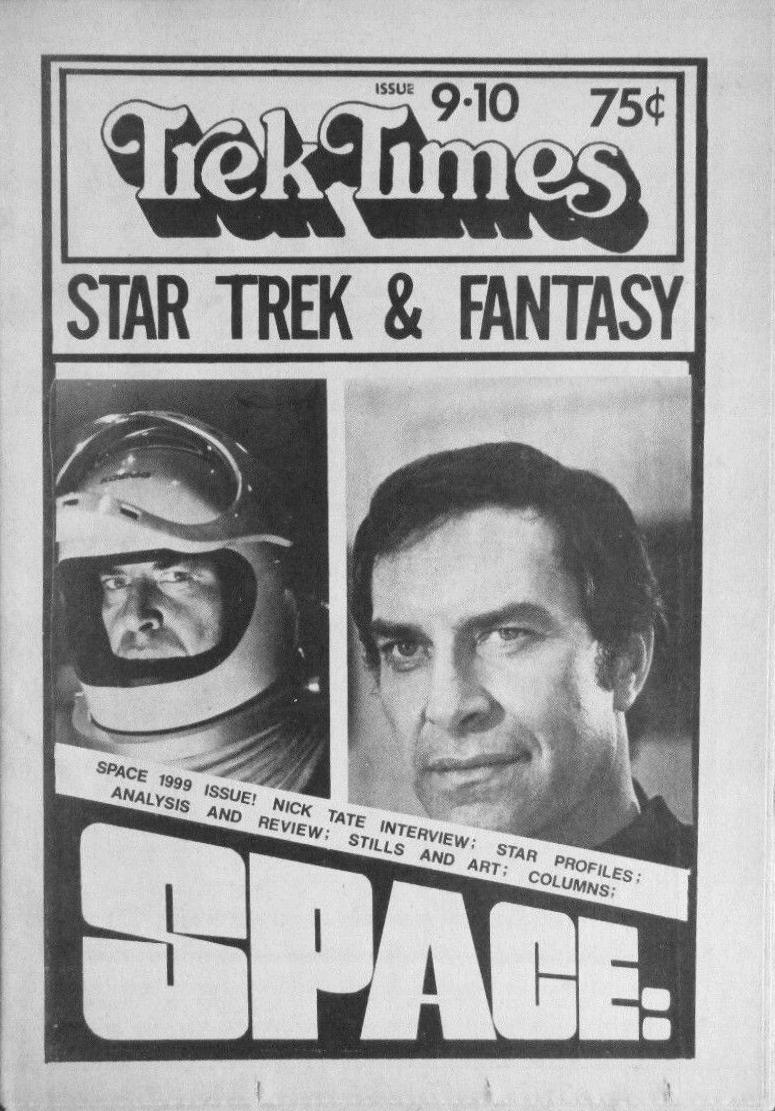 Last year, Independent Television Corporation (a company that specializes in importing English television series to America), spent over six million dollars in an attempt to make what they called, "The most exciting adventure series ever!" The show was Space: 1999 and it was this statement that adorned much of the publicity paraphernalia that I.T.C. distributed to help herald the arrival of their intergalactic program.
The series dealt with the moon being ripped out of the Earth's orbit by a thermonuclear explosion in the year 1999, destined to travel through the darkest corners of the universe. It seems that twenty-two years hence we will have built a completely self-sufficient and fully computerized lunar colony called Moonbase Alpha. Led by series' stars Martin Landau and Barbara Bain (as Commander John Koenig and Doctor Helena Russell), 1999's first season showed the trials, tribulations, and adventures Alpha and it's 311 inhabitants encountered in their everyday struggle for survival.
In early 1975, I.T.C. president Abe Mandell took Space: 1999 to all three of the U.S.' major networks as a possible new fall series. ABC, CBS, and NBC each responded by rejecting it. Mandell, however, was undaunted and his ardent belief in the show was rewarded by Space:1999's syndication to 101 countries around the world and 155 markets in the U.S., all but six of them network affiliates. Without any doubt, Space was fast on its way to be coming an honest to goodness bona fide hit, and oddly enough, the series wasn't even that good.
1999's best asset was its glittering special effects which only partially helped to mask its bad scripts and acting. Not wanting to continue producing a series that had earned its tremendous audience by ingratiating marketing and stunning visuals, I.T.C. decided to completely re vamp Space: 1999 for its second season, currently being aired world wide.
To begin with, Gerry Anderson, the executive producer of the show, hired Fred Freiberger to come over from America to produce and serve as story editor on the SF program in its second year. Freiberger's track record included producing the third season of the immensely successful Star Trek series as well as writing for other shows such as Wild, Wild West, Ben Casey, and Slattery's People.
In further moves to revise Space, season one regulars Barry Morse, Prentis Hancock, and Clifton Jones were all unexplainedly dropped from the show. To replace them, two new actors were added. One of these, Catherine Schell (the female star of Return of the Pink Panther), plays a new resident alien, Maya, a being capable of molecular transformation into any living form. The series' other cast addition is Tony Anholt (former star of the show The Protectors), playing Tony Verdeschi, Moonbase Alpha's first Officer.
Format changes in Space: 1999 were also made. In the show's first season Moonbase Alpha was strictly a military setup whose personnel interacted like rigid automatons. In 1999's second season, Freiberger has added formerly non-existing depth and background to the show's characters who now respond to each other in a much friendlier, personable manner.
Thanks to the genius of special effects ace Brian Johnson, Space is still consistently pretty to look at. Albeit the show's scripts have had slight improvement, too many of Space's stories remain banal, unintelligent journeys into the depths of boredom.
Space can be a fun series to watch, if you don't expect mind expanding visual entertainment. The show is simple minded cops and robbers space opera which is bound to keep the younger members of the family enthralled. But, especially since word has it that I.T.C. will not be producing a third season of Space, adults are probably much better off viewing old reruns of Gene Roddenberry's sci fi classic Star Trek.